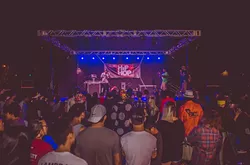 November marks the first official observance of Hip-Hop History Month in Oklahoma City, and the city's second annual Hip-Hop Festival is one of the first events to usher in the celebration.
Oklahoma Hip-Hop Festival is Nov. 5 at The Criterion, 500 E. Sheridan Ave. An after-party will follow the festival 12:30-2 a.m. at the same venue.
Oklahoma Gazette first reported in March about a new proclamation by Mayor Mick Cornett adding Oklahoma City to the list of governments and organizations that recognize Hip-Hop History Month each November.
Local rapper and activist Gregory Jerome organized the first hip-hop festival in September 2015 but moved this year's event back to November partly to coincide with the monthlong observance.
Jerome said he has invited Cornett to attend and perhaps speak at the festival's kickoff party 6-9 p.m. Tuesday at Individual Artists of Oklahoma (IAO), 706 W. Sheridan Ave. The kickoff and other festival events are geared toward educating attendees about the culture.
"We will definitely discuss the history of hip-hop and introduce that to people, because a lot of people are not knowledgeable about it," Jerome said.
Dallas-based rapper Blue, The Misfit. headlines this year's event. Some fans might recognize his name from 2015 when he released Kendrick Lamar-assisted single "Drugs on the Schoolyard." Local emcees L-Smooth, Guerilla Breed, Sativa Prophets and Chief Peace also will perform.
A few surprises from outside the genre make their way into the lineup of more than 17 music acts, including Latin alt-pop singer Lincka, jazz musicians Jeremy Thomas Quartet and electropop singer Scott AF.
Jerome said he intentionally booked acts from outside the genre to emphasize the many past and contemporary influences that hip-hop music is based on.
"Those genres helped fuse hip-hop," he said. "The festival itself is really an educational thing for the community, because I don't think a lot of people know some of those beat elements that were used or helped inspire hip-hop culture."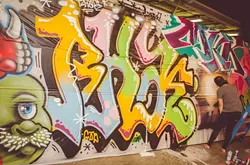 Graffiti artists showed off their skills at last year's Oklahoma Hip-Hop Festival. | Photo Oklahoma Hip-Hop Festival / provided
Finding purpose
Jerome also founded the Elemental Hip-Hop afterschool program, which uses the culture to connect elementary school students to music and the arts in ways they can relate to.
Oklahoma Hip-Hop Festival is primarily a fundraiser for that program, which has brought in professional musicians and artists to work with kids and teach them about the culture. Unfortunately, Jerome had to suspend Elemental Hip-Hop's operations this year due in large part to school budget cuts.
Jerome wants to convert the program into a nonprofit so it can better afford to pay employees and assist community schools no matter what the economic climate looks like. He said the first step in making that happen would be a successful festival.
"Instead of waiting on state or federal government agencies to give money to agencies to provide programs, why not just do it ourselves as a community?" he said. "That's what we should be doing in the first place."
In a time of statewide economic distress, Jerome sees his school program and the festival as a chance to make an impact.
"I feel like my due diligence is to create a situation where I could help employ and boost the economic empowerment of the city for working artists, because there's not a lot of avenues for those artists," he said.
This year's hip-hop festival also comes at a time of widespread social unrest, especially as the nationwide conversation about the relationship between police and racial minorities continues.
Jerome said he hopes the event is a time when people from different backgrounds can come together in mutual understanding. Though marches and protests remain popular forms of expression, he said the power music has to impact social change should not be overlooked.
"I'm looking for a more peaceful manner to unify, to show and exhibit so people can actually picture it and visualize it for themselves," Jerome said.
Gaining support
Oklahoma Hip-Hop Festival returns with an even stronger foundation than it had in 2015.
"We've gained a lot of support from the community," Jerome said, "more than we did last year."
He said part of the reason for the increased support is more general awareness of the event.
Some people are also starting to realize how important programs like Elemental Hip-Hop are in a time when many schools are forced to cut art programs.
Jerome stressed the importance of partners like Oklahoma City Community Foundation, Individual Artists of Oklahoma (IAO) and Downtown OKC, Inc. help make the event possible. It is something he said he could not achieve on his own.
"I'm not a big-name person," he said. "I don't have a lot of money or stock. This is a true grassroots festival, and I hope it will continue to grab momentum to expand and display the unity of the community and to empower and impact future generations."
Visit oklahomahiphopfestival.com.
Print headline: Top billin', Oklahoma Hip-Hop Festival returns to celebrate culture and unity.