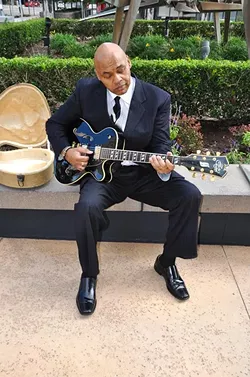 It is not hyperbole to say Maurice Johnson wrote the book on music business management. In fact, he has written several.
The Oklahoma City-based jazz guitarist and author released the third book in his three-part Breaking into the Music Business as a Local Indie Artist series on May 28. The series, which launched in 2016, shares tips and advice for navigating the business side of musicianship at a local level. Each book addresses three new topics.
The series is a modernization of his earlier works on professional musicianship. His first book was published in 1985, and the popular Build and Manage Your Music Career was published in 1999.
His written wisdom comes from experience. He founded the band After Five, which signed to New York's Warlock Records in the early 1990s and released its Expressions album in '92.
After Five performed alongside greats like George Benson, George Howard, Norman Brown, Nancy Wilson and Al Green.
Johnson still performs regularly. He can be seen 5-9 p.m. July 6 as part of the Rooftop Terrace music series at Oklahoma City Museum of Art, 415 Couch Drive.
Johnson permeates all musicianship aspects in some way. He also created guitars for a while, co-founding D'Leco Guitar Company with James W. Dale in the late 1990s. It worked with the family of Oklahoma jazz great and guitar soloist Charlie Christian to build an official Christian guitar, which Johnson said has been featured in the Smithsonian Institution in Washington, D.C.
"I've been able to live some aspects of life that many of my peers haven't," he said. "It makes things interesting."
Finding music
He was born in Milwaukee. After his mom died, 4-year-old Johnson moved to El Reno in 1964 to live with his grandmother, where he remained with his siblings until the state determined she was too old to be their guardian. At age 7, he moved in with his aunt and her family.
His childhood was mostly a quiet time. His aunt also was raising her own children, and though he was loved, he remembers often feeling like a guest or an outsider.
Music and guitar were not yet part of his life. Instead, he drew. Johnson had a sketchpad with him everywhere he went.
His interest in guitar was finally piqued the day his uncle, a sanitation worker, brought home an old plastic toy guitar. It immediately grabbed his attention.
Around the same time, Johnson's older brother, whom he looked to as a father figure, returned from the Vietnam War with an electric guitar. Johnson thought it was one of the coolest things he had ever seen. The spark in his eyes must have been apparent to Johnson's brother, who opened him up to the world of music.
"He saw my interest and he actually nurtured it," he said. "He bought me my first guitar, he paid for my first lesson and every time I'd go to visit him, he'd always take me to the music store and I'd buy an album or something."
Johnson continued his hobby through young adulthood. He worked as a roughneck in a Kingfisher oilfield and often visited jazz clubs throughout the Oklahoma City area. He eventually found a group of friends to informally jam with.
One day, he was subbing as a guitarist for a band at a local jazz club when someone in the crowd noticed him and, after the show, asked if he had a band he could book for a later gig.
"I lied and I said, 'Yeah.' I didn't even live in Oklahoma City," Johnson said. "We set it up, and I started immediately making some calls."
He formed Spur of the Moment, which was so named because its roster and instrumental lineup was everchanging. Over time, he shored up a consistent core and the act became After Five.
Written assistance
Fledgling artists have always seemed comfortable approaching him to ask for advice and guidance. The consistent questions were part of what drove him to writing books about the industry's financial side.
"A lot of local musicians would come to me and ask me about various aspects of the music business," he said. "I was intrigued by that. … There seemed to be a lot of questions on the minds of musicians, so I wanted to put something together."
Johnson's first book, a monthly planner designed for artists with frequent booked gigs, was more of a tool than a textbook. Self-published in 1985, it was wildly popular at the local music store in which he sold it. He repurposed the concept in the mid-'90s for Mel Bay Publications and the planner was nationally released.
Later in the '90s, he published the how-to guide Build and Manage Your Music Career and developed the Windows-based musician and band management software Gigorama to help simplify band finances and payments.
"Musicians don't need to be accountants," he said. "They need to be focused on their gigs."
Modern marketplace
In some senses, the music industry is very different today than it was in Johnson's time as an upcoming performer. In other ways, it hasn't changed.
Take the psychology of the business, for example. Musicians still must view gigs and venues as prospects and clients in businesslike manner.
What has changed, obviously, is the submersion of music and band management within the internet and social media.
"We don't cater to a brick-and-mortar music store these days," he said. "When we put out our music as independent artists, nine out of 10 times, we're catering to a cell phone."
His primary advice to young musicians is to earn a college degree and a have reliable fallback plan in case things do not work out in the fickle music market.
Johnson attended college but left before finishing his degree. Luckily, he was able to piece together a great music career. He largely credits his success to keeping a businesslike perspective in all his music-related endeavors.
It was a state of mind Johnson developed organically through trial and error. There were not many well-known music business guides when he started out. He hopes his texts will help save artists like him some headaches.
"I think music and business should always go together and a musician should think like a businessperson," he said. "I wanted to make sure they had the tools and resources."
Visit mauricejohnson.com.
Print headline: Book smarts, OKC jazz guitarist Maurice Johnson built his music career playing licks and sharing industry tricks.