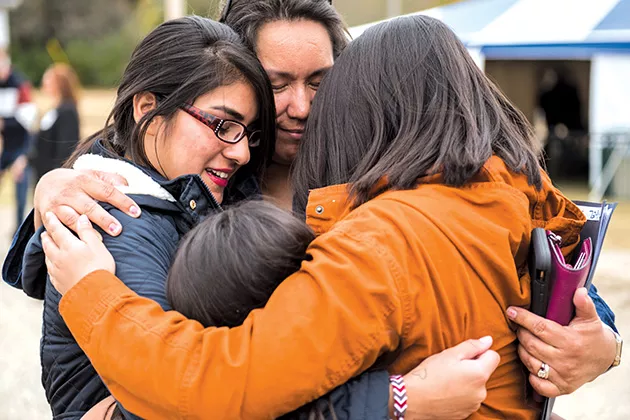 Provided
Oklahoma saw the largest mass commutation in the nation's history last November, but experts say more action is needed to address the state's criminal system.
Oklahomans continue pushing for legislation to lower the state's prison population and prevent people from entering into the criminal system in the first place.
Last year, Oklahoma saw the largest mass commutation in the nation's history with nearly 500 people being released early from prisons in November. Damion Shade, Oklahoma Policy Institute criminal justice policy analyst, said this was made possible through a few pieces of legislation.
House Bill 2286, which took effect November 2018, made parole for certain inmates much faster, cutting out two lengthy steps if they met certain requirements. The first group approved for parole under the new streamlined process last March included 73 inmates.
"It created administrative parole," he said. "It's the mechanism that allowed people convicted of crimes basically to become eligible to parole more quickly and allow large consensus dockets like we had early last year. … That has really streamlined and increased our parole releases. We're still a little below the national average."
That piece of legislation, along with State Question 780, which reclassified some felonies as misdemeanors, and another measure that made it retroactive led to the largest commutation in United States history and significantly moved the needle for criminal justice reform in the state. However, experts agree that more needs to be done.
"We've looked at those as probably the biggest things that have reduced our incarceration statistics and taken us from, of course, the prison capital of the world to the No. 2 position," Shade said. "Though it isn't everything that we need to do to be in the best possible spot, we definitely applaud the work of lawmakers and voters that have gotten us to this point."
Nicole McAfee, ACLU of Oklahoma director of policy and advocacy, said the passage of SQ780, which was approved by 58 percent of voters, provided a lot of momentum for criminal justice reform in the state.
"Anytime you have an overwhelming majority of voters come together and demand change, it creates a little more space for legislators to be brave in areas where they may not typically be," she said. "The other thing that that did is it really allowed a coalition of advocates to build relationships and do the work together. So what we see now in the criminal justice reform space, I think, is true sort of left-right coalition of people who maybe all come to the work with different interests but who have a shared vision for changing our criminal legal system in Oklahoma."
Despite various measures helping advance criminal justice reform efforts, McAfee said there has never been more urgency to continue addressing the issue further. She said both former Gov. Mary Fallin and Gov. Kevin Stitt promised various legislative sessions would bear big criminal justice reforms but ended up being disappointing.
Last year, for example, only one of five criminal justice bills made it to the governor's desk.
"There's always a fear from legislators around reelection," McAfee said. "While the data and facts and a lot of the real human stories make the case for reform, the fear that happens in the chamber when folks start to tell worst-case-scenario stories — stories that are not the norm but really the exception — really make people afraid to take those bold steps in the direction of best practices. The other thing is people really relied on the idea that the RESTORE task force was going to give them some answers and a little bit of political cover too."
Stitt formed the Criminal Justice Reentry, Supervision, Treatment and Opportunity Reform (RESTORE) task force through executive order in May 2019. The task force was asked to look at how to reduce the state's incarceration and recidivism rates and help create or enhance diversion programs. It released a summary report Jan. 10.
"It is our intention to create policies and laws that are transparent, equitable, and easily understood by all stakeholders. When someone is sentenced we want to know their plan of reentry into their community from the day of reception. The RESTORE Task Force recognizes true reform will not take place if the root causes of criminal behavior are not dealt with. Throughout our meetings, a recurring theme is that society must recognize that prevention is key," reads the report. "For instance, bail reform reduces immediate costs and barriers, but it doesn't address the underlying reasons an individual entered the justice system. Further, to enact true reform, we need to not only focus on reducing incarceration, but also preventing childhood trauma and adverse childhood experiences."
The task force recommended trauma-informed care for children in foster care and the juvenile justice system; a focus on changing culture inside prison facilities through a chief cultural officer; stronger reentry efforts; using technology to connect individuals with mental health professionals and other services; and policy changes to sentencing, bail and pre-trial detention. It also asked for a one-year extension to continue its work and issue recommendations throughout the year.
Shade said OK Policy applauds the task force's recommendations but also criticized it for its lack of "bold and specific legislative changes."
"All of those reforms are wonderful, but we need legislative action this year. Our governor has set as a goal within his first term to try and get Oklahoma out of the top five in incarceration, and with the reforms that were mentioned in the RESTORE task force proposals, we can't get there," he said. "There was some broad talk about a few of the issues. … Without specific legislative proposals and action, we will not get to the goal."
Reform priorities
OK Policy's top legislative priority for the upcoming session is reducing fines and fees, Shade said.
"We have literally thousands of people across the state who have millions of dollars in court debt hanging over them. Many thousands of those people get failure to pay warrants every year," he said. "In 2017, there were 18,000 failure to pay warrants that weren't related to DUI or traffic infractions, that were literally just for people who couldn't pay their court debt."
Provided
Damion Shade is the criminal justice analyst at Oklahoma Policy Institute.
Shade has spoken with people who said they've asked their probation officer if they should forgo buying groceries or medicine to pay off fines.
"Eighty percent of all criminal defendants, not just in Oklahoma, but across the U.S. nationally, are what we describe as indigent or unable to pull together enough money to afford an attorney," he said. "You're often just a few steps away from experiencing homelessness. Not only is this harming those people in those communities, especially communities that have been particularly impacted by the racial wealth gap in the United States … but it also harms our court system."
Fines and fees fund 80 percent of the court system, Shade said. OK Policy analysis has found there has been more than $600 million in deficit in collections.
"That money pays for prosecutors, that money pays for judges and their staff, the court system," he said. "We literally don't have enough public defenders. We can't fund our Oklahoma Indigent Defense System, which works for public defenders outside Tulsa County and Oklahoma County. So this particularly hurts rural Oklahoma."
Investing in health and substance abuse treatment is also a top priority for OK Policy, Shade said. Despite it not being a legislative priority, Shade wants to keep Medicaid expansion on the radar of criminal justice reform advocates. In conversations with law enforcement, he speaks with officers who say they know some people in jail should be getting help instead.
"In so many communities, the only mental health provider that we have is a county jail, and it's one of the big deficits that we have," he said. "One of our big goals this year is to begin to get the money that the state promised voters when they passed State Question 780 and State Question 781 … to the voters and the communities who asked for them."
For ACLU of Oklahoma, one of the top legislative priorities for criminal justice reform is bail and pre-trial reform.
"No one should ever be held in jail simply because of an inability to buy their way out. There should be time-bound systems in place so that you aren't held without a hearing in jail for days or weeks at a time," McAfee said. "We believe that counsel should be provided from that very first period, so on the worst day of your life most likely, you have an advocate there to talk you through a very complex and complicated system. … If cash bail is assessed, it should be based on your ability to pay for the purpose that it should be used for, which is to ensure your reappearance in court. So really trying to make our pre-trial system more fair and change some of the really negative power that gets people to plea to really unfair sentences."
OK Policy also considers this one of its legislative priorities.
"It makes no sense for anyone in the state of Oklahoma to be sitting in county jail for more than six months simply because they can't afford to pay bail," Shade said. "There's counties across the state of Oklahoma where the median jail stay for nonviolent felony offenders who could not pay bail last year was more than 108 days. It's one of those things that in some ways I take a little personally because I love to think of the way that we thought of America. It's a place where human rights are protected, civil rights are protected, and I think of the bail reform issue fundamentally as a human rights issue. … If you are legally presumed innocent until you're convicted of a crime, what sense does it make for you to stay in jail for six months simply because you were too poor to buy your freedom from a bondman?"
Both McAfee and Shade also mentioned sentencing reform as a priority. Currently, the coalition Oklahomans for Sentencing Reform is collecting signatures to put the issue up for a vote. If it makes it to the ballot and is approved by voters, the measure would prohibit sentence enhancements based on previous felonies for nonviolent offenders and allow nonviolent offenders serving enhanced sentences to seek a modification in court.
Stitt opposes the ballot measure because it would amend the Oklahoma Constitution, but McAfee and other proponents have said this is the best way to ensure the people's vote is upheld.
"We're seeing now as we go into 2020, this is the fourth legislative session since State Question 780 passed, and it's the fourth legislative session where we are going to have to fight bills that attempt to [revert it]," she said. "Those are all based on the idea that Oklahoma voters didn't really know what they were doing. … Oklahoma voters know good and well what they're doing. And we know that sentence enhancements are not best practice, that longer sentence lengths actually cause more harm in most scenarios and that we should really focus on changing that and changing the ability to wield that very dangerous power."
Other than Medicaid expansion, OK Policy is not endorsing any ballot measure, but Shade said it is supportive of sentencing reform.
"There is literally no evidence that these long sentences reduce crime," he said. "In fact, most of the evidence shows there's probably at least a slightly criminogenic or at least harmful to crime reduction. … We would love to see the Legislature take up things like House Bill 2009, which reduces sentence enhancements to closer to the national average. That's still a bill that could pass if lawmakers were willing to give it that opportunity."
Stephanie Montelongo / provided
Nicole McAfee is the director of policy and advocacy at ACLU of Oklahoma.
Last week was the deadline to file bills for the 2020 legislative session, a lot of which don't have official numbers yet. Additionally, some bills from the last session are still alive but could have been refiled.
"We're keeping an eye on those," McAfee said. "We're really working our way on kind of determining things that can create some really positive change as well some things that we've gotta watch out for. Because while criminal justice reform is a very popular talking point, we just as often tend to still create more criminal punishments each session. We're going to do our best to talk about the holistic need for reform with the local public at large and with Oklahoma legislators."
Oklahoma and Louisiana have held the top two spots in the country for incarceration. November's commutation caused Louisiana to surpass Oklahoma as the top state for incarceration. Despite having one of the highest incarceration rates in the world, Oklahoma doesn't see many positive public safety statistics. Shade said this is because law enforcement is forced to deal with things they shouldn't be the main response to, like people experiencing homelessness or fine collections.
"Oklahoma has really disturbing rates of domestic violence. We have really disturbing rates of missing and murdered indigenous women across the state. We have really bad, though they've recently gotten a little better, rates of children experiencing adverse childhood experiences. All of those things haven't been solved by our sort of reflexive, tough-on-crime [approach]," Shade said. "The police spend so much time and effort dealing with the nonviolent offenses that they're not able to marshal the resources that they need to be able to investigate these other more serious issues. I talked to prosecutors all the time that say, 'I want to spend my time focusing on the bad guy, but because the way our system is organized, I spend so much time managing people who would be better served by something other than the criminal justice system.'"
The 2020 legislative session begins Feb. 3 at noon with the State of the State address by Gov. Stitt.
Visit oklegislature.gov to track bills or find your legislator's information.