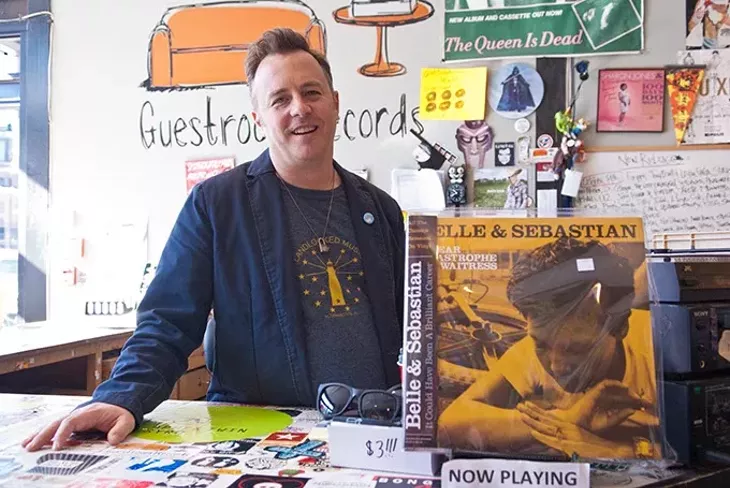 Mark Hancock
Guestroom Records' Will Muir
The turnover in music — for bands, venues, record stores, studios and everything else related to that world — is as high as you'll see in any facet of modern society and culture, and Oklahoma's music scene looks dramatically different than it did 35 years ago. There are some mainstays that have survived the test of time, but it's mostly an entirely different landscape, the hottest music clubs and bands fading away as new ones took their place.
But that's something that can be said about any city, and the recent past has seen a greater stability and exciting new endeavors that feel primed for better endurance and a hotbed for growth.
The national music industry has totally flipped on its head, but Oklahoma's artists and cultural infrastructure are in the best state they have been in some time.
It carries a storied past that seems to be building for a brighter future.
Local bands: the stars of the show
Oklahoma has been a wellspring for talent since its earliest days, giving the country its folk hero Woody Guthrie, the original female rock 'n' roll queen Wanda Jackson, the massively influential Leon Russell and J.J. Cale.
This is country territory and the birthplace of many of the stars of honky-tonk. Yukon's native son Garth Brooks got his start in 1984 and eventually became the biggest name in American music, while Ada's Blake Shelton currently reigns supreme both with his records and a hosting spot on TV's The Voice. Vince Gill (born in Norman), Toby Keith (born in Clinton) and Reba McEntire (born in Chockie) all hail from the Sooner State and rose in popularity through the '80s and '90s and maintained star status today.
Just years ago, Checotah's Carrie Underwood stormed the scene, winning American Idol en route to a number of platinum-selling albums. Oklahoma — Stillwater specifically — was also important to the popularization of red dirt music, giving us names like Cross Canadian Ragweed and Jason Boland & the Stragglers.
And Woody Guthrie's legacy is carried on by a new breed of folk superstars, including Parker Millsap, John Moreland, Travis Linville, Grammy nominee John Fullbright and more.
But there's more than country and folk music played here, and our state boasts some of the top names in pop. Ryan Tedder (frontman for OneRepublic and writer and producer for everyone from Adele to Underwood) was born in Tulsa, which also gave us '90s favorites Hanson, Aqueduct and favorite Ben Rector. The All-American Rejects came from just down the road in Stillwater.
There have been flashes of other scenes as well: hardcore hit in the '80s, swing was big the late '90s, screamo yelped through the mid-2000s and hip-hop hasn't been as popular (or as recognized) as it is right now thanks to names like Jabee and Josh Sallee.
But it is The Flaming Lips that placed a firm spotlight on the weirdos and freaks making music within our state, and it's a scene that has flourished over the past two decades, making it nearly as influential as the state's country offerings.
"I think [The Flaming Lips'] influence is important for putting Oklahoma on the alternative-rock map and showing how a band of punks playing the Batman theme song can eventually morph into one of the very biggest indie rock bands," said Ryan LaCroix, operations manager at KOSU and co-host of The Oklahoma Rock Show.
The Lips came along around the same time as Defenestration and, subsequently, Chainsaw Kittens in the late '80s and early '90s, with Wayne Coyne and Tyson Meade going on to become the godfathers of modern alternative.
That paved the way for groups like Starlight Mints, Evangelicals, Colourmusic, Other Lives and current luminaries Broncho and Horse Thief. Those bands have collectively spotlighted many other talented local bands for a scene that has never been so Oklahoma-centric.
"Many of the best bands are being recognized, not just by scenesters but by more people who wouldn't necessarily call themselves local music fans," said Will Muir, manager of Guestroom Records' Norman location.
Venues make the scene go 'round
But what's the point of bands if there aren't any places to see them? There has been a near-constant changeover in Oklahoma City metro venues in the last 35 years, clubs changing names, style and ownership twice (or more) over for the clientele they serve today.
Diamond Ballroom has long endured, though. Established in 1964, it has brought names like Little Richard, Fugazi, Motörhead and Modest Mouse over the years.
VZD's Restaurant & Club was founded about 10 years later and has hosted Red Hot Chili Peppers and Dixie Chicks, among others. The Blue Note Lounge — opened in 1961 — was home to some of the earliest Flaming Lips shows.
Of course, others have come and gone or stopped hosting shows, like Velvet Underground, the numerous American Legion halls and The Green Door.
"The Green Door really felt like home for so many people looking for punk, rockabilly and alternative music in Oklahoma City," LaCroix said of the venue, which closed in 2006 but brought The White Stripes, Fall Out Boy and The Black Keys through town.
Naturally, new venues always step in to fill those voids, like longtime favorites Opolis and The Conservatory, which picked up where The Green Door left off.
The metro now boasts Chesapeake Energy Arena, The Deli, 51st Street Speakeasy, HiLo Club, OKC Farmers Public Market, Wormy Dog Saloon, folk paradise The Blue Door and more.
"Some people still get upset about the lack of places to play, but trust me, it's much better than it was years ago," LaCroix said.
More venues, like a renovated Chevy Bricktown Events Center, the potential rebirth of Tower Theater and Criterion — a two-story, 4,200-capacity venue set to open in late 2015 in east Bricktown — are on the way, too.
Wait, there's more
There's more to a music scene than just bands and clubs. Record stores, recording studios and even schools are just as important to a community's growth.
There were numerous music stores around the area — like the seminal Rainbow Records and string of Sound Warehouses — that shuttered, luckily replaced by Size Records in 2002 and Guestroom Records in 2003, each of which have two locations apiece in the metro.
"There's something special in that shared experience for the majority of the people in the area," Muir said. "It's great to see OKC and Tulsa getting more record stores. This can only mean more people are buying music and maybe catching new-band fever."
More studios have popped up, too, making recording accessible and economical for local bands. Blackwatch Studios and Bell Labs Recording Studio have recorded hundreds of records for area artists. Blackwatch even brought in musicians Stephen Jenkins (Third Eye Blind) and Sufjan Stevens to show off what Oklahoma has to offer.
The Academy of Contemporary Music at the University of Central Oklahoma (aka ACM@UCO) — a one-of-a-kind school helmed by Lips manager Scott Booker that preps students for a career in the music industry — has accelerated its growth, too.
"ACM@UCO has brought together a whole new set of musicians that maybe wouldn't have been able to connect otherwise," LaCroix said. "I think when we look back on things in 10 to 15 years, we'll see that ACM has been integral to growing Oklahoma music's reach fairly significantly."
Other events like Norman Music Festival, The Flaming Lips' March of 1000 Flaming Skeletons, Another Hot Oklahoma Night: A Rock & Roll Exhibit at the Oklahoma History Center and others have broadened the scene's scope and impact.
On the horizon
There's plenty of momentum heading into the future. The partnership between KOSU and The Spy FM gives the region an independent mouthpiece for local artists, as does the 35-year community partnership with
Oklahoma Gazette
.
The roster of local of venues has stabilized, and pending additions will bolster the volume of acts crossing our state lines.
Our scene goes deeper than that: Muir sees a do-it-yourself community that is stronger than ever before.
"I dig nearly everything happening with the folks at Dust House [Studio]. [Its] individuality and mindful approach is refreshing. By the same token, there are some great experiments happening in noise and atmospherics in the last year or so — acts like Sarah Reid, Loom and Sun Riah."
All of this is happening while artists like Broncho (which opened for Billy Idol in early 2015), JD McPherson and John Fullbright also prove to be some of the fiercest new champions of Oklahoma and its music.
The next 35 years will surely be as revolutionary as the past 35, but it's looking like a horizon as bright or brighter than it has ever been.
MORE 35TH ANNIVERSARY COVERAGE: • OKC, OKG grew together as paper chronicled city's revival. • Timeline: A brief history of Oklahoma Gazette. • Reader response: What you love most about OKG. • Leaders share Gazette memories. • OKG Eat: Practice makes perfect! • Chef Kurt Fleischfresser's curiosity helped establish city's love of localized menus. • OKG arts groups have persisted, prospered for decades. • As OKG grew, so did OKC's performing arts scene. • Oklahoma music scene is still a work in progress.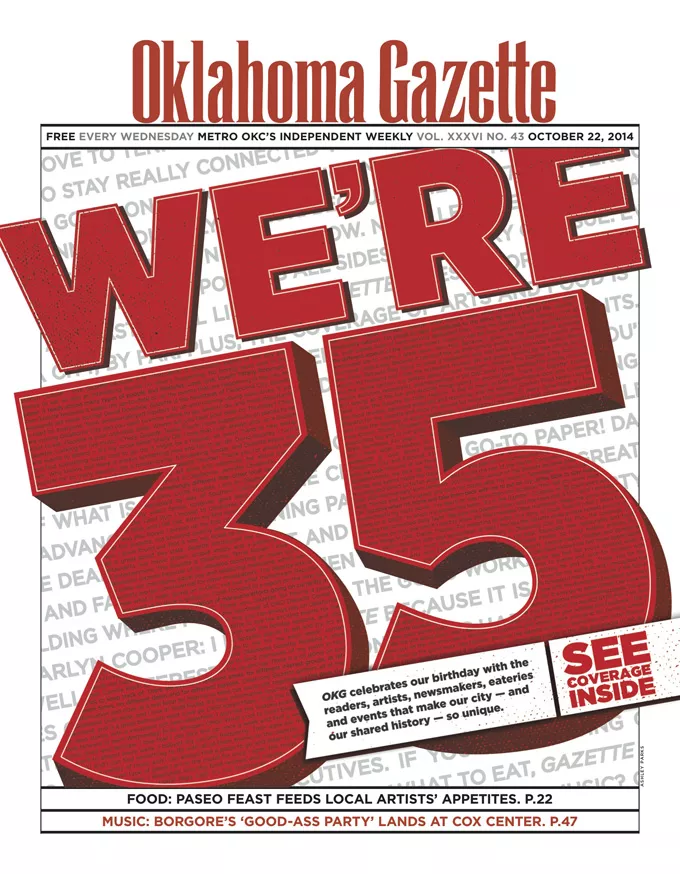 Print headline: Hot Oklahoma, The metro's music scene has seen its fair share of changes over the years — many of them for the better.