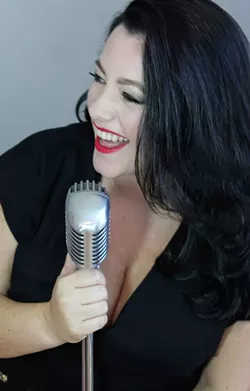 Erin McCracken visited New York City for the first time in the sixth grade. She arrived in the city with her parents to see a family friend's Broadway acting debut in the 1997 production Steel Pier. (That friend is Tony Award-winning fellow Oklahoman Kristin Chenoweth.)
She only dreamed of it then, but eventually, the Oklahoma City native would make her own move to New York in pursuit of theater dreams.
McCracken's parents worked at Oklahoma City University (OCU) and helped start the Miss OCU Pageant many years ago. Chenoweth was one of the pageant's first winners, and the family formed a tight relationship with her. Seeing Chenoweth realize her dreams opened up a world of possibility for McCracken.
"I was like, 'Oh my gosh; if Kristin can do it, so can I,'" she said.
McCracken's country music cabaret Thank God I'm a Country Girl makes its Oklahoma debut 8 p.m. Saturday at CHK|Central Boathouse, 732 Riversport Drive. The show is a tribute to McCracken's roots and is comprised of songs from some of country music's most storied women. The accompanying band features OCU Wanda L. Bass School of Music faculty members Brian Hamilton and Brian Belanus and OCU graduate Clinton Trench.
McCracken began dance and vocal classes as a child. She was a self-described "drama nerd" at Putnam City North High School. She had the support of her parents, especially her mother, a singer with a love of theater. Both parents encouraged her to study theater at OCU. In college, her vocal training was classical, but McCracken said it would serve as a solid foundation for all of her future musical pursuits.
The actress also grew up with a love for country music artists like Jimmy Buffett, Patsy Cline, Garth Brooks and Dolly Parton — a passion also instilled in her by her parents.
"My mom was definitely the singer of the family, but my dad is a great radio car singer," she said. "We would always have country music on."
McCracken moved to New York less than a year after graduating from OCU. As she met people there, she was shocked by how little others seemed to know about her home state.
"It's funny being an Oklahoman in New York or, really, anywhere outside of Oklahoma because you don't get those questions all the time," she said. "No, we don't all ride on horses; no, we don't all live in teepees; Oklahoma is a very up-and-coming state."
The actress was eventually cast in her dream role, the title character in a production of Always ... Patsy Cline for a Rhode Island company. She felt it was a perfect match for her and missed the role after the show ended.
During a time in her career when she wasn't getting cast in any roles, McCracken decided to start a show that combined her background as an Oklahoman and her love for Cline and other female country greats.
Thank God I'm a Country Girl debuted last summer with two sold-out shows at New York's Don't Tell Mama cabaret bar. The actress said she is excited to bring the show back to her home state.
McCracken has performed in Oklahoma since her move to New York, but she said she has never had the opportunity to do anything like this in front of the local crowd.
"It was always the goal to bring it to Oklahoma City and to do it for my friends and family and people who know me in Oklahoma because they haven't seen that side of me — the country music side, the pop music side," she said.
Visit erinmccracken.net.
Print headline: Home country, Singer and actress Erin McCracken's down-home cabaret makes its OKC debut.