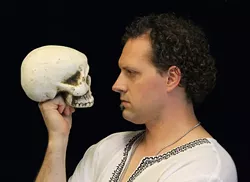 Oklahoma Shakespeare in the Park / provided
Luke Eddy stars in Oklahoma Shakespeare in the Park's season-closing production of Hamlet.
Hamlet has not been performed by Oklahoma Shakespeare in the Park in eight years, but its return to close the 2017 season feels timely.
The classic William Shakespeare tragedy premieres 8 p.m. Thursday on Myriad Botanical Gardens' Water Stage, 301 W. Reno Ave. The production, directed by Oklahoma City University acting professor and Shakespeare in the Park (OSP) associate artistic director D. Lance Marsh, runs through Sept. 30.
Hamlet, in its entirety, runs for about four hours on stage. Most theater reproductions of the play are abridged. Marsh said just about any classical production one sees in modern theater is going to be abridged in some way, but he made sure this production's two-and-a-half-hour runtime stuck to what has made the play an enduring favorite over hundreds of years.
"It's cut with a mindset to clarity," Marsh said. "If you're a Hamlet lover, we've kept everything you like about the show, but we've put it in a slightly more sensitive span of time."
The character Hamlet faces one of fictional history's most famous existential crises, and Marsh said that dilemma plays particularly well to the audiences of today. The play, at its core, is about living in a world where things don't make sense to you anymore and questioning one's own mortality. Hamlet faces a reality as chaotic and complex as anything faced today.
"All of these things, I think, are very contemporarily relevant," Marsh said.
Traditional telling
Hamlet is one of history's most well-known and replicated tales. Its tropes and themes pop up across stage and cinema.
Many theater companies also attempt to twist or modernize the play in some way, setting it in a different time or place.
"I saw a production of it set on a spaceship once," Marsh said. "I'm still not quite sure why."
Rest assured OSP's production will utilize a traditional setting in its telling of Danish Prince Hamlet's painfully indecisive quest for vengeance in his kingly father's death by the hand of Hamlet's uncle, Claudius.
The production's cast features 12 performers. Actor and OCU theater staff member Luke Eddy is revisiting the Hamlet role, a part he first played on a yearlong tour 10 years ago. Marsh said Eddy has developed into a very different actor since that time.
"He was like a kid when he played it before, and now he's a husband and a dad," he said. "He's got all kinds of different perspectives on the role now, which I think is pretty cool."
OSP artistic director and founder Kathryn McGill plays Gertrude, Hamlet's mother and queen of Denmark who goes on to marry Claudius, played by Jeffrey Ambrosini, not long after the king's death.
Several of Marsh's former OCU students have roles in Hamlet. Julia Waits plays Hamlet's potential wife Ophelia, and Daniel C. Brown is her brother Laertes. Isaiah Williams is in the role of Hamlet's friend Horatio.
Marsh, like many others involved in classical theater, has some personal history with the play. He played Claudius during OSP's last production of the play eight years ago and has acted in different parts for other companies several times in his career. He also directed a cut-down version of the play set in an Amish community six years ago at OCU.
"So I actually have been one to play with the setting in the past," he said with a laugh.
Reflective drama
Marsh has been working as OSP's associate artistic director for the last nine years. In the last several years of directing with the company, Marsh said the productions he has led have gone back and forth between style comedies that aren't Shakespeare and Shakespearean tragedies, which means Hamlet fits within his wheelhouse.
But the play was not something that was just relegated to Marsh. He was itching to do Hamlet.
Marsh said it is not hard to tell that the United States is currently at a political tipping point as tensions ride high between opposing sides. The director is not planning on making any overt political statements with this play; he just thinks the story of chaos relates well to the reality of today.
"At any time of great change and great upheaval and great uncertainty, great art finds a way to speak to us," he said. "I couldn't think of a better play, and it doesn't have to do with Donald Trump or Hillary Clinton. It has to do with a time of great upheaval and change and how we deal with that."
Of course, the play did not suddenly become relevant or relatable in the last few years. It is known as one of history's most important works, and generation after generation has found meaning in it, even if those meanings sometimes vary.
"I've often described Shakespeare's plays as a mirror for a generation, or even a Rorschach test," Marsh said. "Every generation looks at Shakespeare's plays, looks at Hamlet, and finds themselves in it, because that's what great art does."
Big role
Marsh said some of his favorite past iterations of Hamlet have included the 2009 David Tennant-starring television film version and the recent 2015 stage production by London's Barbican Centre featuring Benedict Cumberbatch in the lead role.
Despite the fact that many have held the role in the past, Marsh does not believe there is a best way to play the character. Instead, he is impressed by actors who can find their own way.
"Hamlet is such a big role," he said, "that I don't think any actor will have trouble spreading out and finding a way to do that role that is their own personal way to do it."
The director had a mentor many years ago who told him there were two basic kinds of Hamlets: sweet ones and power ones. Marsh said he thinks that is an interesting way of looking at the character, but he sees each historic version of the prince as a sort of combination of the two.
"Hamlet is so big, he experiences so much, he has to make choices about so many things," Marsh said. "There isn't another character like it in Western literature. Because of that, I think he defies that kind of categorization."
The character's complex nature and running existential crisis is a big reason the play has endured through the years.
"We keep coming back to it," he said, "because there is nothing more core than, 'To be, or not to be.'"
Print headline: Existential crisis, Oklahoma Shakespeare in the Park's Hamlet holds a mirror to contemporary chaos.