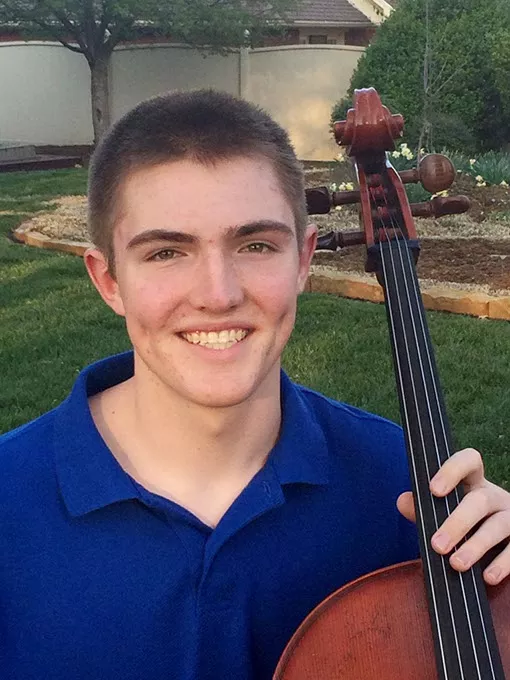 It's an age-old joke: How do you get to Carnegie Hall?
The punch line being, of course, "Practice."
For Stillwater High School junior Ben Lanners, it's the actual truth. However, the accomplished cellist, who began playing when he was 8, spends more than four hours a day on average in his continuing education of the unwieldy musical instrument.
It's a major focus of his life that has allowed him, along with Edmond violinist Kevie Yu, to be selected by Carnegie Hall's Weill Music Institute to take part in the third annual National Youth Orchestra of the United States of America program.
Garett Fisbeck
Kevie Yu poses for a photo at her home in Edmond, Wednesday, March 25, 2015.
As two out of 114, both Lanners and Yu represent the best high school musicians the Sooner state has to offer and will be rewarded by performing in a series of concerts situated both here in the United States and in China with the orchestra.
It's a dream come true that Lanners admits he still hasn't fully grasped.
"I think I'm only now realizing how crazy this trip is going to be," Lanners said. "It's just crazy to be able to work for a month with a bunch of other fantastic level musicians. That is very exciting. To be able to spend a month just solely focused on my instrument, it's just gonna develop my playing so much."
The teens that have been selected to be a part of this year's orchestra "have been recognized by Carnegie Hall as being among the finest players in the country" and went through a rigorous battery of tests and tryouts to earn their coveted seats in the orchestra. Lanner sent in a video that included both a speaking element and multiple playing elements, one of which included a solo performance of David Popper's "Hungarian Rhapsody."
Lanners performs regularly with the Oklahoma Youth Orchestra and is "fairly sure" he'd like to pursue a career in music because it "runs in the family"; both of his parents are professional musicians. His goal is to perform solo and in small chamber ensembles, but he would also like the chance to teach at a higher level.
For now, however, Lanners is concentrating on the upcoming tour, which begins in July, and trying to contain his excitement for the visit to China. Tour stops include Beijing, Shanghai and Hong Kong. There is still a lot of practicing to do, learning classic pieces of music such as Ludwig van Beethoven's Piano Concerto No. 5 and Hector Berlioz's Symphonie Fantastique, before heading out on the road.
"The National Youth Orchestra is a great way to show how much work kids can put into something and at such a young age, to be able to perform so well, at such a high level with enough to show that across the country, young, new musicians are able to work very hard together and succeed," Lanners said.
---
Print headline: World class, Oklahoma teen musicians are touring with the National Youth Orchestra.