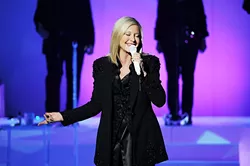 dt
Olivia Newton John First Show Live April 8 2014 Photos By Denise Truscello
Men of a certain age have in their minds an indelible image of Olivia Newton-John.
She is wearing those tight leather pants from Grease, and her picture hangs on their bedroom wall, right next to that other 1970s-era poster of Farrah Fawcett in a red swimsuit.
But in real life, Newton-John has not been frozen in time. Her music career now spans four decades, and she's better known for her live shows instead of tight pleather pants, gum-chewing and dance numbers with greasers.
In fact, she is out on tour, thrilling multigenerational audiences with her classics and beauty. This weekend, Newton-John brings her show to Oklahoma for two concerts: Friday at WinStar Casino in Thackerville and Saturday at Grand Casino Hotel & Resort in Shawnee.
"Being out on the road is kind of an oddity for me. I have been in Vegas for six months doing my Summer Nights show," Newton-John said in a recent phone interview from her Los Angeles home. "But I love Oklahoma, and it is one of the few dates I am doing this fall. You have always been so good to me throughout my career, and I am really looking forward to coming back. In fact, I feel like bursting into a chorus of 'Oklahoma' right now," she said and then laughed.
'It's my job, my art'
These days, Newton-John regularly joins superstar artists like Cher and Dolly Parton at sold-out concert venues.
"I can't speak for those girls," Newton-John said of Cher and Parton. "But as for me, it's what I do. It's my job, my art. I get a lot back from audiences. I love them, I love the music and I love to sing. I really feel fortunate my career has sustained for as long as it has."
An entire generation also remembers Newton-John from her country and pop days in the 1970s and '80s. Today, she has a new generation of young followers, largely due to her iconic role in the movie Grease.
"It is so much fun to see kids come to my shows who know all the songs and who have seen the movie so many times," Newton-John said. "Even though the movie came out in 1978, it was set in the '50s, so it is timeless."
Sordid Lives
Her acting roles aren't gone, either. Most recently, she was a big-screen honky-tonk singer in the cult hit
Sordid Lives
and in the television series of the same name. The movie is a favorite among gay audiences especially, and writer/producer Del Shores hopes Newton-John will reprise her role in the upcoming sequel.
"The movie goes into production next year, and it would be great to have Olivia join us. I know gays everywhere will be jumping out of windows if she doesn't at least do a cameo," Shores joked.
"Wow, no pressure!" Newton-John said with a chuckle. "I will see what I can do."
Gay audiences have indeed embraced her, and she said she feels the love and gives it right back.
"Oh, that's fantastic! Of course I have always been a big supporter of gay rights," Olivia said when she was told same-sex marriages are now legal in Oklahoma. "I have never been involved in the politics of it, but I believe love is love. I am all for compassion and equality for two people who love each other."
Since her early country hits "If You Love Me, Let Me Know" and "Let Me Be There" catapulted her to stardom in the early '70s, music has changed dramatically. And so has the way it is delivered.
"Getting the music out today is not the same as it was with records," Newton-John said. "As a singer, it's our form of art, and actually seeing or holding your new record was a great feeling. But times change and it is much easier for fans today to go download your music with a simple click. I hear vinyl is coming back, though, and I am excited about that," she said. "Myself, I don't have a turntable anymore. I mainly listen to the radio. I enjoy country, and there are some really great new songs and artists. I also like '60s, '70s and '80s music. Of course, I can sing along to all of those!"
Outside of music, one of Newton- John's passions is breast cancer awareness.
"I am a breast cancer survivor from 1992," Newton-John said. "I have dedicated so much of my life in recent years to bringing attention to this cause. Women need to be aware of early detection and how important that is. There is an entire Olivia Newton-John Cancer and Wellness Centre in my hometown of Melbourne, Australia.
"We are doing tremendous work there, and I have a device called the Liv Kit women can use in their own homes. The earlier you find it, the better your chance for survival. Music is my art, but early cancer detection is a passion. I still have the black leather pants I wore in Grease, and I plan to donate them to an upcoming auction that will benefit my wellness center."
Coming off a successful run in Las Vegas, Newton-John promises Oklahoma fans will enjoy her new show.
"I am so looking forward to seeing everyone in Oklahoma," she said. "This will be a fun couple of nights, a journey through all my music from the country years, to Grease and Physical and beyond. So come out and see me! And I really want to say thanks to everyone for their support all these years."