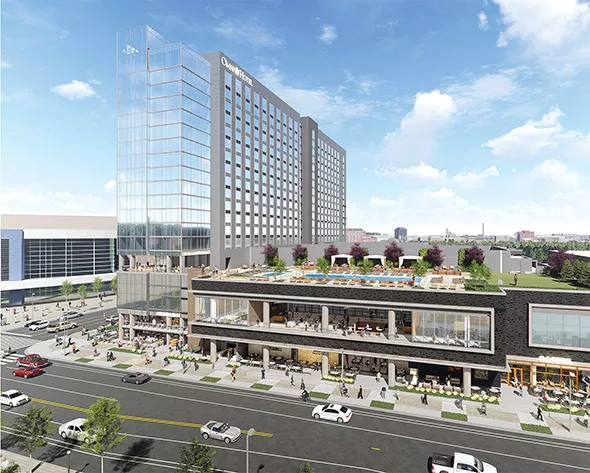 Provided
Omni Oklahoma City Hotel is currently under construction and set to open in 2021.
Oklahoma City and Omni Hotels & Resorts negotiated the convention hotel deal in 2017, though plans for the hotel stem back to 2008. Now the full-service, four-star hotel is just two years away.
Omni Oklahoma City Hotel is currently under construction at 100 W. Oklahoma City Boulevard, between SW Fourth and SW Seventh streets and S. Robinson Avenue and S. Shield Boulevard. The 17-story hotel will stand across the street from the future MAPS 3 convention center and the 70-acre Scissortail Park as well as caddy-corner to a streetcar stop.
The hotel is a $241 million investment and part of a public-private partnership with the city, which has agreed to pay $85.4 million. Oklahoma City Council approved the deal during a 2017 council meeting to help support the convention center.
"Our partnership with Omni will support our investment in the MAPS 3 convention center and position it to become a resounding success," said former city manager Jim Couch during the 2017 meeting. "Having a top-quality, full-service hotel next door to the convention center will maximize Oklahoma City's return on an important investment in the increasingly competitive convention business. This is good for Oklahoma City and good for Oklahoma."
Selling point
Omni officials are in the process of setting up a temporary sales office in an old building near the hotel construction site. The office will have two model guest rooms and house the Omni Oklahoma City sales and hotel staff.
"It's a selling tool for us. We'll have actual guest rooms built out," said Mark Wykes, director of sales and marketing for Omni in the Dallas/Fort Worth area. "It'll be a king room and a double double room. The design will be exact so we can show people firsthand what our guest rooms will look like in the hotel."
The sales, construction and design teams for Omni Oklahoma City are expected to move into the sales office mid-February. They will work from the building and move into the hotel once construction is finished.
Dan Boyer was recently hired to be the director of sales and marketing for the Omni Oklahoma City Hotel. Boyer, who has held the same position in the past with Sheraton Grand, Marriott International and Renaissance Hotels, will manage, develop and implement strategies to drive more revenue for the convention center and hotel.
Boyer is already in Oklahoma City working to kick-start the hotel's initiatives by interviewing sales candidates and creating business strategies. He and the sales team will work with the Oklahoma City Convention & Visitors Bureau (CVB) to help sell prospective clients on the hotel while it is under construction and once it is complete.
"It takes a joint effort between a lot of different partners, and the CVB is a key one," Wykes said. "Their job is to go out and uncover group opportunities, association meetings and corporate meetings and get them to come to Oklahoma City."
CVB will help sell the hotel specifically to businesses and conventions. The CVB staff researches and spends time in cities like Chicago and New York, where major associations are headquartered, and use the information to book hotels around the city, said CVB president Michael Carrier.
"The Omni specifically, because that's the convention center hotel, would typically be the first hotel on the list that people would consider because of their proximity to the convention center," he said.
There have been some letters of agreements signed for businesses booking the hotel, but Carrier said that information will not be released until contracts are signed and finalized. There are currently no individual reservations.
The Omni sales staff will be in charge of booking the hotel for social events like weddings, banquets and family reunions.
"There's a lot of different markets that hotels serve; that's why Omni will have their own sales office that will have a number of different people in it booking a variety of different types of activities in the hotel," Carrier said.
CVB and the Omni sales staff will also work with the convention center's sales office, which will be managed by SMG, a worldwide entertainment and convention management company that also manages Cox Convention Center.
Hotel amenities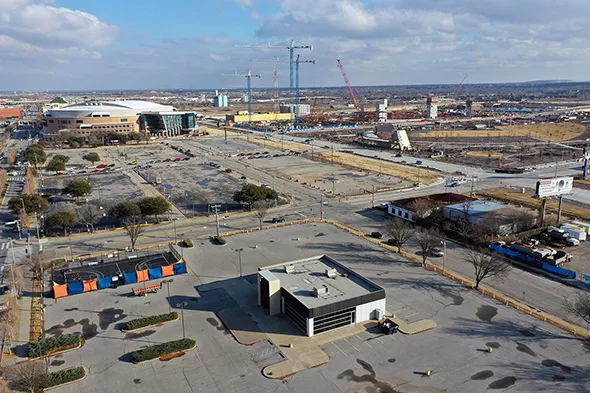 Provided
Omni officials are setting up a temporary sales office in an old building near the hotel construction site, which will feature model guest rooms.
The 605-room hotel will include 29 suites and feature regional design that will reflect Oklahoma and set it apart from other Omni hotels around the nation, Wykes said.
"We'll pay homage to the heritage and the modern progress of the city," he said. "It'll take inspiration from the city surroundings and from the landscape of the Oklahoma terrain. It'll bring some of those colors and touches of elegant tradition paired with a sophisticated mix of contemporary and approachable comfort."
Design characteristics will include a sky-blue color palette, abstract wheat patterns and chevron patterns inspired by Scissortail Park, according to an Omni press release.
A number of rooms will be also be designed to cater to professional basketball players, featuring larger doorframes, longer beds, higher ceilings and taller showerheads. Preliminary talks have an entire floor dedicated to these rooms, though Wykes said that has not been finalized.
The 78,000 square feet of event space will mainly be housed on the second floor. The third floor will have an outdoor event lawn next to a pool deck overlooking Scissortail Park.
Seven food and beverage options will be available throughout the hotel, including an all-day dining restaurant, a coffee shop, a pool bar and grill and a two-level entertainment and sports bar. Some restaurants will line Robinson Avenue with outdoor patio seating and street entrances. The hotel will also feature a full-service spa with treatment rooms and a relaxation area, a modern fitness center and a retail shop.
"The Omni is going to be, in many ways, a resort hotel for folks that are looking for a nice weekend getaway," Carrier said. "During spring, summer and fall, I can see people coming from other parts of the state, or even out of the state, for a getaway weekend in Oklahoma City and going to the art museum or a baseball game or other things around the area, with the Omni being their hotel of choice because of the different amenities."
Boyer said he's excited to be involved with the expansion and economic revitalization of downtown OKC.
"For this hotel to be one of the focal points of what's going on [in Oklahoma City] is pretty exciting for Omni as a company," he said. "That was the attraction for me, getting to be part of this growth of downtown Oklahoma City."
Construction on Oklahoma City Convention Center broke ground in June and is scheduled to open in 2020. Omni Oklahoma City Hotel is set to open in early to mid 2021.