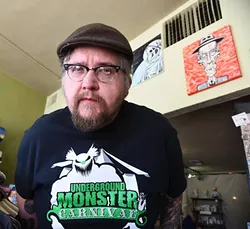 Mark Hancock
Art Sunday thinks you should be scared to come to the Underground Monster Carnival, 2-17-16.
Many musicians and bands claim to be unique or genre defiant, but how many are truly not categorical? Pin any label outside "electronic" on Art Sunday's newest project They Act Human, and the music veteran quickly cites an example that does not fit the description.
The one-man, robot-themed band helmed by Sunday, owner of Dig It! Boutique in 16th Street Plaza District, releases its debut album Not Suitable for Humans (or 10 Songs That Make No Sense) with a dual music release and art opening 7-10 p.m. Friday-Saturday at Bomb Shelter, 1609 N. Blackwelder Ave.
Sunday grew up playing in bands within the do-it-yourself punk and grindcore genres but took an extended break from performing while he established his store and focused on his annual Underground Monster Carnival, a grassroots fandom convention held at Oklahoma State Fairgrounds for the last six years.
The fan of acts like Black Flag and Frank Zappa said one day during the fall of 2016 he felt the need to create new music again, but unlike anything he — or anyone else — had done previously. He began experimenting with keyboards and electronic music production equipment. Sunday created a ReverbNation page for his new They Act Human project but otherwise did not tell many people about what he was doing. But because nothing stays a secret once it's on the internet, people began sending him feedback — a lot of it positive.
Since then, Sunday has performed his experimental tunes at gigs and art shows around the city. When one says an electronic musician plays "live," there is a tendency to think they just press a button and let the song unfold.
Not so.
Sunday is a true one-man-band and a visual marvel as he whirls through a keyboard, laptop and drum pads during sets.
Many They Act Human song titles and concepts are based on zombie movies or aspects of horror/science-fiction lore. Sunday said part of his inspiration arose from his growing frustration with so-called horror bands that could not translate the film soundtracks he adores.
"I wanted to write songs that actually sounded like horror," he said. "I realized you can't imitate The Shining in any kind of band. You can't go all the way."
He also writes vocals, but it is unlikely that human listeners will pick up on his messages. The concept behind They Act Human, he explained, is that the music represents robots singing and communicating with each other.
"If you could understand what their language was," he said, "you could understand what the songs are all about."
Not Suitable for Humans is technically They Act Human's debut, but Sunday said he has enough material on his laptop to be five albums deep by now. He is selective about what and when he releases projects as to keep a consistent sound.
Consistency can be a challenge for an act that channels techno, dubstep, film soundtracks, metal, punk and more within its off-time experimentation, but each They Act Human song shares a charming, animated personality that likely comes as a product of Sunday's creative headspace.
These robots might only be depicting humor, but they have true heart. Visit reverbnation.com/theyacthuman and facebook.com/theyacthuman.
Print headline: Digital diction, They Act Human's debut defies man-made definitions.