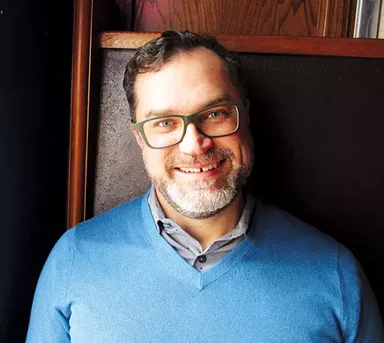 provided
E. Scott Jones will sign copies of his new memoir Friday at The Paseo Plunge.
Sept. 4, Literati Press released the memoir of Rev. Dr. E. Scott Jones, an openly gay pastor serving as senior minister of First Central Congregational Church in Omaha, Nebraska.
Open: A Memoir of Faith, Family, and Sexuality in the Heartland tells the story of a Southern Baptist youth minister living in Texas and the ways he is forced to reconcile his sexual orientation with the people and places he holds dearest.
"I think that's something of a unique story," Jones said. "Often, these stories are about how people end up leaving this part of the country or abandoning their faith or ending up with broken ties to their family. And I have a story where it all works out."
Jones was raised in Miami in northeastern Oklahoma and later attended Oklahoma Baptist University (OBU), where he studied philosophy and religion. After graduating summa cum laude in 1996, he enrolled at University of Oklahoma, earning both master of arts and doctorate degrees in philosophy.
During his time at OBU, he met Charles Martin, the present creative director of Literati Press, who agreed to publish his book. The two started reconnecting when Jones returned to Oklahoma to lead a local church, and he was glad to learn of Jones' decision to publish his firsthand account.
"He's been kind of outspoken for a while, and he's been wanting to get his own story told, so we're glad to finally get it out there," Martin said. "This is a book that needs to exist. This is something that we think is important to be in the public discourse."
Jones was invited by many news outlets to respond to comments made by former Oklahoma state legislator Sally Kern, in which she described homosexuality as "the biggest threat our nation has, even more so than terrorism or Islam."
Eventually, the two met one-on-one during a KFOR Flashpoint Easter broadcast. She has since published a memoir of her own.
"In the public imagination, we … were kind of nemeses with each other," Jones said.
He briefly elaborated on their relationship, explaining that they were able to get along in person.
"We were not friends," he said. "We were just polite to each other."
Finding purpose
He continued to speak up for gay rights and the importance of inclusion within religious denominations. In 2005, he started a blog on which he told the stories associated with his coming out. After noticing his attained readership, Jones thought the time to write a book had arrived at last.
"It's always been a lifelong dream to have at least one published book," he said.
According to Jones, the book was a 10-year endeavor he started writing long "before the story was over."
Though the book acts as a personal testimony to a young man's realization of his own sexuality, the nature of the story is not unique to Jones' situation alone. The ways he is forced to grapple with the people around him set the stage for a common theme prevalent among today's youth.
"That's just a very human thing we go through, that conversion where we reach adulthood and we start understanding that the plans laid out for us … may not be right," Martin said. "I think it's something that is universal beyond the gay rights story and beyond civil rights struggles. Trying to find your own identity, find your own purpose, where you're supposed to fit, that is what this story is. Everybody goes through that struggle to varying degrees."
As the title suggests, family and faith are two of the most important aspects of Jones' life. To lose them would be to lose everything.
"He loves his family. He loves his grandfather. He loves the tradition that he was brought up in, and he did not want to lose that," Martin said. "A lot of his fear was him potentially losing this critical component of his identity."
Though his grandfather is now deceased, the two were able to "come to some terms together."
Alongside his husband Michael, Jones has been able to create a family of his own. So far, they have a 3-year-old son.
Jones was also able to maintain his faith. At an early age, he wanted nothing more than to become a preacher.
"Not many 5-year-olds think that," he said, laughing.
It has been 30 years since Jones delivered his first sermon, and his passion for his work has not yet subsided. The position also allows him to continue writing.
"I write every week on deadlines," he said. "It is my art and craft."
Literati Press / provided
Open: A Memoir of Faith, Family, and Sexuality in the Heartland
Though he hopes to release more books at a later time, the future is still uncertain. He believes he has at least delivered a powerful message through his authorship.
"All people ought to live with integrity, honesty and authenticity," Jones said. "If you live that way, the people who actually do care about you will accept that."
Visit escottjones.com.