Last summer, a group of female and nonbinary artists descended upon the Britton District, adding splashes of color to the developing area. The first annual Sunny Dayz Mural Festival highlighted a group of artists often underrepresented in larger festivals, giving them an opportunity to showcase their work.
For its second year, 42 artists will transform a section of downtown Edmond over the first week of August.
The inaugural Sunny Daze Mural Festival showcased Oklahoma-based artists. This year's festival brings artists from across the nation and from as far as Berlin.
The artists begin their work Aug. 1, while the festival officially kicks off with a party Aug. 4 during Edmond Vibes, the city's first Thursday art walk. The main event takes place Aug. 6 starting from the noon siren and running until 8 p.m. Throughout the day, 31 new murals will be presented.
"We're going to have eighteen of our muralists from last year doing a paint-off on mural panels," Sunny Dayz Mural Festival founder Virginia Sitzes said. "There's going to be a fun little contest where you can vote for your favorite one, and the winner gets this neat ceramic paint brush. It's a part of our fundraiser, so the mural panels will be for sale. Then, on the day of the festival, the stage is stacked all day. We've got bands, poetry, dancers, a drag show, and a few other performances. We've got some silks things going on. This year, our vendor markets will host over 60 vendors, including local makers and handmade stuff. There will be food trucks and activities for everyone."
Shade tents and hydration stations will be available throughout the event.


Steph Montelongo
Paige Powell, Virginia Sitzes and Shree Lasya at the 2021 festival.
Claiming spaces
Sitzes formed the festival under the Oklahoma Mural Syndicate umbrella after noticing a gap in the diversity of artists featured in local festivals and recognizing the need to showcase artists often overlooked in public art.
"I've participated in a few mural festivals, and I noticed a gender gap among other issues. Historically, with a lot of the larger public art projects, it was kind of the same crew of dudes that would keep getting them. Looking nationally at other mural festivals and hearing different peoples' experiences, many don't pay their artists. While some have travel covered or material segments covered, not everyone can just take off a week to go paint for free, so that cancels out a whole group of people from the start. But also, there is a weird power dynamic of, if I fight back or say, 'Hey, this isn't cool,' or 'I need this or and that,' you run this risk that they're never going to ask you back again. Because there's such a few opportunities, especially here, you feel a little powerless. So I wanted to kind of just set a new standard," she said.
Sitzes set the bar high and raised it. An estimated 8,000 people showed up last year. About 20,000 are now expected to attend. More than double the number of artists applied to be featured this year and all will be compensated for their work.
Brooke Hutchens has several Oklahoma murals on her resume, but this is her first time to participate in a festival.
"I'm excited to be a part of this year's event," Hutchens said. "It's about time more people knew of all of the wonderful female and nonbinary muralists and emerging muralists the city has to offer."


Oklahoma City artist Ariana Weir specializes in printmaking. This will be her first solo mural.


"I'm so excited to be part of this festival that creates opportunities for women and nonbinary artists in the community to create art and learn more about being a muralist … I've never done such a large scale mural by myself before so I'm looking forward to taking on this new project and learning from fellow artists," she said.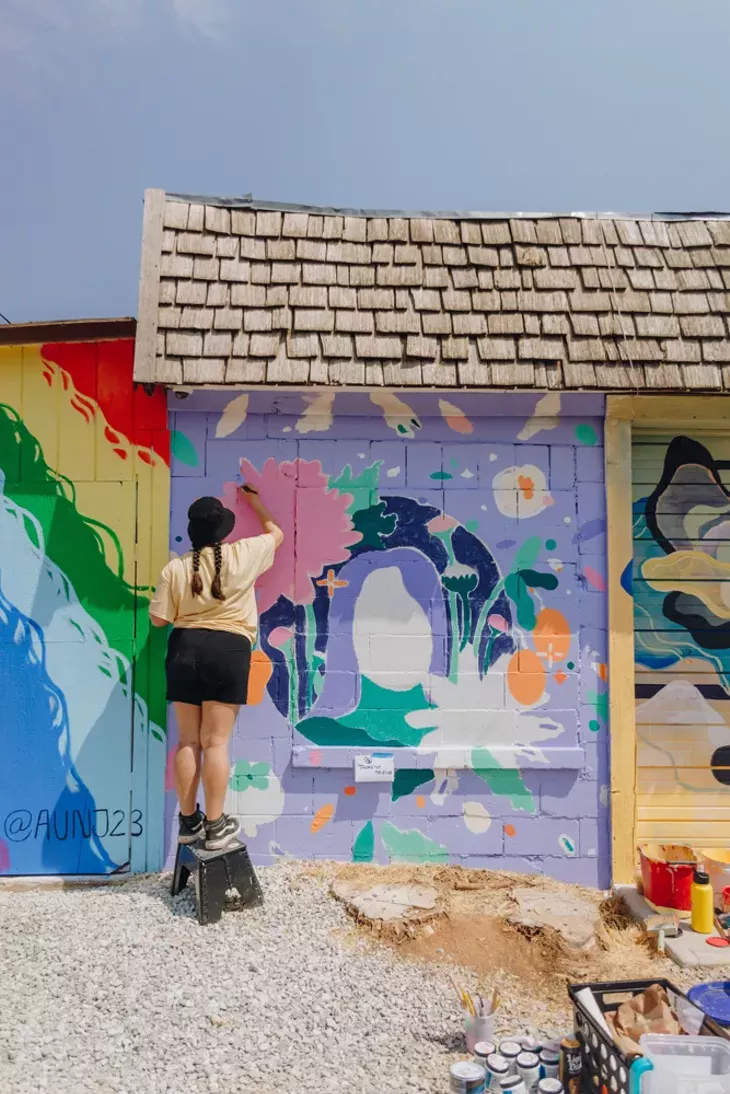 Steph Montelongo
Thumy Phan works on her mural during the 2021 Sunny Dayz Mural Festival.
'Malleable spot'
"We hope everyone feels welcome at these events. Yes, we are elevating and celebrating this certain group because historically, that's not been the case, but this is for everyone to experience and have a great time and join in. We're leaving Sunny Dayz in a kind of open malleable spot. We've actually had a few muralists from other states reach out and be like, 'I want to try to start something like this here, or put this on whether it was an extension of Sunny Dayz,' or just help guide them through what we've learned, what works and what doesn't. We'd love to become that kind of resource to spread beyond Oklahoma as well."


Sunny Dayz Mural Festival will take place in a new city each year. Edmond jumped at the opportunity to host the 2022 festival.
"Originally, I met with four different women in leadership roles in the city, and they were all like, 'Let's do it.' They were so on top of things and friendly. Edmond really wanted it, so Edmond it was."
Next year's Sunny Dayz Mural Festival is slated for Tulsa with the goal of eventually reaching smaller towns and rural areas.
"We are hoping that by bringing this to rural places, we can introduce new ways of thinking through art. The arts bring so much, even if they can bring just one change in thought. 'Oh, now I'm questioning this or thinking about this.' It can have such an effect over the long term," Sitzes said.
Visit
sunnydayzmuralfest.com