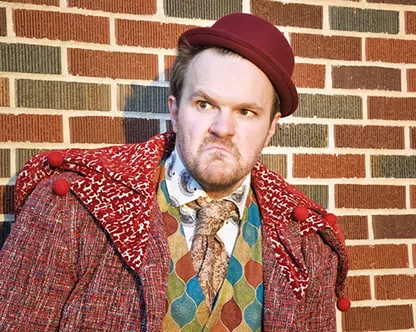 Wendy Mutz Photography / provided
Daniel Scofield plays the title character in Rigoletto.
Drawing inspiration from a 1927 silent film and a 21st-century young adult sci-fi novel, Painted Sky Opera will present a controversial 19th-century Italian opera based on a banned French play.
"Our concept is based on two things," Painted Sky artistic director Rob Glaubitz said about the company's production of Giuseppe Verdi's Rigoletto. "One of them is this movie from 1927 called Metropolis by Fritz Lang. It's an overclass of rich people that live in this overly urban place and the underclass is working underground, so you have these two very separate classes of people. We combine that with thinking about a very modern interpretation of the same idea, and that's The Hunger Games. The Hunger Games is the same kind of really rich people and then poor people who keep them up in that place. So we use that for inspiration for the costumes. They are very reminiscent of what you might find in The Hunger Games for the richer classes, very fashion forward, extensive hair and makeup, so you get this feeling that these people are so rich and they're so privileged that the only way they can stand out is to go beyond what is considered normal."
Rigoletto opens Sept. 14 at the Freede Little Theatre in Civic Center Music Hall, 201 N. Walker Ave. Glaubitz said he has wanted to direct the opera since he performed in the chorus in college.
"It's always been a favorite of mine," Glaubitz said. "I thought, 'This is a show I really want to do on the stage at some point.' It's kind of Shakespearean in nature, and it's always stuck in my brain."
Verdi's opera first premiered in 1851, and Glaubitz said it remains a popular choice for opera companies because of songs such as "La donna è mobile" and its captivating plot. The title character is a court jester serving the powerful and lecherous Duke of Mantua. The jester helps the duke seduce and abandon young women and laugh off the consequences — until the jester's own daughter becomes the next target. Glaubitz said baritone Daniel Scofield, who has previously played Rigoletto for Houston's Opera in the Heights, was cast in the role for his charisma as well as his voice.
"Rigoletto is a complex character," Glaubitz said, "so you look for that ability to have focus and intensity so that when he's on stage, the audience can't help but look at him, that stage presence and the ability to not be afraid to be an ugly character. He's definitely an anti-hero, someone you love to hate. Our Rigoletto has no problem doing that."
provided
Painted Sky Opera's Rigoletto premieres Sept. 14 at Civic Center Music Hall.
Tenor J. Warren Mitchell will play the duke, a role Glaubitz said also requires a particular performance style to be convincing.
"You need to see an inner confidence in the duke when he performs or else you don't have the character of the duke," Glaubitz said. "He's not necessarily a bad guy. He does things we think of as horrible, but he's unaware of his horribleness. He knows that what he does is right. I think those are the two things I look for, the confidence and the ability to draw eyes completely by his appearance."
Conversely, Rigoletto's daughter Gilda, played in this production by soprano Jessica Jones, has been hidden away for most of her life by her fearful father and must convey naiveté.
"She's sheltered from the world and doesn't have a lot of experience out there," Glaubitz said, "and so not only does she have to sing beautifully, there's an innocence that she needs to bring to that role."
Part of Rigoletto's unique appeal, Glaubitz said, is that the opera has no purely good or evil characters and no obvious protagonist.
"Anti-hero is a better word for it," Glaubitz said. "You can say the duke is the villain, but there's also an assassin that's a villain, and I think that's what makes this opera so intriguing is that there's no clear hero. Even Gilda, she doesn't do anything bad, but she chooses her own fate in the end. She knows what's going to happen to her, so it's not like she's heroic in a way we understand. It makes a show that has real characters; it's not, 'This person is good, and this person is bad.' That's what I love about it."