[youtube http://www.youtube.com/watch?v=Ln3EEq2JRSs]
Pam Townley, a 1973 graduate of Capitol Hill High School, said she will always be a "proud Redskin" and she had strong advice for any students who don't feel the same way.
"If they don't like what is going on at Capitol Hill then go to a Native American school where you don't have to worry about it," Townley said in the lobby of the Oklahoma City Public School district offices during a forum Tuesday night on the use of Native American mascots.
The Oklahoma City school board voted last month to dismiss the Redskin mascot at Capitol Hill and the district's Native American Parent Committee hosted an educational forum to give insight into the use of offensive mascots. A panel of Native American community leaders spoke about their feelings but midway through the presentation several audience members abruptly left.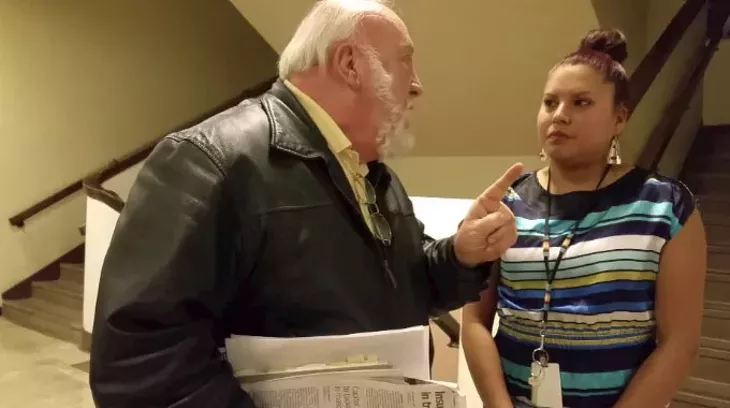 Ben Felder
Carrel Wilson expressed his support for the "Redskin" mascot with a volunteer during a forum on Tuesday.
Outside the presentation several citizens - some former students of Capitol Hill - of the school district voiced frustration with the school board's vote and what they saw as "propaganda" spread by the panelists.
"The next thing you know they are going to want to change the name of the state of Oklahoma," said resident Carrel Wilson. "It was an unbelievable performance by a group of people who are making money off this themselves."
The forum began with a reading of the definition and origin of the term "redskin," which refers to the bloody scalps or bodies of dead Native Americans during a time when Indian communities faced hostility from the American government and settlers.
"I have an emotional response to that," said Sarah Adams-Cornell, a volunteer with the Native American Parent Committee.
The school board's vote to dismiss the mascot at Capitol Hill High School last month falls in line with many schools across the country that have taken similar steps. Nationally, the Washington Redskins football team has been at the center of the debate but the team's owner has said a name change is not likely.
Ben Felder
Sarah Adams-Cornell, left, is with the Native American Parent Committee of the OKC school district.
Some colleges in Oklahoma have completed name changes, including Oklahoma City University's switch from Chiefs to Stars and Southern Nazarene University's move from Redskins to Crimson Storm.
"Sports mascots are ordinarily animals and we are lumped in," said panelist Jacob Tsotigh who is with the Indian Education Technical Assistance Coordinator at the University of Oklahoma. Tsotigh also said Native American mascots portray his culture as "violent" and "war-like."
A replacement mascot has not been named yet at Capitol Hill and Tuesday's forum was not an official district event. Instead, committee members said they wanted to help educate the public on why the name change was a good idea.
While some residents said offended students might be better off at another school, Adams-Cornell had another piece of advice for Native American students in the district.
"You are absolutely not alone," Adams-Cornell said. "You have a whole tribe, a community behind you who supports who you are, what you're about and honors you as a person."