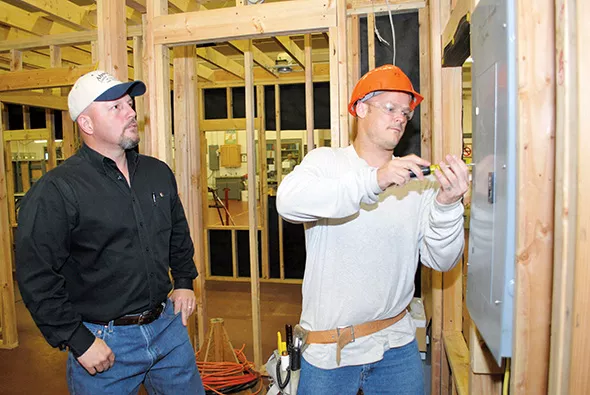 CareerTech / provided
A student works with his teacher at a CareerTech center.
During his three decades as an educator, Mid-America Technology Center administration superintendent Dusty Ricks said he has seen no educational opportunity in the state that is quite as valuable yet underrated as a local career technology center.
"When I was growing up, my parents, teachers and counselors preached to us about the value of a college education," Ricks said. "We were taught that the only way to be successful was to go to college. I think now that we're starting to see that college graduates are struggling to find work, it's becoming clear that that's not the case."
While a little less than 30 percent of Oklahomans have college degrees, according to the United States Census Bureau, state universities continue to see increases in enrollment. While Ricks said he supports Oklahoma's colleges and universities, he believes students should be made aware of other options that are available.
During a time when entry-level salaries are not enough to support a generation of college graduates with costly monthly student loan payments, Ricks said it is time parents and teachers have honest conversations with high school students about their future.
Mid-America Technology Center is one of about 60 career technology programs across the state, said Oklahoma Department of Career and Technology Education spokeswoman Paula Bowles.
All of the state's high school students have the option to participate in a career technology program by electing to spend half of their day at school and the other half at the technology center.
"They can take classes in welding, pre-engineering, cosmetology, computer science and electrical work," Bowles said. "The list goes on."
All courses offered to high school students are free.
Ricks said the hours high school students earn while enrolled in a CareerTech program go toward earning a license or certificate in their chosen field.
A high school student who wants to become an electrician and get a journeyman's license, Ricks said, has the opportunity to earn some of the required hours it takes to earn that title while still in high school.
Those hours qualify the high school student to work as an electrician apprentice immediately after high school graduation. The student can also take additional courses at CareerTech to earn the remaining hours needed to qualify him or her to sit for their journeyman's exam.
Electrician apprentices make an average $20,000 annual salary while their licensed journeymen colleagues make an annual $48,250.
Ricks said salaries like that support the 25 percent of Mid-America Technology Center graduates who go on to attend college, where they experience higher graduation rates than their peers. He wishes more high school students knew they could take advantage of the kind of free education career technology programs provide.
"The opportunity for them to get involved is always there for them, but I don't think schools do enough to make students aware of these opportunities," he said.
Bowles said it's up to individual school administrators to determine how involved they want to be in their local career technology program.
In addition to offering high school students the option to enroll for half-day classes at a local career technology center, career technology programs also offer school districts the option to incorporate career technology classes into their public school classrooms. Classes like home economics and agricultural studies, Bowles said, are commonly used. But with all opportunities, she said, the decision to get involved is made by the school.
Strong ties
CareerTech / provided
A student works with his teacher at a CareerTech center.
With the aspiration to empower Oklahoma's workforce, Oklahoma Department of Career and Technology Education launched in 1929, 12 years after President Woodrow Wilson passed the Smith-Hughes Act, legislation that directed federal money toward vocational education, and 42 years before the inception of the state's education department.
State superintendent of public instruction Joy Hofmeister serves on the board of Oklahoma's Career and Technology Education Department and said she agrees that despite success stories and increases in enrollment, there is not enough awareness about the state's career technology programs.
"Many families are unaware of the opportunities available to their children through CareerTech programs," Hofmeister said. "We want to raise awareness so that students can start taking advantage of these opportunities early in their education."
Hofmeister said she hopes to raise awareness for both career technology opportunities and college dual credit opportunities through the Individual Career Academic Plan (ICAP) that calls for changes in education to be made so lessons will include an element of career preparedness.
House Bill 2155 was signed by Gov. Mary Fallin last year and requires all high school students in the state to complete an ICAP starting with high school freshman in 2019.
Career technology centers currently operate classes in 393 of Oklahoma's 520 public school districts.
Hofmeister added that 49 percent of 11th-graders and 52 percent of 12th-graders are involved in career technology programs statewide.
While high school students who spend half their days at their local career technology centers gain technical hours that can go toward earning a professional license or certificate, Ricks said the courses count only as electives on their high school records.
Allowing certain career technology courses like applied mathematics to count as core classes would also increase awareness and interest in career technology programs, he said. The first thing high school students who are interested career technology should do, Bowles said, is ask their school's academic counselor which technology center is in their district.
Visit okcareertech.org.