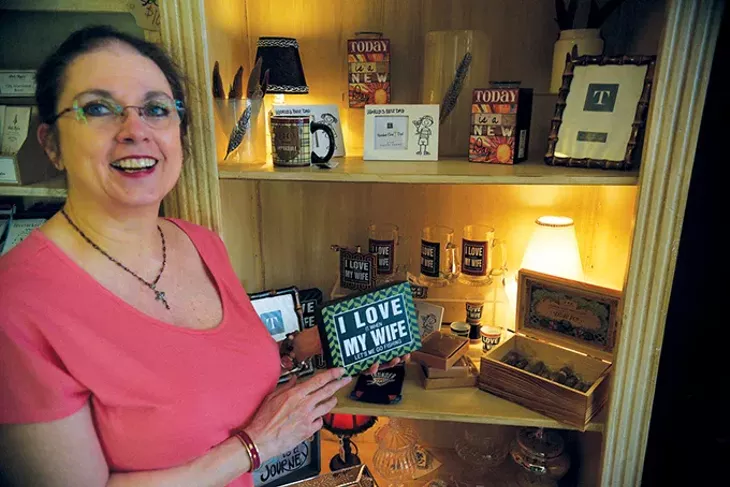 Jacob Threadgill
42 Street Candy Co. owner Teresa Wall shows off some remaining merchandise before the brick-and-mortar store closes its doors to the public on April 27.
For 39 years, 42nd Street Candy Co. has been a staple along Western Avenue, but the brick-and-mortar location is closing April 27 after owner Teresa Wall said the store never really recovered from the loss of traffic from prolonged construction along the corridor.
"We fought so hard to recover after the construction, and I kept putting more personal money into it to try and keep the doors open, and I can't do that anymore," Wall said.
The store sold the majority of its remaining candy by the bulk, but there are plenty of gift items, chocolate truffles, jellybeans and other wrapped confections. All merchandise is available at 60 percent off its retail price, and Wall is looking to sell everything left in the store, including a large display cooler.
Wall said that she considered closing the store after Christmas, but with Valentine's Day and Easter candy already ordered, she hoped the holidays would bolster the store heading into slower summer months.
"It was such a tough decision. I cried; I prayed; I couldn't sleep at night thinking about it. I kept thinking, 'There has got to be some way that I can make this work.' I just couldn't. I was working six days a week without pay for the last two and half years," Wall said. "I don't know how anyone can do that. You've got to really love something to make that kind of sacrifice."
Wall purchased the store from Pat Aaron in 1999 and oversaw its expansion from a small corner inside the art deco building that also includes VZD's Restaurant & Bar to the larger two-room space on the opposite end of the building on the 4200 block of Western Avenue. In addition to a loss of traffic during Western Avenue construction, Wall said that she struggled to attract new customers but was very thankful for the loyal ones that made 42nd Street her home.
"It's been a wonderful 18 years, and I am very grateful for the support that we have gotten," Wall said. "I'm very grateful for people that have brought their kids in, and we would have so much fun hanging out with the kids."
Provided
Gypsy Wicks candles retail for $24-$26 with a reusable container and a 60-hour burn life.
New opportunity
The closing of the brick-and-mortar location is not the end of the 42nd Street Candy brand. Wall said she will continue to make its candy available through pop-up shops and other ventures, like a candy buffet for private events, which is a popular wedding booking.
"I've got great friends, family and support," she said. "Customers have come in to express their sympathy, but their encouragement at the same time."
As 42nd Street Candy closes its doors, Wall is opening the window of opportunity with Gypsy Wicks, a candle company she started about three years ago with her sister-in-law Valerie Ravencraft.
Since first breaking into the J. Brandes, Inc. showroom at Dallas Market Center, Gypsy Wicks has parlayed its momentum and its candles are now available at 52 stores in seven states.
"I couldn't imagine pouring your heart and soul into a business and having no place to go," Wall said. "I am so blessed. I've got opportunities with 42nd Street Candy, just not at a brick-and-mortar; I've got Gypsy Wicks to go to."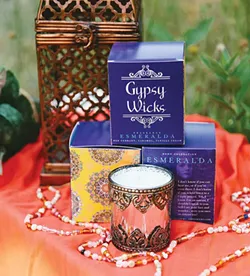 Provided
Wall and sister-in-law Valerie Ravencraft have found success with their Gypsy Wicks candle company.
Wall and Ravencraft pour 11 types of scented candles across three collection styles in Oklahoma City. The candles retail for $24-$26 and have a 60-hour burn life. Gypsy Wicks' Boho collection features candles in a shimmering reusable mercury glass container. Its Carnival collection uses carnival glass, while the Element collection is marketed toward men. It features candles in a burnished metal container with gold filigree around the edge and a wooden wick.
"[Gypsy Wicks has] a fun, bohemian vibe, and it's hard to find a good candle and container at that price," Wall said. "We've been fortunate with the candles, and I think it is time for me to go do something else that will be a benefit to me financially."
Gypsy Wicks offers scents such as Dreams and Fireflies made with fresh peaches, vanilla and buttercream or Esmeralda with red currant, caramel and vanilla cream.
"We make everything here in Oklahoma, using as many Oklahoma products as possible," Wall said.
Visit gypsywicks.com.