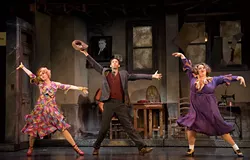 PHOTO BY JOHN RAOUX/ORLANDO SENTINEL
Writer-Director Martin Charnin works with the cast in the production of Later Life at the Mad Cow Theater in Orlando. Florida on Monday, January 24, 2005.
Autumn usually signals grayer days, but the sun will come out for the national tour of Annie. OKC gets an insider look at the beloved musical with a preview weekend before the show's third national tour year.
Original Annie lyricist and director Martin Charnin spoke to Oklahoma Gazette about watching his musical take many forms over the years, the production's new cast and the universal appeal of unwavering optimism.
"Annie's like a wardrobe," Charnin said. "We try on different actors, sets and staging, but the primary story never changes. People always recognize Annie."
In his 20th time as director, Charnin could stage the musical with his eyes closed. But he doesn't.
"My job is to keep my eyes open wider than most so each production can live on its own," Charnin said.
From its 1977 Broadway inception, Charnin has introduced multiple generations to the Tony Award-winning musical. The variations generate Annie's newer fandom while reinforcing its general appeal. This year, the cast generates much of the buzz.
"We held a 'blind race' casting, and our lead actress (Tori Bates) happens to be biracial," Charnin said. "I'm very excited about that kind of diversity. She's wildly talented, and I know she'll have many more opportunities in the future."
Young talent is at the heart of Annie, but adult actors maintain the production's backbone.
"One thing I look for in my actors is consistency, and my current Oliver Warbucks (Gilgamesh Taggett) performs all his lines and songs seamlessly each time," he said.
Behind the scenes, Annie's crew innovated the production's atmosphere while staying true to its Depression-era setting. Set designer Beowulf Boritt created a new set for this tour that both refreshes and maintains Annie's classic aesthetic.
"This is a set that's never been anywhere before," he said. "I always reimagine every space in the musical, and that's the fun of directing Annie. We change the scenery but never alter the play's historical period, its humor or its fundamental truths."
Charnin acknowledges various TV and movie versions change the setting and time — he's not a fan.
"Hollywood is of the opinion that because the medium changes from stage to screen, the story needs to be improved," he said. "Shows live or die in terms of how you approach them, and Annie is a show based in the Great Depression. If you change that context, you disturb what we originally sat down to write."
Some might say modernizing Annie undermines the original setting's dingy charm, but Charnin said he sees parallels between the Depression-era narrative and 2016 audiences.
"The 1930s signaled a real low point in the economy and in individual morale," Charnin said. "Annie represents optimism despite the Depression. She's all spunk, and that's what energizes people the most, regardless of the time period."
Annie can't change curmudgeon Miss Hannigan but presses onward toward happiness.
Charnin said Annie is an antidote to contemporary gloom and doom.
"Out of all the songs in Annie, 'Tomorrow' is the most memorable," Charnin said. "The lyrics give us something to hold onto. Life gets hard, but it also gets better, and that's a very necessary message for people in 2016."
Visit tickets.occc.edu or anniethemusical.com.
Print headline: Antidote Annie, The Annie stage production still brings hope to audiences no matter the decade.