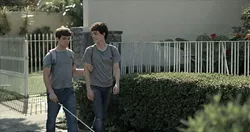 Strand Releasing
Ghilherme Lobo and Fabio Aud in THE WAY HE LOOKS
OUT OK: The Oklahoma GLBT International Film Festival celebrates the diversity of cinema by highlighting the best gay and lesbian films from the global community at Tulsa's historic Circle Cinema theater.
This year's lineup includes first-run independent films as well as diverse buzz titles from world-renowned festivals such as Sundance Film Festival and Outfest.
Well over a decade ago, OUT OK was founded as a means to secure vital funds to help purchase and update the 18,000-square-foot Dennis R. Neill Equality Center in Tulsa. Executive Festival Director Philip Au called the center the gala's crowning achievement. It was purchased in 2005 and opened in 2007.
The center is owned and operated by Oklahomans for Equality.
It wasn't an easy road to travel to make the annual celebration a reality or a success.
Its first year, in both Oklahoma City and Tulsa, OUT faced challenges in finding a venue to host an openly gay festival. Each theater rejected offers of money, with the exception of a second-run dollar theater, Au said.
"The day before our opening, Fred Phelps and his merry band of misfits threatened to picket the theater. A bookstore within the same plaza closed their shop for the weekend in protest," Au said.
In the intervening decade, many challenges remain, but the climate is changing. Theaters are now priced beyond affordability, Au said, which makes it difficult for the event to break even, let alone earn enough to donate to the equality center.
Even so, the event has grown. Overall, the festival is a financial and community success, including sponsorship from international brands like Absolut Vodka and Showtime. And growing annual net proceeds still go to the Equality Center. OUT OK is a nonprofit and is still managed by a dedicated group of grassroots volunteers.
Au and crew don't let challenges stop them. They embrace them and keep moving forward.
"All I ask is share the love and the wealth," Au said, urging further support of LGBT filmmakers and local festivals like this one.
There are many must-see films at the festival this year.
"I have watched countless hours of celluloid, sat in many dark theaters and consumed endless buckets of popcorn. I have selected from a great year in gay-themed movies," he said. "This is the best of the best."
Having said that, Au recommended The Way He Looks from Brazil, Eastern Boys from France, The Circle from Switzerland and Cupcakes from Israel.
Perception can be a tricky thing, as many consider films like Boys Don't Cry and Brokeback Mountain as gay and lesbian films. But Au said that's not a fully accurate impression.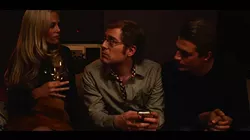 "Members of the GLBT community are our harshest critics, yet they'll see the latest Brangelina film, good or bad," Au said. "Hollywood and Brad Pitt will gladly make a gay-oriented film, but they look at the numbers that attend films like our festival lineup and, sadly, the numbers and the dollars don't warrant a big Hollywood effort."
In talking with people who are lesbian, gay, bisexual or transgender (LGBT) in the OKC and Tulsa communities, the overall consensus is that there aren't enough films that are made for them or realistically and creatively portray what it's like to be LGBT.
That's because these films aren't marketed to the mainstream.
"Yes, you can wait for Netflix to deliver our gems, but the communal aspects of watching a film in a dark theater with complete strangers while buttered popcorn fragrantly wafts in the air cannot be replicated," Au said. "I would never judge an entire industry based on one poor film that I saw. How many Michael Bay sensory-overloaded flicks have assaulted your senses?"
That's the beauty of this festival: Regardless of the viewer's sexual orientation, the festival showcases hand-chosen films that aren't readily available anywhere else. It screens only first-run movies and new releases that haven't hit the home market as well as films that won't otherwise play in Oklahoma theaters.
"The common thread among all of my titles is quality: great story, great production values and totally entertaining," Au said. "I challenge anyone, gay or straight, to not find one good film among the award-winning crop of great movies that will be screened at this year's festival."
Au said that visitors can expect to be enlightened and entertained. Everyone has a place at the OUT OK table, and Au assures there will be plenty of surprises.
Featured Films:
Tom at the Farm The Way He Looks Grind Lilting The Circle The 10 Year Plan The Foxy Merkins Eastern Boys Boys Cupcakes