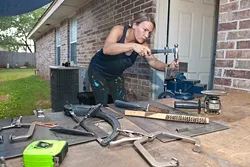 Christie Owen does some finishing touches to her art submission for Refreshing the Palette, a steel sculptured wine bottle holder, in a work area outside her garage in Edmond. mh
For the seventh year, LaVeryl Lower will host Refreshing the Palate, a wine tasting and auction that benefits local artists and Oklahoma Visual Artists Coalition (OVAC) at The Metro Wine Bar & Bistro, 6418 N. Western Ave.
Many years ago, Lower combined her love of art and wine when she started commissioning artists to paint classic wine labels. Many of those pieces adorn the walls of the Metro today.
Her concept grew, and since 2008, Lower has featured local artists during her Refreshing the Palate parties.
At this year's event, Lower will feature her holiday, by-the-glass wine list, so visitors get to taste all 20 wines. Then each artist is assigned one label to reference when creating an original piece of art based on it.
"The goal is not to re-create the label," Lower said.
"Artists are encouraged to create unique pieces with the labels as inspiration."
In other words, some of the pieces, most of which are 10 inches by 10 inches, will look like the label, while others will be created by going beyond the label's concept. The artists work in a variety of media, including painting, sculpture, photography and mixed media. Twenty artists will auction their pieces during the wine tasting. Eighty percent of the sales go to the artist, and 20 percent is donated to OVAC, Lower said.
Last year, Christie Owen, a painter and sculptor, created a piece of functional art in the form of a wine holder.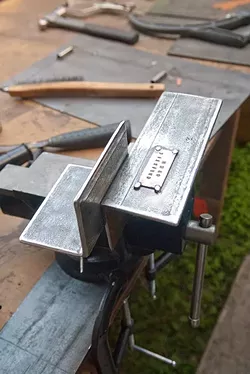 Christie Owen's submission for Refreshing the Palette, a steel sculptured wine bottle holder, in a work area outside her garage in Edmond. mh
This year, Owen drew Gramercy Cellars L'Idiot du Village, a Rhone-style blend from the award-winning Washington winery.
"I'm still brainstorming on what I will do this year," Owen said. "I'm not even sure which medium I will use — probably sculpture — but I don't want to do something like I did last year."
Many of the artists are active members of OVAC, including Emily Fiaccone, who is doing her sixth event this year.
Lower bought one of Fiaccone's mixed media pieces at an OVAC show several years ago and then invited her to join Refreshing the Palate. This year, Fiaccone drew Pietro. Pietro is a family-owned Napa Valley winery.
Fiaccone is also one of the artists who has been creating since childhood. She excelled at art in high school and eventually received an art scholarship to Oklahoma State University. Her mixed media art has evolved over the years, but it has been consistently vibrant and upbeat.
"I feel like I have a playful and colorful personality," Fiaconne said, "and it comes out when creating my pieces. It is so personal to me because my work shows who I really am."
Print headline: Good taste: Oklahoma Visual Artists Coalition and The Metro Wine Bar & Bistro unite to strengthen our arts community a bottle of wine at a time.