Mark Hancock
The Oklahoma State Art Collection gallery at the State Capitol, 12-7-15.
Never short on answers, Amber Sharples is still delighted to guide the curious through the Oklahoma State Art Collection.
The collection, housed in the Capitol building, is managed by Oklahoma Arts Council, which spent 2015 celebrating 50 years of existence. Sharples once managed the collection before being named the council's executive director in 2013.
She speaks passionately when showing off the paintings and sculptures on the first-floor gallery. It breaks her heart to think of visitors coming to the Capitol without stopping by.
The collection, Sharples said, deserves more than a passing glance. Often, the pieces are as historic as any of the other works of art throughout the building.
"[A painting] tells a story through shaping a context in a way that words on paper cannot always convey as easily," she said. "Everything from dress to attire to how people interacted — you can infer a lot through historical context through the arts."
It's a state history that itself has been impacted by the council through the last half-century.
Mark Hancock
"You can infer a lot through historical context through the arts," Amber Sharples said of the Oklahoma State Art Collection at the Capitol building.
Artistic mission
Oklahoma Arts Council was founded in 1965 by Gov. Henry Bellmon as the Arts and Humanities Council of Oklahoma. Sharples said Bellmon was an amateur fiddler and a great arts supporter. He created the organization to increase access to the arts, especially in rural communities.
That commitment to access is something the organization still hopes to expand outside urban hubs like the Plaza District. One way it accomplishes that is through community grants, seed money that gives culture a kick-start.
Kay Decker, executive director of the Freedom West Community Development Corporation, said a council grant was key in revitalization efforts in Alva, a town with fewer than 5,000 residents.
Through a two-year, $25,000 grant, Decker's nonprofit helped facilitate a community cultural roadmap and fundraise $216,000 toward revitalizing an old building that will harbor creative spaces and leasing opportunities.
"The council was established for the purpose of developing and supporting arts across the state," Decker said. "It's important that we have them."
Mark Hancock
The Oklahoma State Art Collection gallery at the State Capitol is managed by the Oklahoma Arts Council.
Making history
Sharples said Oklahoma was one of the first states to adopt an art agency.
The National Endowment for the Arts (NEA) also celebrated its 50th anniversary this year.
The NEA started during the Lyndon B. Johnson administration and was the primary motivator behind the creation of many state art agencies.
Joel Gavin, Oklahoma Arts Council director of communications, said government support of the arts had been building steadily since the time of U.S. President Dwight D. Eisenhower, who was an oil painter.
President John F. Kennedy also was a proponent of federal art programs before Johnson's term began.
"It was one of those things that had had a lot of movement leading up to it, and then it finally happened," Gavin said.
The NEA's existence created an incentive for states to add their own agencies to receive federal arts grants to match state funding. Funds matching is one way the council seeks to make the most impact locally.
OK Mozart International Festival, Woody Guthrie Folk Festival and Red Earth Native American Cultural Festival are examples of local entities that turned seed council funding into long-term growth.
"We vet organizations for their artistic quality and merit," Sharples said. "We make sure the access is there, that the performers and musicians and visual artists, et cetera, are top quality."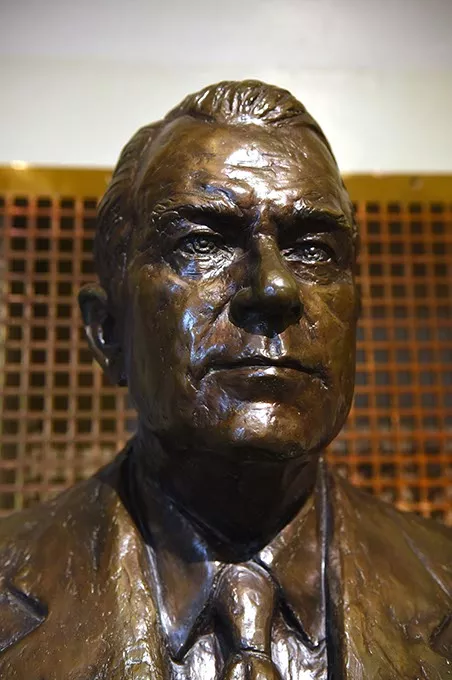 Mark Hancock
Henry Bellmon's bust at the Oklahoma State Capitol.
Arts today
As Oklahoma Arts Council looks ahead, it works to adapt a more personal approach to the arts. Sharples said staff is looking into ways to collaborate with other agencies and industries.
"Now that we have the infrastructure built, we can capitalize on those organizations being established in communities large and small," she said.
The director said the organization can use the arts to assist combat veterans by expanding its arts in the military initiative.
As the state's population gets older, Sharples said she also thinks arts can play a role in assisting the aging.
Through various partnerships, the council hopes to promote programs that comfort Alzheimer's or dementia patients through music.
"Where they might not be able to remember that family member's name, they are able to remember lyrics to songs, they're able to engage and stay emotionally connected," she said. "It helps enrich those families and it helps enrich the life of that individual."
It's an exciting time to be an arts professional in Oklahoma, Sharples said. Downtowns are booming, and not just in large, metropolitan areas.
The arts have served as a tool to revitalize Main Streets everywhere.
However, the power of that tool might be limited by how much funding is available.
Sharples said the arts have proven to show a great return on investment and that while she knows times are financially tough across the state, she hopes legislators will continue to see their value.
"I see excitement. I see that the infrastructure is strong," she said. "Now, we just have to take it to the next level and have the ability to kind of cross-work with other sectors to really unleash the power of the arts, to be transformative."
Print Headline; Gold standard, Over 50 years, Oklahoma Arts Council makes a measurable impact on the state.