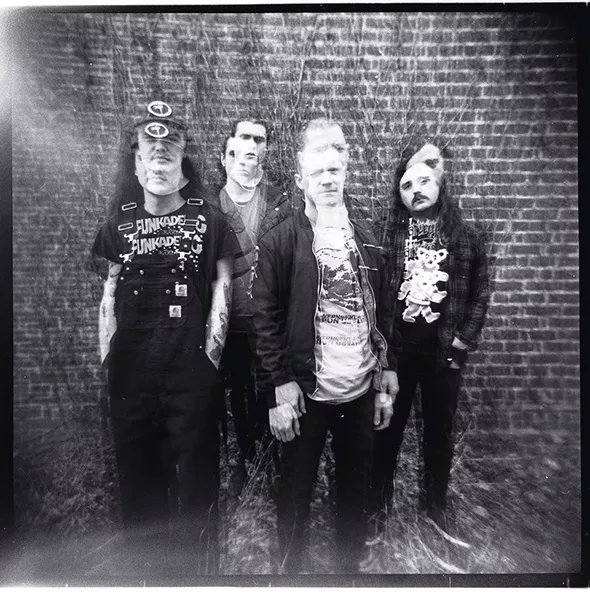 Reid Haithcock / provided
Full of Hell plays June 5 at 89th Street — OKC with Primitive Man.
Full of Hell
6 p.m. June 5
89th Street — OKC
8911 N. Western Ave.
89thstreetokc.com
405-463-9203
$12-$14
Despite their titles, Full of Hell's most recent albums, Trumpeting Ecstasy and Weeping Choir, mostly consist of guitars, drums and screams. Recorded and produced by Converge guitarist Kurt Ballou and combining elements familiar to fans of extreme music of all kinds, from harsh electronics to sadistic death metal riffs to machine gun blast beats, these albums might best be filed under "loud."
In a review filled with descriptors such as "nasty," "bludgeoning," "excruciating," "putrid," "unabashed hideousness" and "all-out sensory overload," Riff Magazine critic Max Heilman described frontman Dylan Walker's vocals on Weeping Choir as a combination of "guttural vomiting" and "a Nazgûl choking on razor blades." Music fans who realize this is actually a positive review will be thrilled to learn Full of Hell is currently touring with equally merciless Primitive Man and both bands play June 5 at 89th Street — OKC, 8911 N. Western Ave.
Full of Hell guitarist Spencer Hazard said he "always has fun" playing in Oklahoma, and despite the success and widespread positive critical response the Pennsylvania and Maryland-based band has seen in its decade of existence, he usually thinks of it as a small-time operation.
"A lot of the time, it still feels like we're a local band," Hazard said in a phone interview with Oklahoma Gazette. "I went to a local record store today, which had just opened, and I was shocked to see that they actually had our record in the store. I feel like all of us feel that way too. I guess because we're still so hands-on with the band, as well, it still feels like we're a very DIY band, even though we have people behind the scenes helping us and stuff. Me and Dylan have our hands in everything that happens, whether it be the art or promotional rollout and all of that."
The band's limited resources and lack of a single home base complicated the writing and recording process for Weeping Choir, released May 17. Moving further away from drummer Dave Bland required Hazard to do more work on songs by himself before bringing them to practice.
"Usually when we would get together, I would have a riff and show it and then we would build on the song with each other," Hazard said. "This time, I had to come down with completed ideas. As far as recording goes, this is the longest we've ever spent in the studio. It was still only a week in the studio, which is no time compared to other bands who spend a week just tracking drums, but we make sure we practice as much as we can before we get to the studio so we're not wasting any time. We want to be as tight as possible because, being in the studio, the longer it takes, the more money it is. We've got to be conservative with that kind of thing."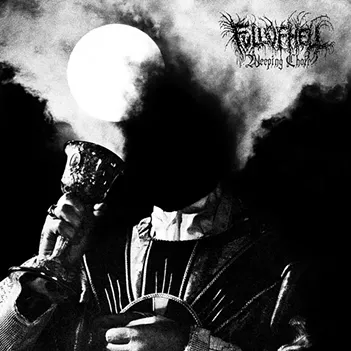 provided
Weeping Choir was released May 17.
The extra time the band spent in Ballou's Salem, Massachusetts, studio GodCity allowed the producer to set higher standards than he had for the band's previous album.
"He definitely pushed us a lot more on this one compared to our last record, Trumpeting Ecstasy," Hazard said. "I think he wanted to get more of a feel for us on Trumpeting, but this one, he was more open to being like, 'No. You guys can do it better, tighter.' He was suggesting ideas and getting the best performances out of us this time."
Collaborative releases with experimental sludge metal duo The Body — 2016's One Day You Will Ache Like I Ache and 2017's Ascending a Mountain of Heavy Light — also gave the band more confidence to take greater risks during the recording process, most evidently on electronics-heavy "Angels Gather Here."
"Before we had done stuff with The Body, we had never really used the studio as an outside instrument, and with the collaborations with The Body, I feel like we've gotten more comfortable being able to take a certain idea and bring it to the studio and improvise on that idea," Hazard said. "Before The Body collabs, we would have never been able to do something like that. … With those, we're not forced to stick to one certain sound or anything like that. We can just have fun with it ourselves, and if people like it, that's cool, but if not, oh well."
The song bleeds seamlessly into "Ygramul the Many," a short-but-complicated track that almost has a free jazz feel. Hazard said its quick tempo changes are too difficult to faithfully replicate onstage.
"There's definitely songs on all of our records that we write and we get down as tight as we can to do it in the studio, but we decide not to perform them live just because if one tiny thing gets off, it's going to be a trainwreck," Hazard said. "That song switches time signatures at least four times, so it's like we got it down tight in the practice spot, but playing it live … every venue every night is going to be a different situation. We may not be able to hear each other, and it's just for the best that we don't play certain songs live."
Hazard called the song "Track 10, 'Ygramul the Many' or whatever" because its hard-to-pronounce name referencing a monster from The Never-Ending Story was definitely not his idea, nor was naming a song "Silmaril" after mythical jewels in J.R.R. Tolkien's The Silmarillion.
"Lyrics are Dylan's thing," Hazard said. "We let him do what he wants to do. We try to not step on each other's toes in the artistic process. He'll suggest how he wants a song structure or a certain type of riff or something, and it's the same way with vocals or lyrics. I'll suggest something, but I let him freely explore what he wants to do. … He likes fantasy novels and movies and all that kind of stuff. That's not my thing."
At almost seven minutes, "Armory of Obsidian Glass" is an uncanny unification of two disparate song fragments and a pretty decent distillation of Full of Hell's singular sound, at least as it is for the moment.
"It was going to be two completely separate songs because you can tell that the first half is definitely drone-y, and then there's a break in the middle," Hazard said. "Then it becomes this more epic, grind-y black metal part. It was like two completely separate ideas that I couldn't get into finished songs. So one day at practice, I was just like, 'Why don't we try to combine them together in the most cohesive, not-forced way possible?' … I was surprised that came out so well."
Tickets are $12-$14. Visit 89thstreetokc.com.