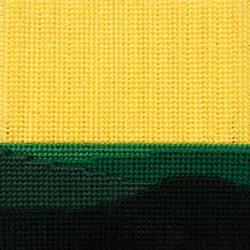 Growing up in Wisconsin, Michael Litzau could hardly go anywhere without seeing Green Bay Packers colors.
In Packer Land, Litzau uses cross-stitching to bring Packers green and gold to landscapes spanning Oklahoma to Japan. The exhibit is on display Friday through Oct. 29 at The Project Box, 3003 Paseo St.
"That's pretty much the only team that you can root for [there]," said Litzau, who now oversees the drawing and printmaking areas of University of Central Oklahoma's (UCO) College of Fine Arts and Design.
Being a "Packer fan" is one part of what makes the artist who he is. Litzau, who said he is half Japanese, spent his life divided between identities. It is a dynamic he said many people with mixed heritage must grapple with.
"My whole life, who I am has kind of been an opposite," he said. "The theme of my work has always had opposing forces mashing together to create this piece of artwork."
Green Bay Packers and fandom are frequent themes in Litzau's work. The merger of sports with what is often seen as the highbrow realm of fine art is a stark contrast in its own right, but he takes the conflict a step further by making many of his pieces from craft materials.
Arts and crafts share some commonalities, he said. Both are about making something new out of raw materials and both require creativity, yet the word "crafts" often evokes images of knitting grandmothers and obsessive hobbyists, not galleried artists.
Litzau enjoys blurring the line that divides the two. It creates a tension he finds relatable.
"I like to see what happens when a fine art and a craft setting mesh together," he said. "The artwork occupies both spaces but doesn't fully occupy either."
On one wall, Packer Land shows off green and yellow cross-stitched yarn abstractions of Oklahoma plains and prairies. The other wall features mountainous Japanese landscapes on smaller, more intricate Aida cloth stitching.
Litzau's exhibit was inspired by a recent artist residency in K?fu, Japan. The artist said he has been to Japan four times.
On the flight back into Oklahoma from Japan, Litzau said he again took notice of two distinct worlds.
"Just being around mountains for so long, it was kind of a sharp contrast," he said. "All the Oklahoma abstracted landscapes [in Packer Land] are rolling hills and those kinds of things, more flat."
He moved to Oklahoma in 2012 to work at UCO. He draws parallels in the landscapes between this state and Japan as well as with his Wisconsin home. Litzau said he has noticed that in Oklahoma, he can see for miles without obstruction.
"The grass is brown in the summer and in the winter [here]," he said. "In Wisconsin, the grasses are usually green even in the winter and the trees are a lot bigger."
No matter where Litzau is, one thing remains: the Green Bay Packers. He even met a Packer fan in Japan. It illustrates a key point in Litzau's art. He merges mediums and realms to show how they are different and the same.
Print headline: String cheese, Michael Litzau combines his love of art, crafts and the Green Bay Packers in his new exhibit.