Rather than rain-coated roses or bristly kitten noses, Red Earth Art Center is pairing some of its long-held works with new acquisitions for an exhibition titled A Few of Our Favorite Things.
"Within the past year, we've had numerous individuals in the community that have contacted us with artwork they have had in their private collections that they gifted to our art center," said Red Earth co-director Eric Oesch. "We have over 17 artists that are represented in this show, and a lot of them are real famous artists and most of them are actually Oklahoma artists, so that makes it kind of fun, too. It's a great way for us to showcase our new art and give recognition to the folks who have been generous enough to contribute to our collection."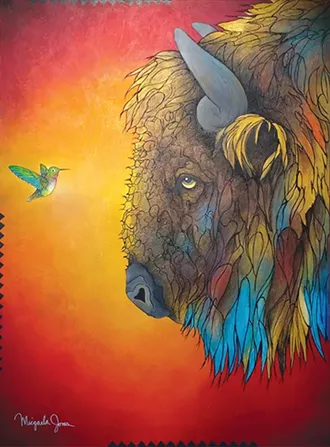 Red Earth Art Center / provided
"Listen Up" by Micqaela Jones
While many of the paintings and sculptures on display have been recently acquired, Oesch said, others have been part of the center's permanent collection, which contains more than 1,000 artworks and artifacts, for several years. Oesch said Red Earth highlights works by living Native American artists, but some of the paintings featured in Favorite Things were created by the Kiowa Six, now recognized as pioneers of contemporary Native art.
"We have some older paintings that are from our permanent collection, and they're from the Kiowa Six who are credited as the folks that introduced Native American painting to the world," Oesch said. "Oscar [Brousse] Jacobson was the head of the art department at the University of Oklahoma in the 1920s, and he took five Indian men and one woman, who all happened to be Kiowa, he took them under his wing and helped them create a new form of Native American art. … It was ceremonial and social scenes of Kiowa life, but it was characterized by solid color fields and minimal backgrounds. It almost looks like hieroglyphic paintings. … That was a new style back then, and it took the art community by storm."
Following an exhibition in Prague, artists Spencer Asah, James Auchiah, Jack Hokeah, Stephen Mopope, Monroe Tsatoke and Lois Bougetah Smoky gained international renown for the singular yet often-imitated style that inspired generations of artists all over the world and altered ideas about what Native American art can be.
"They were very influential and the impetus to a lot of artists in the '30s, '40s and '50s that became the people that were looked up to by the artists in the '60s and '70s," Oesch said. "Historically, Native American art was beadwork, pottery, rugs, baskets. The painting is really a 20th-century art. They painted on sides of teepees and things, but with color palettes and painting on canvas and framed artwork, that was a 20th-century thing."
Biographies and photographs of the artists accompany the sculptures and paintings on display at Red Earth.
"A lot of times when you look at art, you don't think about the person who created it, what their life was like," Oesch said. "So our intent is to put a face to a painting so people know these artists were just like you and me that happen to be Native that painted."
Donated favorites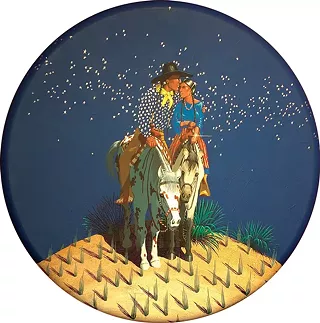 Red Earth Art Center / provided
"Untitled" by Robby McMurtry
The exhibit is called
Favorite Things
, but Oesch said all of the works in Red Earth's collection are treasured.
"They're all our favorites because they're all beautiful," Oesch said. "These pieces are definitely favorites of the people who donated the art to us. We just felt fortunate that they thought of the Red Earth Art Center as a place to gift their artwork so folks that come and see us can appreciate the art like they did."
The exhibition also highlights the donors of the artworks on display to show gratitude for the generosity that's allowed Red Earth to acquire its collection.
"As a nonprofit, we don't often purchase art," Oesch said. "The art that we have is donated to us. … It might be a couple that is downsizing and have grown children who might not be interested in the art their parents collected, or they have their own taste, or their house is already full of art. So in downsizing, they wanted to make sure that the art they had could be seen and appreciated by others. So by contacting us, we're able to display them for all the world to see."
Oesch said that some of his personal favorites in the exhibition are contemporary works that continue to expand the possibilities of Native art.
"One of the artists we have on display, Dylan Cavin, he's in his early 30s, and he's a hit in the art community, winning awards, has his artwork featured in magazines and he has a background in comic book and tattoo art, so he's very contemporary, and we'll have a piece on display that was donated by him," Oesch said. "There's a couple by an artist named Robby McMurtry. He was Comanche and he lived in Morris, Oklahoma. He's deceased now. He did one of the cowboy that's all red, and he's smoking a cigarette and he's got on that red shirt with the white polka dots, and it's very contemporary, almost hip."
By showcasing traditional, historic and contemporary paintings and sculptures, Oesch said, Red Earth can help visitors understand the many complexities of Native American culture and the wide-ranging creativity it inspires.
"Indian art can be anything," Oesch said. "It doesn't have to be a painting of a teepee or an Indian hunting a buffalo. it can be anything an Indian person paints. That's what determines if something is Indian; it's the heritage of the person painting it. … If the person that paints it is Indian, that makes it Indian art."
Visit redearth.org.