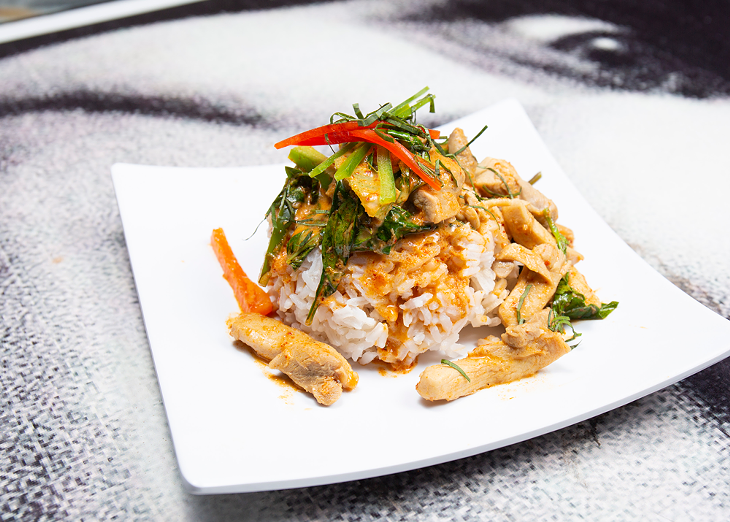 Berlin Green
Chicken panang curry
Temperatures have finally gotten cold, so if you're not going to dive into a big bowl of chili, you might as well warm yourself up with a Thai curry.
Each month, the chefs from Guyutes — Jarrod Friedel and Matt Pryor — team up with Oklahoma Gazette to bring infused recipes way outside the realm of pot brownies. This month, they tackle chicken panang curry.
"I've been making this for, like, three months and the steps are super easy, but if you don't follow them, it turns into something completely different and it has a completely different taste," Friedel said.
The good news is that the ingredients are also easy, with panang curry paste available at local supermarkets like Super Cao Nguyen. There are no substitutions for it because it includes some rarer spices like galangal.
"It's another Asian derivative of ginger. It's one of the things you have to get. You can't just use ginger. There's a lot of things you can substitute sometimes, but it has its own flavor profile," Pryor said.
Ingredients:

1 pound boneless skinless chicken thighs, cut into strips
1 tablespoon vegetable oil
80 grams panang curry paste
1/4 cup coconut milk
1/2 cup water and 1/2 coconut milk mixed together
1 tablespoon palm sugar
1 tablespoon fish sauce
4-5 kaffir lime leaves, shredded
2 bell peppers thinly sliced
1/2 cup Thai basil leaves
1/4 cup infused coconut milk
1/4 cup water
Cream Directions:
14 grams (half-ounce) decarbed cannabis
1 can coconut milk
Cheesecloth

Add coconut milk to the pot. Turn heat on LOW.
After cream starts to heat up, add decarbed cannabis. Whisk constantly. Do not let cream boil — a very small simmer is what you want. If your milk comes to boil and turns brown, it's scorched and it will be useless, so be very careful. You must constantly whisk and watch your heat.
Keep this process up for 30-45 minutes, then place cheesecloth over a quart mason jar and strain cannabis out of coconut milk. Return to the refrigerator immediately.
Directions:
Pat chicken dry and cut then cook chicken in a non-stick pan, without oil. Remove from the pan when cooked through and set aside.
Drain chicken water out of the pan and add vegetable oil.
Heat over medium heat until oil shimmers, then add panang paste and stir constantly until paste becomes fragrant.
Add 1/4 cup of coconut milk very slowly and stir in to make a slurry, then add coconut milk and water again slowly along with chicken to the slurry and stir constantly until thoroughly mixed.
Add kaffir lime, palm sugar, fish sauce and stir.
Reduce heat to a simmer and add bell peppers.
After 5 minutes of simmering add infused coconut milk and 1/4 cup of water.
Simmer 5 minutes more and remove from heat.
Add Thai basil leaves and stir in.
Serve over rice.
Note: If it's too spicy, decrease the amount of curry paste. Add more coconut milk to help decrease spiciness also.

Dosage information:
14g x 20 percent THC
28 grams x 200 milligrams (percentage converted to decimal)
2800 x .088 (decarbing loss)
2464 x .80 (loss in infusion process)
1971.2 milligrams divided by 24 tablespoons
82.13 mg per tablespoon
82.13 x 4 tablespoons
358.52 divided by 4 servings
82.13 milligrams per serving