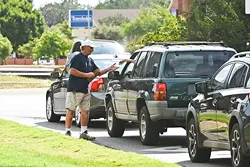 Mark Hancock
A man folds up his cardboard sign that reads "Homeless And Hungry Please Help Anything", and excepts a cash hand-out from a motorist waiting to turn at the light at the intersection of N.W. Expressway and Belle Isle Boulevard, 9-17-15.
Ask anyone and they'll name intersections where panhandlers stand in Oklahoma City.
"You can't drive anywhere in the metro area and stop at an intersection and see it free of panhandling," said Ray Bitsche Jr., the executive director of Upward Transitions. "When I pull up to the intersection, there is the faith side of me that wants to roll down the window and give them something. But there is the other side of me that knows there is an abundance of resources in this community for those that are homeless."
Seeking change
As the head of Upward Transitions, a nonprofit that serves people on the verge of homelessness, Bitsche is well informed of such resources in this community. Last year, the organization alone served 5,500 people through assistance programs such as rent, utilities and transportation.
The services it provides might not be the best fit for all the panhandlers he encounters while waiting for a green light.
That's why he carries "Real Change, Not Spare Change" vouchers, which provide a free bus ride to City Rescue Mission, Grace Rescue Mission or the Salvation Army. Launched in 2005, the program was started by the Homeless Alliance in its attempts to guide people to the services they need.
"I've had some just wad them up and throw them down," he said. "I've had other put them in their pockets."
His gesture is one way of working to eradicate panhandlers.
The Oklahoma City Council is exploring another way through changes to an existing ordinance that would make it unlawful for people to solicit a donation, ride, employment or other business from a city street median.
At the Sept. 15 meeting, the author of the ordinance, Councilwoman Meg Salyer, the Ward 6 representative, proposed adding and striking language to an existing motor vehicle and traffic ordinance. Her proposal would also eliminate exceptions for permits, which are typically obtained for soliciting charitable donations.
Salyer believes the issue of panhandlers in city medians is a citywide problem and gets "phone calls five times a day concerning this issue."
She is not the only one. Citizens contact city government over safety concerns when some panhandlers move into busy streets to collect donations. Panhandlers also pose a threat to traffic flow, as some drivers slow down in efforts to hand out a couple of dollar bills, according to city documents.
Salyer described OKC residents as generous in their desire to help those less fortunate, but she also believes in existing social service organizations providing aid to the poor and displaced.
The ordinance change, which has been backed by six council members and Mayor Mick Cornett, is "one tiny piece of what we hope will be a larger effort to try to solve the problem and help those most needy," Salyer said following the introduction of the ordinance at the meeting. "My hope is that it continues a dialogue and we continue to explore creative ideas and solutions. This isn't perfect. It is just an idea. I think the public education piece is the most important piece we can do."
The public will get its chance to be heard on what many are calling the "panhandlers ordinance" at a public hearing during Tuesday's council meeting, which begins at 8:30 a.m. The final hearing is set for the Oct. 13 council meeting.
Creative solutions to affecting panhandling are already implemented in OKC, said Dan Straughan, executive director of the Homeless Alliance. Straughan characterizes the voucher program — used by Bitsche and many others — as a pipeline for connecting panhandlers with shelter, healthcare, substance abuse treatment, mental healthcare services and a warm meal.
Potential impact
Straughan, like many others who work with the displaced, said not all panhandlers are homeless; however, enacting the ordinance would further hurt people in poverty. Panhandlers are likely to move into downtown, Bricktown and parking lots to interact with potential donors.
"They are using their income from panhandling to make ends meet," Straughan said. "If you take away that venue for getting income, we think the ordinance — if rigorously enforced — would increase homelessness in our community."
Under the proposed ordinance, a panhandler would be ticketed for soliciting and could face a fine with a maximum penalty of $500, in addition to court costs. Those cited can pay a $167 fine to the court clerk to avoid the Class A offense going before a judge. Panhandlers can claim indigence and request a hearing for a judge to determine the ability or inability to pay the fine. In the event that a panhandler is deemed free of the fine by a judge, they would still be out court costs. Failure to pay fines calls for a bench warrant.
With a warrant or outstanding fees attached to a name, it becomes difficult to qualify for social services. At the Homeless Alliance, donors contribute to rent and utility payments.
"None of them will pay outstanding fines," Straughan said. "That in and of itself becomes a barrier for housing."
VOICE OKC, a coalition of nonprofits, congregations and other various groups, also finds trouble in the citations issued to panhandlers. Leader Suzanne Nichols believes those cited will not pay fines and likely not appear in court. That cycle will then repeat.
"What happens the next time they are on the street?" asked Nichols. "(The ordinance) doesn't talk about repeat offenses. It just doesn't seem like the way to approach a problem like this."
VOICE OKC believes in an education campaign, which it approached city leaders about in June. It calls for a series of community meetings to educate the public, alternatives to giving cash, and programs curbing the practice.
One organization that is curbing panhandler populations is two-year-old The Curbside Chronicle, a bimonthly magazine featuring stories written by displaced people and covering social issues relating to the issue.
The Chronicle works to end panhandling by exchanging cardboard signs pleading for money for stacks of the magazine. Vendors — many former panhandlers — sell the latest issue from street medians and keep a portion from each sale.
The bimonthly publication program has helped many local residents build sales skills, improve confidence and get back on their feet, said Rayna O'Connor, editor-in-chief.
The organization's success stories vary from vendors leaving The Chronicle for traditional employment to financing apartment rental. For vendors to achieve their goals, they must sell the $2 publication, often on street medians. The proposed ordinance threatens the success of the vendors and the future of the magazine, which was spurred by the national success of similar street publications.
"Street papers have been very successful at eradicating panhandling in other communities," O'Connor said. "This is a positive alternative and a legitimate form of employment."
She said, in Nashville, Tennessee, the community rallied behind its publication and circulation has soared. The result is a city with very few panhandlers as many former panhandlers became involved with the publication.
"That is something we would love to see in Oklahoma City because panhandling is an issue," she said.
If the ordinance passes, The Curbside Chronicle could have to move to sidewalks. However, O'Connor said vendors would still face breaking the law.
"The sides of the streets are problematic," she said. "You are selling to the passenger side of the car instead of the driver. It requires moving into the street to make a sale.
"There is already an ordinance that exists that if you step into the street there is a fine. If our vendors were on the side of the road, it would make it very difficult for them to make sales without breaking the ordinance."
Public safety
The Oklahoma City Council is not alone in exploring measures to reduce the number of panhandlers. Recently, some cities have enacted ordinances to fine drivers giving to panhandlers. In Charleston, South Carolina, a law was passed to keep panhandlers safe and traffic moving. Beginning last Friday, drivers are now required to pull into a permitted parking area to hand a panhandler a donation. If police see street exchanges, both the panhandler and driver are at risk of a maximum of 30 days in jail and a $1,092 fine.
City leaders in Somersworth, New Hampshire, also passed a law calling for both panhandlers and drivers to be fined up to $500.
The Oklahoma Department of Transportation recently posted signs in the medians of roadways maintained by the state that read: "State property, no trespassing." The signs are an effort to curb the practice.
At the council meeting, Ward 2 Councilman Ed Shadid suggested the city seek alternatives, including signage. He is the only council member who did not sign off on the proposed ordinance.
"What would happen if you put up signs in the most plagued and beleaguered (medians) that would educate the populous and told them not to give? What would be the consequence of that?" Shadid asked during the meeting. "Pick your most beleaguered intersection and try to see if they work before you start assessing fines."
Many think educating the public on giving habits is a measure to minimize panhandler populations. Others believe supporting The Curbside Chronicle and social services organization is a step in the right direction.
"It is a complex issue," said Bitsche after naming areas at which he sees panhandlers, including ramps to the interstate and parking lots. "Is the real solution in an ordinance? If the ordinance is passed will it go away? Probably not."
Print headline: No simple fix, Proposed changes to city panhandler ordinance raises concerns as a public input opportunity set for Tuesday.