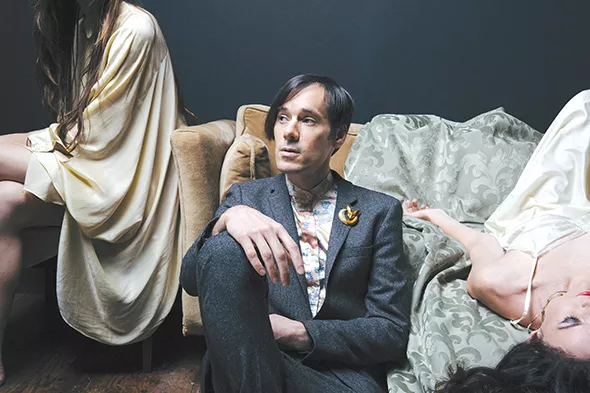 Ebru Yildiz / provided
of Montreal performs Nov. 14 at Tower Theatre.
Musician Kevin Barnes and of Montreal have been pushing the boundaries of pop and indie rock since 1996. The band's latest tour will bring it to Tower Theatre, 425 NW 23rd St., on Nov. 14.
Its 15th studio album, White Is Relic / Irrealis Mood, came out in March. Barnes said a major inspiration for the music was his experience with paranoia about our reality being an elaborate computer simulation.
"I'm sure a lot of it was the political climate and just feeling kind of powerless to the evil forces that seem to be devouring the world," Barnes said in an interview with Oklahoma Gazette.
Indeed, his fixation with false reality permeates the songs on White Is Relic. "Plateau Phase" sounds like the inside of a computer that is itself inside a disturbing cyberpunk dreamscape, techno beats giving way to breathy vocals and wistful synths. "We can hear the simulation wheezing," Barnes declares in the chorus.
However, the album is not all bleak dystopian realness. "Sophie Calle Private Game" is a candid and funky account of new love in which Barnes intones, "I'm feeling less ugly now, like you beautify me." Throughout the record, he uses wry humor and bombastic lyrics to address the human condition.
For the sound and structure of the album, Barnes turned to the extended 1980s dance mixes of Prince, Janet Jackson and Sheila E. for inspiration.
"What they were doing was taking components from the song, from the three-and-a-half-minute single, and then expanding upon those ideas and stretching out those ideas a bit more," Barnes said.
He decided to work similarly, creating an initial palette in the first part of a song and letting ideas develop and take the music to new places. He said he began to question pop music's usual limitations of roughly three-minute songs, which is usually tailored to listeners' short attention spans.
"But music doesn't really work that way," he said. "I think for music to be powerful and immersive, it has to take up more time and space. It's fun for me to allow myself to work with larger parameters."
An idea might last 30 seconds, and rather than just using a "cut and paste" method with previous elements, Barnes let the process take him further. He pointed to the final song on the album, "If You Talk to Symbol / Hostility Voyeur" as an example. The track is by turns cold and mechanical, sweet and symphonic. Barnes' vocals either march along robotically or dip into a melodic, John Lennon-esque tone.
"That's a perfect example of that approach," Barnes said, "where [you] start off with a certain idea and from there create something new, and then from there create something new, then from there create something new. And then by the end of it, it feels like a journey, like a sonic journey, rather than just an exercise in pop writing."
Deep thinking
provided
White is Relic / Irrealis Mood by of Montreal
Barnes takes some risks on the album, but he said he wanted to push himself into new creative depths. He paraphrased a David Bowie quote to explain his motivation.
"If I'm out in the ocean and I'm walking so far out that I can just barely stand on the tip of my toes and have my head just barely above water," he said, "that's an exciting place to be, artistically."
Barnes said standing on the edge of something scary can be an interesting creative space and he's always trying to surprise even himself and avoid falling back on what has worked before. It's this approach to the musical process that has always kept of Montreal's sound evolving, moving between and beyond genres like psychedelic pop and indie rock.
"It's sometimes a bit frustrating because it's like, 'Why can't I just be somebody else? Why can't I be a new artist? Why do I have to still be the same artist?'" Barnes added in a moment of frankness.
For lyrical inspiration on White Is Relic, Barnes said he wanted to examine timely subjects like white privilege and empathy.
"I think that stepping outside of yourself and your own experience and using your imagination to step inside of other people's lives is essential in terms of becoming more compassionate and becoming less of an asshole," he said. "Asshole-ism is basically predicated on people not having that ability or not being interested in seeing another person's life experience."
For the most part, the journey of creating this album was a solitary one, with Barnes working alone in the studio and piecing together various parts at his own pace, the entire process taking several months.
"When I work by myself, I tend to lose all concept of time and space, and hours and hours and hours go by," he said. "And I'm just in it in a way that I can't be when there's other people in the room."
He said he would work on a song until he hit a wall and then he would ask for feedback from his collaborators.
"So just being open and not having any ego I think was really helpful," he said. "Because often, someone else would come up with an idea and I would just be like, 'Whoa! That's amazing. I'm going to trash all the other stuff that I did, and we're going to run with that idea.'"
While on tour, of Montreal puts on extravagant shows with a party atmosphere. Audience members can expect bright lights, costumed dancers and Barnes appearing in drag. He said they want it to feel like Halloween or Mardi Gras, and audience members are also encouraged to dress up.
"I realized there's no reason to only do that twice a year or once a year — or never a year," Barnes said with a laugh. "It's fun to do it as much as possible."
He said the songs from the new record have integrated nicely with their recent sets and fans will hear two or three new songs along with of Montreal favorites.
He is already working on new songs for another album, and his inspirations are as diverse as ever. Right now, he's reading the works of philosopher Alan Watts and considering interconnectedness.
"I've been thinking about perception of the universe, the connectivity of all things," Barnes said. "If someone's a bad person, it's just the universe expressing itself as a bad person. The universe needs to express itself as everything."
One can bet that the universe will continue to express itself uniquely through of Montreal's music.
Visit ofmontreal.net.