Alexa Ace
Currently, 15 percent of Parks & Recreation's budget is subsidized for 87 acres of the city's 6,000 park acres.
An initiative petition to establish a dedicated fund for neighborhood parks was filed last week. Led by former councilman Ed Shadid, the petition would enact a 1/8th of a cent excise tax earmarked for park programming, capital improvements and operations.
If passed, the tax would generate about $14 million in additional funding for Parks & Recreation's $32.8 million budget. It could be used to fund the replacement and addition of trees and plants; park programs like athletic leagues, exercise classes and other outdoor activities; capital improvements, but only for new restrooms, athletic infrastructure and bleachers; and operational expenses.
"The tax is earmarked for parks, so it would be a dedicated sales tax for parks," said attorney Eric Groves, who filed the petition. "The gist of it is to provide more money to the parks department to spend on new programs, innovative programs."
Shadid is calling his petition campaign Basics First because of his strong emphasis on the "building blocks of services a city should provide" rather than the "wants such as soccer stadiums, new arenas and economic development handouts."
"Because city government has so rigidly restricted the MAPS program to capital projects without having a plan for how to pay for the operations or maintenance, it's resulted in the chronic underfunding of basic city services to the point that the people of Oklahoma City are asked to sacrifice basic services," Shadid said. "For example, we've been lulled to sleep to think that it's normal to only have restrooms in 1 percent of city parks. … That's not normal, and it's not acceptable. It's time to take care of our needs before our wants."
Of the 160 parks in the city, Doug Kupper, director of OKC Parks & Recreation, said there are "maybe 10 [parks with] fully functioning restrooms."
"Some of the rest of the parks have port-a-potties, and not all of the parks have port-a-potties. Obviously, a little neighborhood park, you don't want a port-a-potty sitting right across the street from somebody's house," he said. "And our 100 miles of trails, unless that trail goes through one of those 10 parks that has a restroom … there are no restrooms available. … The addition of restrooms is only second to walking paths and trails within our parks."
The tax would not fund mowing grass in parks, and it would not "benefit directly or indirectly" any foundation-managed parks like Boathouse District, Myriad Botanical Gardens or Scissortail Park.
"We don't want this source of funds to go to foundations that have other sources of funding that aren't transparent, that aren't subject to open meetings and open records," Shadid said. "We want these monies to be fully transparent, for the taxpayers to know exactly where their dollars are going, and that's just not possible with these private foundations. Not only is it that we want the neighborhood parks to be the recipient of these funds; we also want maximum transparency."
Foundations fundraise on behalf of the parks they manage and accept donations. For example, Love's Travel Stops recently donated $2 million to Scissortail Park for the naming rights of its great lawn. Additionally, the city subsidizes Scissortail Park for $3.4 million and Myriad Botanical Gardens for $1.8 million, which is about 15 percent of the parks budget for 87 of the city's 6,000 park acres.
Basics first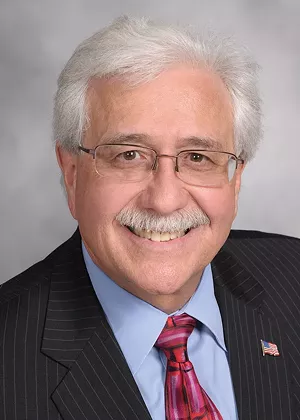 Provided
Doug Kupper, director of Parks & Recreation, said the additional money would allow for more robust, education-based programming.
In May, Shadid released a SoonerPoll he paid for. With 406 individuals surveyed and about a 4 percent margin of error, people were asked if they would support a "1/8-cent sales tax to support the operations and maintenance of our 6,000 acres of city parks." Nearly 70 percent of respondents supported the measure.
"I think it's great that the public sees the need for improving the park system. They're starting to understand the value of quality of life, and that excites me a lot," Kupper said. "From a programming perspective, we want to be able to offer more robust, recreational offerings for all of our children across the city at a free or reduced fee. That's exciting that we might get a shot in the arm for our recreation division that has struggled for quite a few years. … So that's exciting that we would be able to employ quality artists to teach art in our recreational centers."
When it comes to programming for children, particularly during school breaks or vacations, Kupper is happy about the prospect of focusing on education.
"We should try to be more education-based in our summer programming because a lot of teachers have to do remedial work when a kid's been out of school for 10 or 12 weeks," he said. "They got to make sure the kids haven't forgot what they learned, so if we can have more education-based summer programming to offer our parents to keep these kids occupied, they can stay up with their current level so that when they go into that next grade, the teacher can pretty much just start right into that next grade's curriculum without a lot of remedial."
Despite the petition not allowing for money to be spent on mowing lawns, which Kupper said takes up the largest part of the budget, staff could still alleviate the issue and improve parks' beautification.
"If we can create planting groves of new trees that may reduce our mowing in any specific park but at the same time add a great deal of beautification, then we can benefit from this 1/8-cent sales tax since it's allowing for planting to occur," he said. "Right now, we are able to mow the majority — it doesn't happen all the time, especially this spring since it's rained so much — but almost all of our parks are mowed twice a month, every two weeks."
Kupper said the additional funding would also help strengthen neighborhoods, which would strengthen the city.
"It's a proven fact that any house that is within two blocks of an existing well-kept park, the property value goes up quite high," he said. "It's all about neighborhoods. A strong city has to have strong neighborhoods, and I think neighborhoods are stronger with high-quality, open spaces and recreational opportunities to bring that community together. They watch out better for each other, so there's even a lot of crime prevention from that perspective. And if we can start catching kids to be associated with our programs or any of the youth-based programs at an earlier age, the less likely they might be to join a gang or get into criminal activity."
In order to appear on the December ballot, along with the MAPS 4 package, the initiative petition needs about 6,500 signatures within 90 days of the filing date, June 20. Shadid does not think they will have issues collecting the required signatures. He hosted a volunteer training session that he said about 50 people attended, and he plans to host more in the future.
Shadid and Groves plan to file another similar initiative petition that would create a 1/8-cent tax to support public transit.
Visit basicsfirstokc.com.