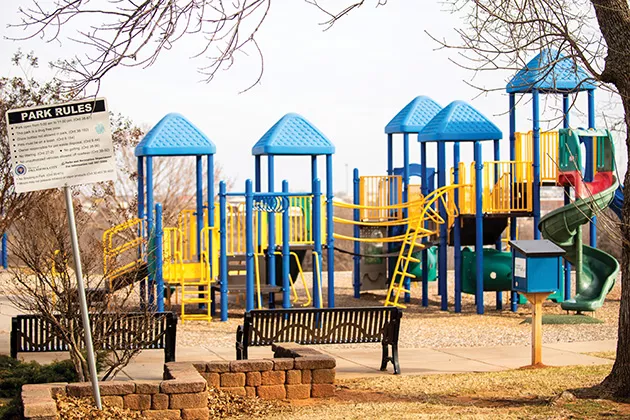 Miguel Rios
Oklahoma City voters will decide whether or not to pass a dedicated 1/8th cent sales tax to support neighborhood parks.
Neighborhood parks across Oklahoma City could see improved facilities and programming if the measure is approved by voters.
Former councilman Ed Shadid spearheaded the initiative to get the proposal on a city ballot. It came in response to the MAPS program, which focuses on capital improvements over maintenance and operations. Former councilman Pete White, a member of the Greater Oklahoma City Parks & Trails Foundation, also heavily supports the proposal.
"MAPS is an infrastructure program. There's nothing wrong with that. MAPS has been great, but this would be the financing that would permit the city to capitalize on the capital investment that they're going to make under the MAPS 4 park money," White said. "In order to make the parks as viable and as valuable as we'd all like for it to be, it takes programming and it takes day-to-day maintenance."
Voters approved MAPS 4 in December, which sets aside $140 million mainly for park upgrades but also includes $16.5 million for an operating fund "to provide for the operations and maintenance of these park improvements."
However, Doug Kupper, director of Parks & Recreation, said money from this fund can only be used to maintain things created by MAPS 4.
"I have 165 parks. If I don't touch 100 of those parks with any part of MAPS 4, then that's 100 parks that the 1/8th of a penny can then go to help improve the recreational opportunities," he said. "That's the reality. Yes, there is an amount of money that is in MAPS 4 that is specifically help with [operations and maintenance] of things that are created by MAPS 4 like those four youth centers. … The 1/8th of a cent will do that for our other facilities."
Currently, the city's sales tax rate is 4.125 percent. The proposal would create what Oklahoma City Zoological Park and Botanical Garden already has: a dedicated 1/8th cent sales tax, which Shadid has said brings in roughly $14 million a year. The parks sales tax would take effect July 1 if approved.
If passed, revenue from the tax could be used to fund the replacement and addition of trees and plants; park programs like athletic leagues, exercise classes and other outdoor activities; capital improvements, but only for new restrooms, athletic infrastructure and bleachers; and operational expenses. Revenue from the tax cannot be used for any foundation-managed parks like Boathouse District, Myriad Botanical Gardens or Scissortail Park.
"We're taking a look at our athletic complexes and seeing what we can do to improve the quality of the playing conditions and possibly expand the number of fields that are available for us to program so that we can get more people both youth and adults involved in the athletic endeavors of their choice," Kupper said. "We're still putting ideas and plans together in anticipation of the 1/8th of a penny, but not knowing whether it's going to pass or not, we haven't really drilled into specifics. … The main thing is they want to make sure we up our game for recreational programming with little or no fees or direct cost to the participants, so we're taking that into consideration as well."
Coupled with the recent passage of MAPS 4, Kupper said this new stream of revenue for his department could help expand services and programming to neighborhoods that haven't seen them.
"We're in a lot of neighborhoods. Now, there's a lot of neighborhoods that have existed for quite a while and we don't have representation, and that's where MAPS and the 2017 [general obligation bonds] will help us because both of those have new parks in multiple wards," he said. "The 1/8th of a penny will then help us activate those spaces and create those opportunities and maintain those opportunities for programming purposes for those neighborhoods that have existed for decades but haven't had access to Parks & Rec elements. So that's what we're excited for overall."
During his time as a councilman, White said he was through a lot of peaks and valleys in terms of sales tax revenue.
Provided
Doug Kupper, director of Oklahoma City Parks & Recreation, said a 1/8th cent sales tax dedicated to parks would be transformational for the city's neighborhoods.
"The availability of funds to do everything that a municipality does fluctuates," he said. "Well the first place that always got hit when that happened would be parks. It's the guns and butter argument; are you going to lay off police officers and firefighters or close fire stations or are you going to reduce services someplace where it can happen without lives at risk? Even in the good times, when the park directors have had money to operate and maintain the parks, it's been very risky to put permanent programming in because they knew their financing source was not guaranteed. The result is that parks programming has always suffered. … There was a reticence about spending money on programming because you had to hire people and you didn't know if next year you were going to have the money to keep the program going. I think that's where people are going to see the difference."
When sales tax revenue dropped, the funding for Parks & Rec also dropped, but Kupper said when the revenue went up, funding didn't necessarily go up. In fact, he said roughly three years ago, the department was asked to cut nearly 11 percent of its budget and still hasn't recovered from that hit.
"With the 1/8th of a penny dedicated, yes that will go up and down, but it can't be adversely affected as a general rule as a budget cut. It will be what it is," Kupper said. "The dynamics of the impact on neighborhoods through the MAPS 4 and the possibility of the 1/8th of a penny will be transformational even higher and above what MAPS 4 is going to do for us. We're going to be able to take it to the next level if we get the 1/8th of a penny."
One of the critiques White has run into are questions about whether he is trying to "correct" MAPS 4.
"It really doesn't have anything to do with that. It has to do with something that MAPS 4 wasn't capable of doing, which is providing consistent, permanent, long-term funding for operations, maintenance and programming," he said. "I won't deny it's a tax, but it's a tax that affects quality of life probably more directly than any other single 1/8th of a cent I can think of. … We've got 94 parks [that would be affected], and they're scattered all the way from Draper Lake to Mustang to near Deer Creek. They're all over the place, and so everybody's going to get a piece of this."
White also emphasized that the effort to get the tax passed has been a grassroots effort financed by individuals. He invites anyone who supports the tax to reach out to help spread the word or contribute financial assistance.
Visit okcparksandtrails.org or email info@okcparksandtrails.org.
Feb. 7 is the deadline to register to vote or update voter registration for the March 3 election. Visit okc.gov/elections.