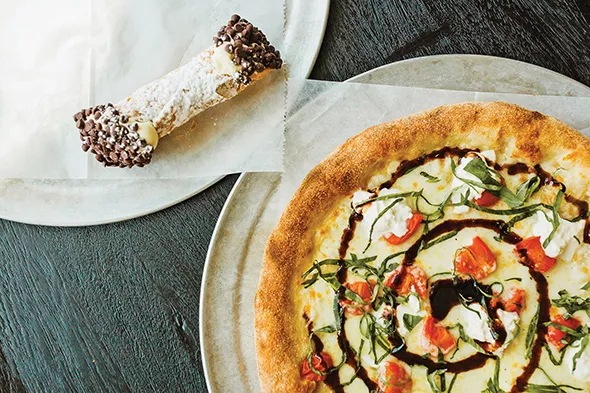 Erin Hassett / provided
Providence Pizza will feature Neapolitan-, New York- and Detroit-style pizza.
Seven microkitchens and two full-service bars will open at Parlor later this year, which will mark Oklahoma City's second food hall concept.
Parlor is the second concept of its kind operated by Meriwether Companies, which launched its first Parlor in Kansas City, Missouri. The Oklahoma City location is a 13,000 square-foot space, once home to Pioneer Telephone, 11 NE Sixth St. Parlor's opening is tentatively set for August or September.
Chef Robert Black, formerly of A Good Egg Dining Group, who serves as Parlor's operating partner, oversees both the Kansas City and Oklahoma City locations.
"Most people might say the same thing: 'I get the idea of a food hall,' and maybe even picture something like mall food court in their mind. I think the reality is going to be totally different," Black said. "For me, it is much fairer to call it an experience than a place to eat or drink because you have so many options. It is seven different owners operating the kitchens, and they have their own personality, and it matches the interior. Each seating area is going to have its own feel. You can sit in the parlor area and have sushi one day … and [then] sit on the south side of the building with some pizza. With all of the floors, kitchens, bars and seating areas, it causes this sense of wanting to come back and try different things and drink in a different bar."
Parlor has agreed to terms with six of its seven restaurant tenants, four of which are from local chefs, while the other two are some of the most popular from the Kansas City location.
The first floor of Parlor features Burger Pig, a local beef "better burger concept" from Timothy Abell; Pachinko Parlor from Eric Smith, which formerly operated a location in Automobile Alley; and two concepts that make their way from Kansas City: Providence Pizza and Sura Eats, a Korean street food concept.
The second floor features El Guate, a Guatemalan restaurant from Chris McCabe; Graffiti OKC, an Asian-Latin concept from chef Jonas Favela; and a to-be-determined final spot.
Restaurants sign a minimum of a year lease at Parlor and move into a turnkey space with equipment provided. The restaurant owner provides employees, signage and food while keeping all of its profits.
"The buzzword around town is 'incubator,' but I don't really like that word," Black said of the food hall concept. "Each kitchen is its own restaurant. All of these kitchens will turn over at some point. The food at Parlor is evergreen. If a tenant comes in and does well, we want to be positioned for them to move from microkitchen to brick-and-mortar, and we have the resources to help them take the next step."
Parlor represents Abell, Favela and McCabe's first restaurants in Oklahoma City. Abell moved to Oklahoma City from southern California, where he operated a food truck. He worked with Black at Red PrimeSteak and enters Burger Pig with a signature patty that is made with locally sourced, dry-aged ground beef and pork belly.
Favela has worked in some of Oklahoma City's most recognizable kitchens, most recently at Union Wood Fired Grill, where he showcased his ability to fuse the Latin and Asian flavors that will be a core tenet of his Graffiti OKC kitchen.
McCabe's El Guate fills a void in the city: chef-driven Guatemalan food that is open for dinner. Two of Oklahoma City's most prominent Guatemalan restaurants, Cafe Kacao Latin Cuisine and Cafe Antigua, close in the afternoon.
"Those places have great coffee and breakfast programs, but this will be geared towards lunch and dinner, which will separate his menu from their menus," Black said. "This is going to be interesting to see [Guatemalan food] presented with a chef influence."
Smith opened Pachinko Parlor at Ninth Street and Broadway Avenue at the beginning of the decade, early in Automobile Alley's revitalization. It closed in 2012, but Black thinks the fusion sushi concept is due to be a hit.
"They were one of the first pioneers [in Automobile Alley]," Black said. "It didn't work out, and it wasn't because it wasn't great food. I just think it was too early. This area hadn't been developed, and there wasn't enough foot traffic. They do have a little bit of a cult following, and if you ask people that are foodies from this area, most of them have fond memories. It includes me, so I'm excited to see a rebirth of Pachinko."
Erin Hassett / provided
Sura Eats is a concept at Parlor that started at the original Kansas City, Missouri, location.
Black said Sura Eats is the overall No. 2 selling concept in Kansas City and specializes in Korean dishes like bibimbap and japchae. Providence Pizza offers three styles of pizza — Neapolitan-, New York- and Detroit-style, the latter of which is gaining popularity across the country this decade — and bakes the crust in a deep pan for optimal caramelization.
"Two weeks ago, I was in Chicago for a food show, and I was like, 'Man, I need to get some deep-dish because I'm in Chicago,' but after I've had Detroit-style, Chicago is kind of 'eh,' which is sad because I used to love Chicago-style," Black said.
Black oversees Parlor's cocktail program, which will be featured at an upstairs and downstairs bar. It will have 12 regional beers and cocktails on tap.
"Everyone wants a great cocktail these days but don't want to wait 15 minutes to get one," he said. "How do we make great craft cocktails but be able to execute them in less than a minute? Our craft cocktails makes the bar program stand out. It will be seasonal and change every 3-4 months. It's where I get to play."
There will be plenty of parking for Parlor off Seventh Street, and an information booth will direct guests where they want to go. The downstairs bar is meant to mimic someone's parlor at home; there are no tables but plenty of plush chairs and couches with a fireplace. The back patio will feature a bocce ball court, and the upstairs patio will likely be home to weekly live music.
"If you want to grab a sandwich and a beer and be out in 30 minutes or if you want to stay for three hours and enjoy everything, it's not hard to do," Black said.
Visit parlorokc.com.