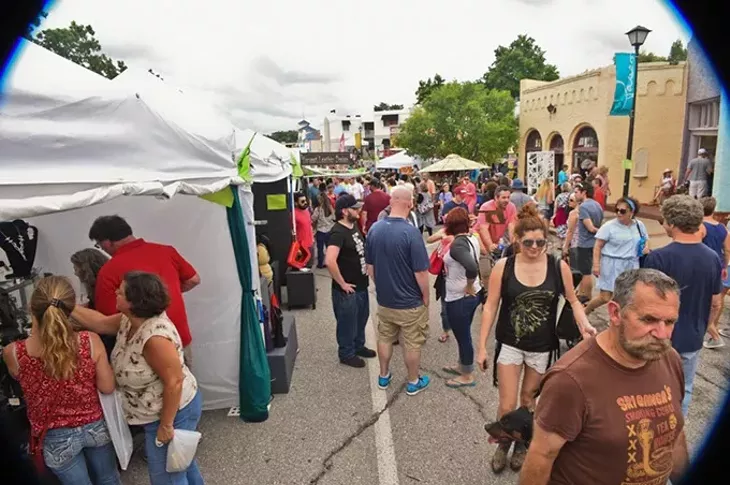 On Memorial Day Weekend in 1976, Paseo Arts Festival started its open-air art tradition with rudimentary supplies and a ton of talent. Word quickly spread that the Mediterranean-style neighborhood in central Oklahoma City threw a great three-day art party. Now, for its 40th birthday, Paseo Arts Festival sets the stage for the next four decades of building an audience for deserving artists.
"You know, 40 years is momentous for us," said Amanda Bleakley, Paseo Arts Association executive director. "It started out as a street fair where the artists from the Paseo put out cinderblocks and boards and set up their work out in the street. And today, it's a national event — we get artists from all over the country that apply to the festival."
This year's event, May 28-30 in The Paseo Arts District between NW 30th Street and Dewey Avenue and NW 28th Street and Walker Avenue, is expected to attract over 60,000 visitors to its three live music stages, youth activities and roster of artists. Bleakley said over the course of the past 40 years, Paseo Arts Festival has built a strong reputation.
"There were 205 applicants for only 85 or 86 slots, and it's grown every year," she said. "It gets around in the artist community, and we're known for being artist-centric. We just charge a rental fee, and we don't take a cut of the artists' receipts. Word spreads that this is the city to come to and that this is a great festival."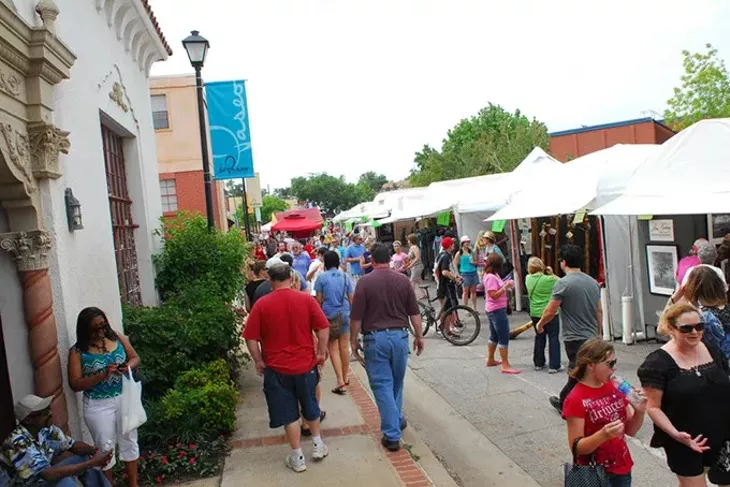 Guests browse the 2015 Paseo Arts Festival. | Photo Gazette / File
Continued growth
In addition to the growing number of painters, sculptors and mixed-media artists, this year's event features the largest selection of food vendors in festival history. Participating food trucks and carts include Cristi&Ali Cuisine, Dippin' Dots, Doc's Street Grill, The Great Panini, Guiltless Concessions, The Lemonade Company, Linda Chan's Concession, Metro Minis, The Roadhouse, Rolling Cafe, Tad's Bodacious Burritos, Cinnamon Roasted Almonds and Yeti Ice Shack. Urban Wine Works and Whispering Meadows will serve wine, and the beer garden that debuted last year will feature selections from Roughtail Brewing Company.
"I'm excited, and I lucked into them," Bleakley said of Roughtail, which will serve 3.2 percent versions of its signature beers. "We have quite a few new people. I wanted to diversify our food options and have more vegetarian options, and it all balances with the restaurants in Paseo."
The event continues to expand its music footprint by filling three stages with a variety of rock bands, hip-hop acts and singer-songwriters.
Highlights include Shane Henry, Maggie McClure, Aluma, Jared Deck Trio, Gregory Jerome, Hannah Wolff, Bowlsey and O Fidelis, along with a Saturday performance by the longest-running act in the event's history: Jahruba and The JAH Mystics.
"We want to cover all types of music, and this is a way for musicians to support us and for us to support the musicians as well," Bleakley said. "Music is art. It's a good fit."
Young visitors can enjoy the children's tent, featuring activities for future artists and performance programs from Theater Upon a StarDanceSwan, one of many beneficiaries of funds raised by the festival.
"This is the biggest fundraiser we do for the Paseo Arts Association," Bleakley said. "This is what helps us fund our programming and events throughout the year, and it's important for the artists in this community."
Kelly Killough of Kelly Killough Studios makes caricatures of Ayla Amonovic and Ryan Moore at the 2015 Paseo Arts Fest. mh
Artsy avenues
The Paseo Arts District is in what is now considered a central neighborhood, but when it was built in 1929 by architect G.A. Nichols, it was the first shopping district north of downtown.
As OKC grew, the Paseo's character evolved; it become a countercultural center in the 1950s and '60s and became viable arts community in the 1970s. But during the oil bust of the 1980s, much of the district was boarded up due to foreclosures.
Thanks to the efforts of late developer John Belt and wife Joy Reed Belt, owner of JRB Art at the Elms, Paseo began its resurgence in the 1990s and is now filled with shops, galleries, restaurants and residential housing.
One of Belts' most recent projects was The Paseo Plunge, a three-story, 22,864-square-foot building that used to house the Spaghetti Factory in the '80s. Fully renovated, The Plunge is now home to several artists, including Rick Sinnett and George Oswalt.
Bleakley said The Plunge symbolizes how the district continues to grow and solidify its commitment to arts in Oklahoma City and the festival is the best way to introduce people to what Paseo offers every day.
"We stay very busy," she said. "I think that even though I've lived in the neighborhood for 21 years, I was unaware of everything the Paseo Arts Association did until I came to work here. This community is so art-focused and wanting to spread that to everyone, and it is growing."
---
Paseo Originals
To mark its 40th anniversary, Paseo Arts Festival organizers have planned a reunion of sorts to bring together people who participated in the events in the late '70s and early '80s.
If you participated as an artist, musician, volunteer or vendor or know someone who did, you could be a Paseo Original and are invited to visit the Paseo Originals tent at NW 30th Street and N. Dewey Avenue during the Paseo Arts Festival, which runs May 28-30.
While there, meet and greet other originals and share your festival stories, which can be recorded for an Oklahoma Contemporary Arts Center history project. Friends and families are welcome.
By Gazette staff
---
Paseo Arts Festival
10 a.m.-11 p.m. May 28-29, 10 a.m.-5 p.m. May 30
Paseo Arts District
NW 30th Street and Dewey Avenue
405-525-2688
Free
---
Print headline: Art al fresco, Paseo Arts Festival turns 40 this year, but the three-day event is far from being over the hill.