The Paseo Arts Association / provided
The 42nd Annual Paseo Arts Festival features art, entertainment and food.
There wasn't much Amanda Bleakley could do in 2014 when she took over as executive director of The Paseo Arts Association, at least not right then. The Paseo Arts Festival, the association's largest annual fundraising event, was just a few weeks away, and the previous executive director had left months before. Bleakley busied herself proofreading signs and posters and hoping to hold it all together.
"I just tried to control the chaos," she recalled.
In the years since, Bleakley said she has mostly made minor tweaks to the festival, which runs 10 a.m. Saturday-5 p.m. Monday.
"I've just done little things," Bleakley said. "I added craft beer. I switched from Pepsi to Coke."
A more noticeable change this year is the new information tent located at the intersection of NW 30th and Paseo streets, which should ease congestion in the association's headquarters.
"In the past, we've used our office as information, artist check-in, artist hospitality, sometimes first aid and credit card sales," Bleakley said. "So it's really crowded and there's not very much space here and people come in here looking for things. So we thought maybe if we had a place up at the top of the hill, people could go there and they could get their map there and ask questions. Just to be a little more accommodating."
Bleakley has also made an effort to give greater recognition to the festival's volunteers, who get a free T-shirt and drink ticket for three hours of work.
Ever evolving
Now in its 42nd year, the festival has gradually evolved from a small neighborhood event into an annual tradition attracting thousands of art lovers and featuring the works of more than 90 artists.
"When it first started, it was a craft fair in the middle of the street," Bleakley said, "but after years and years have gone by, it's continually improved. And now I think it's really gotten to a point where top-quality art is what people expect."
Artists applying to the festival are selected by a jury of their true peers: creators working in the same type of medium, whether that's painting, sculpture, photography, jewelry or "other." Bleakley said the juried selection holds the festival to a higher standard, even if she doesn't always agree with their decisions.
"They have the skill to know what's the best quality, and I don't think that anyone can be an expert in every area," she said. "Sometimes it's really tough because there are some things that maybe I would've liked to see, but you go with how the jurors have scored because we want them to come back."
Though the festival typically only changes in small ways from year to year, Bleakley said, the arts association is always aiming to improve it.
The Paseo Arts Association / provided
The 42nd Annual Paseo Arts Festival is Saturday-Monday.
"Every year, we try to make it better," she said. "One of the big things for us was getting more sponsors because it's really important to get the financial support of the community so that we can put on such a large event over three days. It's expensive to set up a festival. It's like setting up a little mini-city in the middle of a neighborhood."
In addition to changing soft drink brands, the association under Bleakley's direction has attracted more sponsors, including COOP Ale Works craft beer, new this year, offering three low-point beers on tap. The ongoing mission to add more food options for festivalgoers has again increased the number of vendors to include offerings such as empanadas and fried plantains from The Fried Taco and marinated 8-ounce sirloin steak kebabs from Fat Stacks, both making their debut. Many vegetarian and healthy options are also available, but those craving traditional street fair food can still find funnel cakes, corndogs and nachos.
Two live music stages will host more than 50 musical acts ranging from Americana act Kyle Dillingham & Horseshoe Road to classic rockers Electric Okie Test to reggae band Jahruba & The JAH Mystics to performers from Aalim Bellydance Academy.
The festival is the association's biggest annual fundraiser, providing much of the money for upcoming artist-in-residence programs and free children's events including the fantasy-themed Fairy Ball in June and Magic Lantern fall festival in October.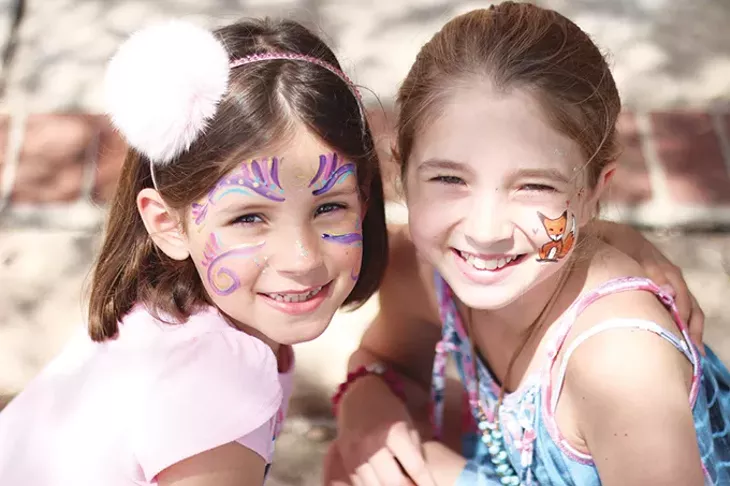 The Paseo Arts Association / provided
The 42nd Annual Paseo Arts Festival is Saturday-Monday.
Growing up
"We don't ever slow down," Bleakley said. "We ramp up. We are constantly going all year round, and then when the festival comes, we're in overdrive. So as soon as the festival's over, people always say, 'Oh, I bet you can relax now,' but no, we go on to the next thing."
In at least one way, the festival is repeating the past by moving the children's area back to its original location, the parking lot of Contemporary Art Gallery at 29th Street and Dewey Avenue. The free activities offered will include ever-popular spin art and, new this year, finger-painting with oil pastels.
Because parking is limited, the festival is offering free shuttle service departing every 15 minutes from the parking lot of First Christian Church at 3700 N. Walker Ave. Bleakley said the festival's small size — a two-block square, which hasn't expanded much since its days as a craft fair in the middle of the street — is one of its most challenging aspects from an organization perspective.
"We have a limited amount of space," she said. "So many people want to be down here. We get phone calls six months before the festival starts from people wanting to be part of our festival."
Commercial vendors are often turned away because the small size forces exclusivity and an emphasis on quality over quantity, but at 42 years old, the Paseo Arts Festival continues to evolve, even if it doesn't expand.
"We can't grow out," Bleakley said. "We can just grow up."