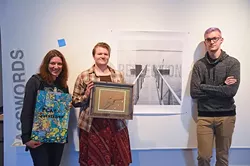 Mark Hancock
From left, Kerri Shadid, organizer Laura Reese and Ryan Harris, pose with three of their submissions for Passwords, an exhibition by six artists working with text, at IAO on Film Row in OKC, 11-17-15.
"I saw a trend with people my age and in my peer group in Oklahoma who were creating art with text in a variety of ways," said artist Laura Reese. "In this information age, we use a lot of text. Text has always been a way to create a narrative."
That, she said, inspired her to create Passwords, an exhibit aimed at exploring the meaning found at the intersection of text and images, on display now at Individual Artists of Oklahoma Gallery (IAO), 706 W. Sheridan Ave., on Film Row.
"If you have pieces in a gallery that have text and some without text, I feel like the pieces with text are more accessible. They're easier to get drawn to because there's something to read and interact with," said Ryan Harris, one of six Oklahoma artists featured in the exhibit, which runs through Jan. 21.
Harris' works feature words made of words, ghosted onto sharp, translucent black-and-white photographs.
"Words can be the great equalizer because you can clearly and plainly in text convey the concept that you're trying to portray within a certain piece," he said.
Text rules
Each word in Harris'
Dynasty
series calls out the subject of the photo and is filled with text taken from a love letter written to the photo's subject.
His subjects, however, didn't influence his media choice.
That was determined by market forces. Photography can be free, and black-and-white prints are always cheaper than color ones.
"There are obviously pros and cons with everything, and I feel like there are ups and downs to using text," Harris said. "But my initial introduction into really doing anything creative was poetry. I wanted to really carry that over into the physical fine art that I was making, and text has been an integral part of the art I make."
Reese, however, prefers a more flexible and colorful medium, opting for colored pencils.
She juxtaposes sexually explicit images with comic book-style word balloons with dialogue that distills a clear relationship between an imaginary viewer and the image.
Three words best describe their content: Not for children.
"I don't necessarily want things to be about shock value or necessarily about sexuality, but I think using sexual imagery can sometimes create a dialog about personal truth, like private and intimate moments," Reese said. "I'm really interested in gender identity and sexuality, but also just using that imagery to reveal personal information."
Reese is an independent curator and is programs coordinator at Oklahoma Visual Arts Coalition (OVAC).
She hand-picked all six artists for their success with exploring the revealing and concealing powers of text with a variety of media, including drawing, fiber, printmaking and photography.
Cultural connections
"Humor, sincerity and awkwardness are the tools of my craft. Gender, awkwardness, sexuality and death are key players in my productions," Reese said. "I am concerned with a perceived cultural lack of empathy and spirituality as a new generation immersed in technology emerges. I'm interested in what sounds, textures and smells will trigger memories, tell stories and alter our perceptions of each other and ourselves."
Though he likes to keep his work on a budget, Harris said he is no stranger to photography.
It's where his passion for art was born, though he's a Renaissance man who works with printmaking, sculpture, film, video, installation and performance.
A Norman native, he studied studio arts at the University of Oklahoma. But not wanting to leave photography far behind, he was president of F-Stop Society, a student-run organization at OU's School of Art & Art History.
At age 24, he has been a guest in many exhibitions, seeing a degree of success that many artists work years for.
Reese is professionally trained as well and studied fine arts and printmaking at OU.
A fellow in OVAC's prestigious Oklahoma Art Writing & Curatorial Fellowship, she also co-founded Oklahoma Printmaking Network, which strives to maintain a high profile in the international printmaking community.
As a curator, she developed exhibits for Norman Arts Council, Living Arts of Tulsa, Academia Non Grata and Urban Land Institute.
Another artist featured in Passwords is Durant's Zachary Presley, who investigates the misappropriation of Native American culture with irony and humor.
Using text, he subverts expectations of what Native culture is and should be.
Oklahoma City's Kerri Shadid takes a paradoxical approach to language, questioning the value of words and suggesting the superiority of experience.
She toys with the aesthetic quality of text, often removing the shapes and sounds of words from their expected context.
Employing absurdity, she relentlessly seeks a deeper meaning beyond syntax.
"In bringing these six artists together, I hope to show the community the variety of ways in which text is used in art," Reese said. "Each artist explores the power of the written word to create new meanings in tandem with their images."
Print Headline; Okie wordplay, Passwords brings together six Oklahoma artists to showcase the power of language across art mediums.