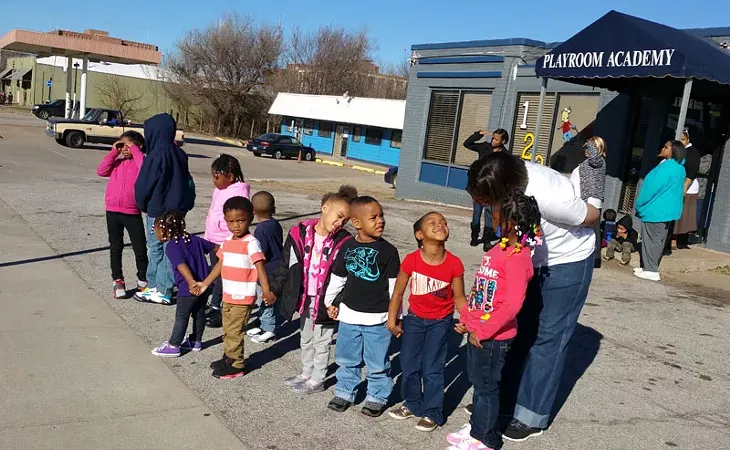 Ben Felder
Angela Billings brings a class from Playground Academy daycare out to 23rd Street to watch a march on Martin Luther King Jr. Day.
The innocent faces of toddlers lit up as the march moved by a NE 23rd Street daycare sandwiched between a burned-down auto shop and a vacant gas station.
A few hundred were on their way to the grounds of the Oklahoma capitol, honoring the work of the civil rights movement and the legacy of Dr. Martin Luther King Jr.
The kids of Playground Academy waved at the marchers and smiled as an Oklahoma County sheriff tossed candy. Angela Billings, a teacher at the daycare, kept one eye on the children and another on those passing by carrying signs, photos of King and American flags.
"I think it's important for them to see about what Martin Luther King Jr. means and what he did for us," Billings said. "To let them know if it wasn't for him, we wouldn't be where we are today."
The America King confronted before his assassination in 1968 is gone in many ways, but the themes of segregation, poverty and racial disparity continue to wage in modern America, including Oklahoma City, which has a segregated past and a segregated present.
"I think about my grandmother and the things she has done," said Tamarra Traylor as she stood along the march route.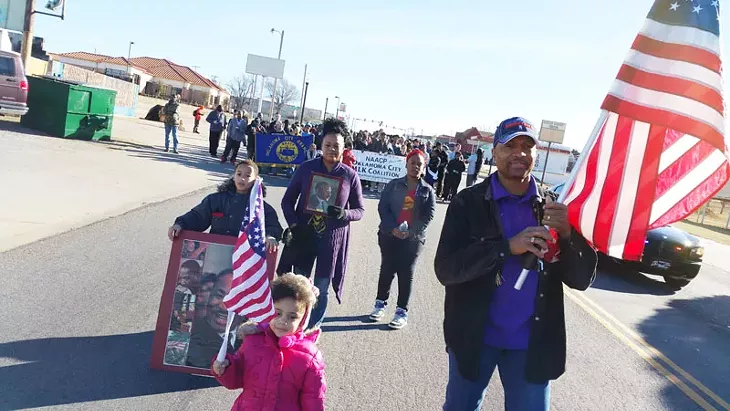 Ben Felder
A few hundred participated in a march to honor the legacy of Martin Luther King Jr. along 23rd Street on Jan. 19, 2015.
Thoughts about the past and future seemed to collide for those who came out to honor King. Oklahoma City has long rid itself of segregated restrooms, lunch counters and buses, but the city's demographics show a divided city remains. Second Street was once established by the Oklahoma City Council as the northern border for black residents, as an ordinance nearly 100 years ago prevented African Americans from living north of the downtown street. Even after the U.S. Supreme Court outlawed that type of segregation in 1916, the street continued to serve as the "symbolic battle line in the fight against racial injustice" for many years, according to a historic account by Dr. Bob L. Blackburn.
Today's Oklahoma City does not contain a legally defined wall of segregation, but demographic data shows that a divided city still exists, with Interstate 235 serving as the line between black and white OKC.
The cluster of zip codes immediately east of I-235 are nearly 78 percent black, compared to 70 percent white just across the highway. As economic development has turned once-vacant storefronts into trendy eateries and bars along 23rd Street east of the highway, the same street west of the interstate is littered with urban decay.
One of the city's model elementary schools is in the affluent and historic neighborhoods west of I-235, while schools in the same district east of the highway continue to struggle with low academic performance and high poverty.
"Even though we are celebrating Dr. King and his achievements … there are other forms of discrimination today," said Donald Williams as he held signs along the march route. "Even if it's no longer with a restroom, segregation still exists."
African-Americans make up 26 percent of Oklahoma prisons — despite representing just 7 percent of the state population. Black unemployment in Oklahoma City is at 9 percent, nearly double the rate for white residents. And the state has the seventh highest black homicide rate in America.
Senator Anastasia Pittman next to former NAACP leader Roosevelt Melton, addressing a crowd gathered at the Freedom Center, 2609 N. Martin Luther King Avenue, Monday morning, marking MLK Day before she and other leaders embarked on a "Silent March" to the State Capitol. mh
"Our journey is not complete," said Sen. Anastasia Pittman, D-Oklahoma City, the state's black caucus chair. "When we rank 49th in education, our journey is not complete. When we have statistics that say we are No. 1 in incarcerating women, our journey is not complete."
Pittman told the marchers during a ceremony at Oklahoma History Center that investments in public education, corrections reform and rejection of a controversial "hoodie bill" was needed to move the state forward. She encouraged the crowd to vote and said the legacy of King continued to serve as inspiration today.
One of the children at Playground Academy yelled, "Goodbye," as the rear of the march faded on the horizon and Billings began to coral the kids back into the daycare.
"This is the new school, and we have to teach them about the work of the old school," Billings said. "But they will have work to do also."
[gallery ids="79953,79952,79951,79950,79949,79948,79947,79907,79906,79905"]