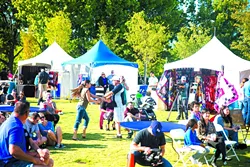 Peace Love & Goodwill Festival, Goodwill Industries of Central Oklahoma's annual event and fundraiser for statewide youth programs, runs 10 a.m.-9 p.m. Sunday at Myriad Botanical Gardens, 301 W. Reno Ave.
"The goal is definitely to give a big thank-you to our community for their support every day by donating their used goods to us," said Linda Burgett, event organizer. "It's also a way for us to tell our story and tell them about how we use the donations and the programs that they support within the community. So it's also an educational opportunity for us."
Festival proceeds benefit Goodwill youth programs like the GoodGuides mentoring program for at-risk students and the work adjustment program for high school juniors and seniors with disabilities to help them transition to employment.
With a variety of musicians, merchants and food trucks, fifth annual Peace Love & Goodwill Festival organizers expect more than 10,000 guests at this year's event.
"We have found that our niche is really for families," Burgett said. "It's all-inclusive from the youngest festivalgoers to the oldest. It is truly, probably the most family-friendly festival out there."
Twenty music acts, including Sugar Free Allstars, Spaghetti Eddie, Matt Stansberry & The Romance and Beau Jennings & The Tigers perform on three stages throughout the festival.
"We want to provide a great venue for Oklahoma artists and musicians to be paid, and we hope we're elevating some careers by having them perform," Burgett said.
Matt Stansberry & the Romance, an Oklahoma City-based rock and soul act formed in 2012, performs 8 p.m. June 5 on the main stage.The band played last year and enjoyed it so much they decided to return.
"It was a beautiful day, and the way it was set up with shops on the lawn and people hanging out, it was a casual, low-key, outdoor kind of thing," Stansberry said.
Stansberry, his older brother Joe and Myra Beasley comprise the band's core. Up to seven musicians often join them on stage.
With the release of its newest single "Heartbreaker," Stansberry said, the group took its sound in a new direction.
"It's fun to push the envelope on what fits with this band," he said. "It's funky and ends with a lot of energy, and it's representative of our live show."
The act's Oklahoma City following is an eclectic one that and encompasses young families to baby boomers.
"There's a bit of a throwback element," Stansberry explained. "But there's some stuff we do that's more of a modern aesthetic. We start with the classic stuff of '50s rock 'n' roll and '60s Motown and expand it from there into our own thing."
Fun, games
Guests of all ages can dine at any of the 27 food trucks, such as Big Truck Tacos, Back Door Barbecue and Phill Me Up Cheesesteaks. New this year are Bacon N' Cakin' and Czech Delights.
The Kids Activity Lawn features stations for creating, coloring and playing with Play-Doh, bubbles, Hula-Hoops and bean-bag toss.
With the purchase of a $10 wristband, children can also participate in 10 premium activities including a prize wheel, crafts, inflatables and face-painting.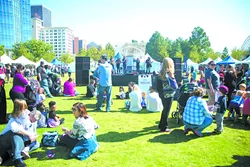 Forty vendors, including Jaxx + Hill, Local Lather Laboratory & Soap Shop, Cargo Room and Struggle Bus Art & Clothing Co., also will sell wares.
"Some of the vendors are geared toward kids merchandise this year. That's new for us," Burgett said. "And we also have some that are more do-it-yourself, unusual and repurposed stuff. We love that because people buy stuff from our stores."
Free puppy and kitty treats will promote pet adoptions with The Bella Foundation, a nonprofit that assists pet owners with associated medical costs.
Continued growth
"I think the festival has gotten better every year; I've been to all of them," Stansberry said. "I think it will be a notch better than the year before. Goodwill is doing a really good job of making this one of the community's festivals that the city can embrace, and it's all for a good cause."
Goodwill needs 271 volunteers to help at the festival in three-hour time slots. Spots are available at Once Upon a Princess events, which have already sold out. Other opportunities include helping at craft stations and with event cleanup. Each volunteer receives a T-shirt, snack, water and zipper bag.
Print headline: Friendly festivities, Peace, Love & Goodwill Festival features family-friendly activities, vendors and music in its fifth year.