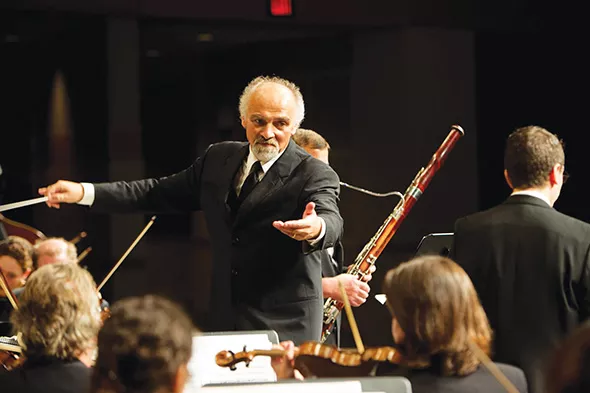 provided
Richard Zielinski will conduct Norman Philharmonic in a concert honoring Martin Luther King Jr. on Monday.
"When we allow freedom to ring — when we let it ring from every city and every hamlet, from every state and every city," Rev. Martin Luther King, Jr. proclaimed at the 1963 March on Washington, "we will be able to speed up that day when all of God's children … will be able to join hands and sing in the words of the old Negro spiritual, 'Free at last! Free at last! Thank God almighty, we are free at last!'"
King, an inspirational and nonviolent leader of the civil rights movement, was assassinated at the Lorraine Motel in Memphis on April 4, 1968. Still, many would agree he fought the good fight, ending the racial injustices that plagued the nation was his life's mission, an undertaking from which he refused to back down, even though it cost him his life.
But his words did not perish alongside him. Though the days of slavery and Jim Crow segregation remain buried in our nation's past, the struggle for civil rights is a battle still being fought, and the words uttered by King continue to glow like a beacon of hope in a chorus of passion and fortitude through five decades of unwavering significance.
"Those are actionable words that are still relevant today," said Karlos Hill, associate professor and department chair of African-American studies at University of Oklahoma. "His dream has not come to fruition, and there's so much we can do as a state, as a nation, as a world to live in alignment with that dream. What I try to do as a professor, as a teacher, is to try to inspire students to live that kind of life, to live the kind of life that King lived. Not to live for a paycheck, not to live for achievements necessarily, but to live for something bigger than yourself — to live for others. And that's something that we don't hear a lot."
Along with George Henderson, Hill will be one of two professors speaking at an upcoming event seeking to honor the life and legacy of the late civil rights activist. Henderson was the third African-American to be hired at OU. Richard Zielinski, professor and director of choral activities at OU and director of Norman Philharmonic, describes him as "living history."
Encouraging reflection
The show is much more than a lecture series. Zielinski invites the community to join him for a special evening filled with music and encouragement — an event he hopes will bring people together in a night of celebration and humble reflection.
"I'm trying to make the concert as diverse musically as I think our world is diverse," he said.
The show is 3 p.m. on Martin Luther King Jr. Day, Monday, and features renowned composer James Oliverio and his World House Concerto, performed by Norman Philharmonic. The event will also feature OU choirs with Zielinski, alongside organist James Morrow, leading the audience and choirs through a score filled with hymns and other popular songs pertaining to the civil rights era.
"There's a different feel right now, in my view," Zielinski said. "People are really wanting us to be together. It doesn't feel right when our communities are not agreeing and all you hear about is this divided country, but we're really a United States."
According to Zielinski, there hasn't been a performance quite like it in over 20 years. Inspired by a prior OU tradition that would honor King annually, Zielinski is finally organizing a performance that pays homage to King 51 years after his death, a tribute both Zielinski and Oliverio believe will deliver a crucial message to modern society.
"When I was a kid growing up in the turbulent 1960s and there were several assassinations … which at the time was not just business as usual, I just could not understand why it seemed like they were shooting all the good people, or at least the famous good people," Oliverio said.
World project
In 2015, National Endowment for the Arts funded The World House Project, a collaboration between Oliverio and Morehouse College Martin Luther King Jr. Collection. After receiving the support, Oliverio immersed himself in the writings of King, providing him with a more detailed account of the activist's life.
Having found meaning and depth in his works, Oliverio hoped that one day he would sit down and write a piece of music expressing sentiment and gratitude for the life of the man who paid the ultimate sacrifice for a cause he one day hoped to attain.
"To me, that was inspiring," Oliverio said.
World House Concerto owes its namesake to King's concept of the world house, a place where we must learn to live together or "perish as fools." The piece is comprised of five different movements, each exploring a different theme through symbolism and melody.
"What I try to examine in this piece is that there's other options. People don't always get along in harmony, but sometimes a leader or some motivation can come along and change things in a positive direction," he said. "I imagine the trumpet as representing a leader and the orchestra representing a community.
"To me, the whole thing is about getting people to enjoy a musical performance but to think a little bit about this great American person who literally gave his all — who sacrificed his life — for the brotherhood of humanity."
Friday, Oliverio and Zielinski host two Meet the Composer events showcasing parts of World House Concerto, in addition to other musical numbers, in front of approximately 2,000 fourth- and fifth-graders. Zielinski also plans to perform these songs at McFarlin Memorial United Methodist Church in Norman, where he serves as director of music ministries.
By engaging with the community, Zielinski hopes to familiarize the youth with songs that belong to the core of the civil rights movement. Those attending either event are encouraged to sing along as the music is performed onstage.
"[King] saw a world that everybody worked together," Zielinski said. "I think everybody wants to work together. We want a peaceful world. The majority of people do want to live in harmony. Music kind of has that written into it. … Anytime I can get people to kind of unite their spirit and their voices through music, I think that's a positive thing."
All events are held at Sharp Hall in Catlett Music Center on the OU campus, 500 W. Boyd St., in Norman. Tickets are available through OU Fine Arts Box Office and can also be purchased at the door.
Visit the World House Overview at arts.ufl.edu/sites/worldhouse.