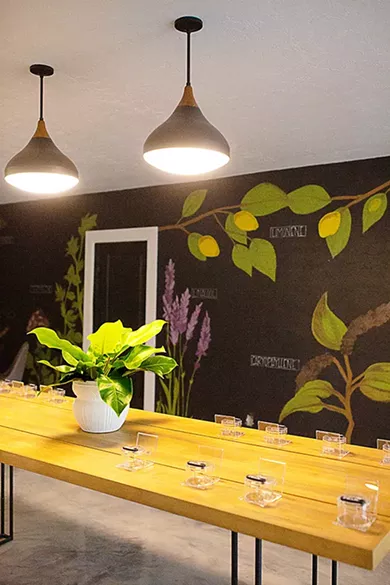 Alexa Ace
The Craft Dispensary location of The Peak, 6808 N. May Ave., is expected to open later this month.
When The Peak opened its doors last fall, it made sure to distinguish itself as a cannabis dispensary for those who are not inclined toward cannabis dispensaries.
"We passed [State Question] 788 on June 26, 2018, and I kind of just thought to myself, 'Man, somebody needs to come in and they need to do a dispensary experience that makes everybody that voted no think, "Maybe I was wrong. Maybe I should give this a chance,"'" owner Corbin Wyatt said.
There are five locations of The Peak now open across the state, and they expect the newest location, which they have dubbed The Craft Dispensary, 6808 N. May Ave., to open later this month. It will feature a live grow, a show kitchen and a drive-thru.
The Quail Springs location, 3000 W. Memorial Road, will open in September, and a 4,000 square-foot location in Bricktown is expected to be in business by the end of the year.
"Our motto from the beginning was, 'Built for the 43 percent that voted no, not the 57 [percent] that voted yes,'" Wyatt said. "Kind of dispel those preconceived notions about cannabis by building beautiful spaces that could sell anything. This doesn't have to be the cannabis space. This could easily become a tea shop or something like that."
Wyatt took his idea first to some women who were operating a CBD business out of an Airstream trailer in a 16th Street Plaza District parking lot and rebranded, opening the first branch of The Peak in November 2018. But well before the doors ever opened for business, Wyatt was entrenched in building the brand.
"I wanted to do something different. I didn't think that associating ourselves with CBD was going to be smart from the beginning. I wanted to be the first cannabis dispensary group in Oklahoma, not the first CBD-turned-cannabis dispensary group. So those girls had been selling CBD out of their Airstream, but whenever we moved over to that first store, we kind of ceased the CBD stuff. We still kept some around, but we waited and we did not market or brand ourselves as CBD at all," he said. "The day 788 passed, we had one of the first dispensary signs up, right in the Plaza District. People were taking pictures of it, posting it on Snapchat, talking about it online. I saw this kind of cool public declaration that cannabis is here and we're not going to be shy about it. We're going to go to the heart of the districts that people like to go to, and we're going to make an impact."
The Edmond location opened almost at exactly the same time as the one in Plaza District.
"I think Edmond was a place where it's a little bit of an older clientele, and I think that it was a place where if we could succeed there and if we could build an experience that held up to the standards that Edmond has — it needs to be posh, it needs to be clean and it needs to be sanitary — I knew that if we could do well in Edmond and if we could show them that we can build a great experience there, that we could build an experience to fit in anywhere in the state," he said.
Fresh business
All of these moves and branding decisions were pragmatic. Wyatt, 25, studied business before he set out on this venture.
"I graduated from UCO with a marketing degree and I was very, very fortunate to have a group out in California contract me to do some marketing work with their startup, and so they kind of just taught me the ins and outs of marketing," Wyatt said. "They were great mentors to me, and I kind of applied what I saw them do with their startup to be very successful to a cannabis business here so we could get off the ground going in a very similar way, and it took off better than I ever imagined it would. Search engine optimization is actually my specialty, so I knew if there was one part of this that I could do right, it was getting us to the top of Google. I knew that our biggest competitors were going to be the Weedmaps and the Leaflys, so considering that we spend one 100th of what they're spending on search engine optimization and stuff, and yet we still go head to head with them for those keywords, it's a pretty cool feeling to see that."
Alexa Ace
Corbin Wyatt, founder of The Peak
Initially, The Peak was open to partnerships with dispensary owners who wanted to use the brand, some of whom are still in business under their umbrella, but it is shying away from that model now.
"Early on, I started talking to some other people in the industry, and it seemed like we had this similar vision," Wyatt said. "We wanted to do the same thing. We had a couple different places like the one on 23rd Street, for instance, and it just kind of ended up being a diverging of values and a diverging of how we wanted to work with our patients and display ourselves and how we wanted to do business."
The Peak has also just launched its line of house one-gram cartridges that retail for $40 and will be selling flower that it grows by the end of the year.
"Whenever you're in a new market that didn't exist until a week before, and whenever there's hardly any people growing or producing and even less people that are producing quality product, it's kind of hard to be able to do a mass-scale operation when there's just not enough supply. Kind of makes me wish we would have started with the growing and the processing side. I figured we needed to go bottom to top and start with dispensaries because you can always open and grow and you can always open a processing facility, but you can't always get a retail client base," Wyatt said. "There are a lot of people that reach out to me that are other dispensary owners or processors and growers, and since we've been here for so long, one of the original people still standing in the market, I get people all the time asking me, 'Hey, in other industries, August is a little slower for retail. Is that the case here?' And I'm like, 'Guys, I haven't been open in August before. This is my first August. I don't know much about August. When we get back to November, I can kind of speak to that. Let me get back on my home turf.' It is crazy that there are so many people that I think see The Peak as having been around forever now, just because we've been here for so long, but we're just as fresh-faced as everybody else and learning right alongside them. It's weird how much as a person I've grown and matured in the past year. It's been one of the most odd years in my entire life, to say the least."
Visit thepeakok.com.