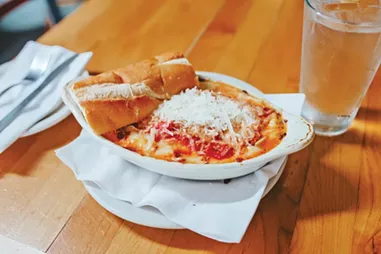 Alexa Ace
Chicken lasagna
A commitment to fresh pasta has allowed Victoria's The Pasta Shop to thrive at its Norman location for nearly 30 years. When it opened on Campus Corner in 1989, there weren't the plethora of options there are now.
During that time, the store has doubled in size, and under current owners Chris and Shannon Roth, it expanded to a south Oklahoma City location, 3000 SW 104th St., in 2014.
"You cannot beat that fresh pasta," said Norman Victoria's manager Cristi Miller. "It's got a tooth to it that you don't find elsewhere. [Victoria's] success is determined by the success of the fresh pasta versus the dry pasta."
Each day begins around 8 a.m. as kitchen staff start to prepare its seven fresh pasta types: spaghetti, fettuccini, black pepper linguine, whole-wheat linguine, tortellini and lasagna sheets.
When Victoria's says it's a pasta shop, that's what it means. There are no entrée salads or sandwiches on the menu. Diners can choose from pre-selected pasta dishes, build-your-own-pasta or seven specialties, which include longtime house favorites like lasagna rolls (shrimp, spinach and cheese rolled up in strips of fresh lasagna; baked; and served with marinara and Alfredo sauce) for $10.99 or shrimp scampi for $9.99.
I'm not sure I've ever met a person who doesn't love a good pasta dish, unless you are a hardline vegan or have an egg allergy like comedy performer and actor Jason Mantzoukas (How Did This Get Made? podcast, Netflix's Big Mouth), where consuming raw or cooked eggs could be fatal.
I've listened to Mantzoukas detail the lengths to which he has had to go to avoid eating eggs on a couple of podcast appearances — WTF with Marc Maron and Doughboys (the comedy world's ode to chain restaurants) — where the smallest details of the dish could render it dangerous for him. Something as innocuous as a candied pecan on a salad, which uses egg whites in the candying process, could send him to the emergency room.
As I'm gingerly jogging through my early 30s, I've tried to adopt a flexitarian diet. I try to eat vegan or vegetarian two to four times per week and break the crutch of needing to eat 6 ounces of meat protein with every meal, but I simply couldn't imagine a life without pasta.
My parents still like to tell the story of when I was a toddler and would only eat the standard plain pasta with butter at a local Luby's. I enjoyed it so much that I once grabbed a handful of noodles, stood up in my high chair (shirtless, mind you) — and screamed "Noo-noos!" at the top of my lungs, much to my parents' embarrassment.
That kid is still inside me. When I drove past the Victoria's south Oklahoma City location a few weeks ago, my heart skipped a beat and I murmured "noo-noos" under my breath and to no one in particular.
I was excited to try Victoria's for the first time and was very pleased when it did not disappoint. The Oklahoma City location is in a relatively new shopping development, and its large windows and soft décor made for a very pleasant lunch experience. I honestly thought it might be counter service but was surprised when a waiter sat me in a booth and guided me through options.
I ordered the lunch combination ($8.99), which is a small choice of pasta with either a Caesar or dinner salad. I ordered spaghetti with pesto, and the server asked if I wanted traditional pesto or sun-dried tomato. I balked on the decision, and she offered to bring both out. The salad to start was very well dressed with balsamic vinegar and olive oil.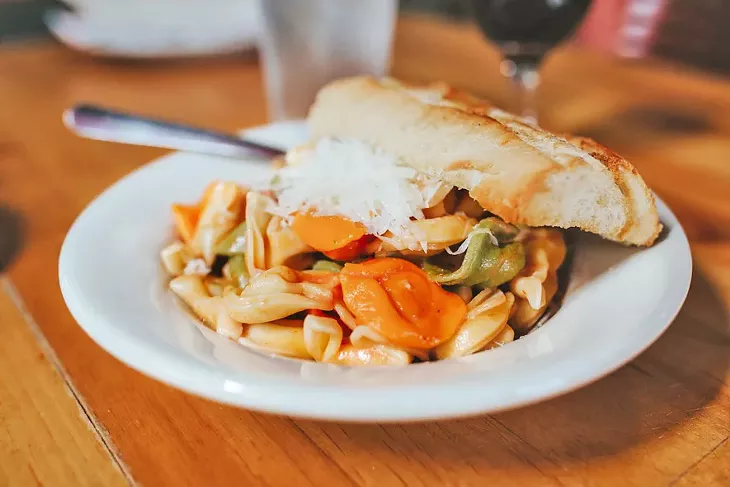 Alexa Ace
Tortellini in pink sauce
I was a little surprised when the pasta arrived with the sauce on the side. I assumed each half of the pasta would already have the sauce, as I noticed on a few of Victoria's social media posts.
Miller seemed surprised when I told her that was the case.
"I wouldn't think they would provide it that way," she said.
I think pasta is much better when it finishes cooking in the sauce and gets thickened with a dash of starchy pasta water.
Nonetheless, the basil pesto was very good, and I ended up eating most of the more assertive sun-dried tomato version on bread. The Norman location changes its pesto daily, and guests can find the previously mentioned versions in addition to more inventive ones like caper dill or carrot, spinach and feta sauces.
I ordered a pair of dishes to go: chicken lasagna ($9.99) and tortellini ($9.49) covered in pink sauce, which is a mixture of marinara and Alfredo sauces. Fresh tortellini is a treat; it's not often you run across it on a menu. The standard cheese-stuffed tortellini was very good on its own merits, but I found it to be unevenly sauced in the to-go container. I think they're onto something with the pink sauce, but I regret ordering it with the cheesy pasta. I think the cheese would've been better accented with pesto.
The chicken lasagna was a real winner. The marinara sauce had plenty of good acidity from the tomatoes and a good mixture of spices. Oven-baked chicken is joined with ricotta and mozzarella cheeses to make a very good dish. Miller agreed and said that it's one of her favorites, as well.
Overall, I was very pleased with my experience. The hallmark of a good restaurant is one that sticks to what it does well. Victoria's is an affordable way to get fresh pasta without the white tablecloth.

Visit victoriasthepastashop.com