Sometimes they have few words, and sometimes they have none at all. Sometimes they address themes that might seem larger than their sparse page range. Yet for Chad Reynolds, poet and co-founder of Penny Candy Books, it is precisely these qualities of children's books that provide new ways of connecting for both parents and children alike.
In April 2015, Reynolds and longtime friend and poet Alexis Orgera, author of Dust Jacket and how like foreign objects, met up in Oklahoma City.
Reynolds, fresh from a business trip to Germany and France, had returned with foreign children's books. Seeing his children's enthusiasm for stories they would otherwise never have encountered, Reynolds had an idea.
"I would just love to have a children's book press where we get books from overseas and bring them here to America so our kids can see the kinds of books that don't get published here," Reynolds recalled saying to Orgera.
Orgera agreed, saying she had always wanted to publish books under the moniker "Penny Candy."
"Penny Candy Books was born on that day," Reynolds said.
Over the coming months, Reynolds, based in Oklahoma City, and Orgera, who lives in Savannah, Georgia, communicated to plan the direction of their press, which remains split between the two cities. Penny Candy Books incorporated in July 2015, a time when police brutality directed against African-Americans came to the forefront of our cultural consciousness. A cultural climate that framed stories of minorities in only certain ways, if at all, informed the genesis of Penny Candy, whose mission Reynolds said is to represent diverse realities at home and abroad.
"We were noticing in the news all of this stuff about a power imbalance," Reynolds said.
They also gathered information about the diversity gap in children's literature from the Cooperative Children's Book Center (CCBC) based at the University of Wisconsin-Madison.
According to the CCBC's 2015 survey of the 3,400 books it received, African-Americans authored only 105, and 243 were about African-American characters. The numbers for American Indians, Asian-Americans and Latinos were similarly low.
"It's important for white kids to see books that feature characters of color doing all manner of things, and it's really important for kids of color to see books in which there are people who look like them," Reynolds said.
In 2016, Penny Candy also published A Gift from Greensboro, a poem written by Quraysh Ali Lansana and illustrated by Skip Hill. It shows two friends, black and white, living "blissfully unaware" of history's prejudice a decade after the Civil Rights Act was passed, Reynolds said. The two friends dine at the historic Woolworth's lunch counter.
Reynolds said the book is about friendship, the power of memory, both about race and larger than its limitations.
"It encourages people to step in somebody else's shoes for a little while," he said.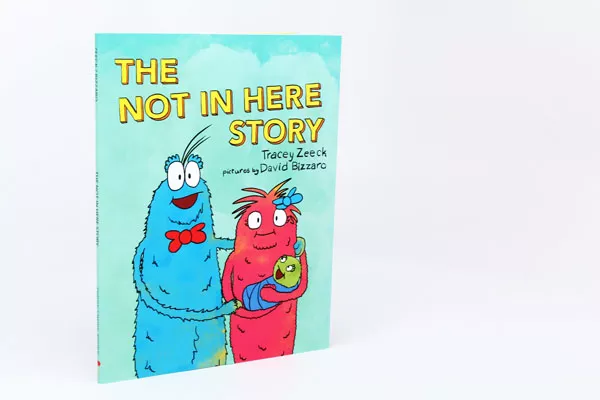 Family reading
As parent, poet and publisher, Reynolds said he knows the transformative capabilities of books, especially when parents read to their children.
"With kids' books, it's a special thing," Reynolds said. "It's a genre that has resisted electronic books … because of how special it is to sit in your kid's room and read him or her a book at night."
In 2016, Penny Candy published The Not in Here Story, written by Tracey Zeeck and illustrated by David Bizzaro. The story follows the Seeks, two people who want to have children but can't, so they decide to adopt.
Reynolds said the story's focus is on parental awareness and overcoming adversity make it an especially helpful tale for adoptive families and their children.
"It's not just useful. It's beautiful, it's moving," Reynolds said. "There are all sorts of questions that kids have when they read this book, and that's great. It leads to conversations."
Penny Candy established an imprint, Penelope Editions, for books that fall outside its stated mission but still offer compelling ideas. The first Penelope Editions book, Nuveau: The Future of Patterns, is an adult coloring book created by Tiffany McKnight that reframes art nouveau designs through the lens of African textile art.
The book also is part of Penny Candy's Caring Communities Project, an initiative that donates a portion of the proceeds of one book a year to a nonprofit organization. The profits from Nuveau benefit SixTwelve, an arts-based education center located in The Paseo Arts District.
Powerful pictures
As Penny Candy moved into 2017, having completed its first year as a press, Reynolds said a motto developed: small press, big conversations.
Honoring its commitment to bring international stories to the United States, Reynolds and Orgera recruited their polyglot friends to help scour the internet for interesting children's books published abroad.
This year, Penny Candy published The Hunt by Margaux Othats, a French writer and illustrator. The wordless book offers a story that poses no language barriers and whose message transcends culture.
"This is a book about a little girl who refuses to be cowed by men with guns," Reynolds said.
To him, Penny Candy Books represents opportunities to tell one-of-a-kind stories between families.
"To create a company that could create an object that would lead to those moments is really gratifying and really amazing," Reynolds said.
Visit pennycandybooks.com.
Print headline: Pressing stories, Penny Candy Books publishes books with big ideas for young readers and their parents.