Jonce / provided
Cara Alizadeh-Fard
Oklahoma City artists are gathering paintings, prints, sculptures and more for the second-ever Menstruation Art Show Jan. 12 at BlackMint Collective, 800 W. Sheridan Ave.
All of the art in the show will be available for purchase via a silent auction, which starts at 6:30 p.m., and a portion of the event's proceeds will help support Homeless Alliance.
The art show's organizer is Cara Alizadeh-Fard, a self-described aspiring curator who recognized a need in an often-overlooked portion of Oklahoma City's population. Alizadeh-Fard was working in downtown OKC last winter near shelters and other homeless organizations when inspiration for an event struck.
Additional research helped them learn about the difficulties that individuals experiencing homelessness face during menstruation. It made sense for this to become the focus of the art show.
Kinsey Crocker, director of communications at Homeless Alliance, confirmed this is an area of particular need.
"We are thrilled to benefit from the Menstruation Art Show," Crocker said via email. "It brings awareness to an issue that not many people think about. It's kind of a taboo subject. But women who menstruate know how uncomfortable or inconvenient periods can be. Now imagine if you don't have access to feminine hygiene products."
Although donations of any kind are welcome, feminine products usually go overlooked at homeless organizations.
"Often when people think of items to donate to our day shelter, tampons, pads and women's underwear are not at the top of their list," Crocker said. "But feminine hygiene products are an ongoing need at shelters throughout the community. The art show is bringing awareness to this issue and will help raise funds to purchase items for women who are currently experiencing homelessness in our community."
Alizadeh-Fard echoed Crocker's statements about the importance of feminine products to those experiencing homelessness.
"I feel like for a lot of people that have to deal with menstruation while they're homeless, it can be a morale-kicker," they said. "You don't really have privacy, you don't have a safe place to clean yourself, you don't have access to hygienic products."
Alizadeh-Fard gave the example of a person who might lack feminine products being on their period and ruining their only pair of undergarments.
"It's just heartbreaking to think about how menstruation is such a taboo in our society," they said. "That often these people that need help; some of their basic needs are being overlooked because nobody wants to talk about it."
Alizadeh-Fard acknowledged that part of the art show's purpose is to help spread awareness and hopefully enable others to discuss the topic more openly.
"Whenever I was trying to brainstorm a name for the show, I was trying to think of something clever involving female genitalia or blood," they said. "And then I just decided to go with simple and to the point — Menstruation Art Show — so that people know what to expect when they go and they also have a better idea of what they're supporting."
Second success
The first Menstruation Art Show was held in the Plaza District in January 2018 and succeeded in gathering feminine hygiene products for Homeless Alliance and other local organizations.
For the second show, Alizadeh-Fard hopes guests will again contribute monetary donations or donations of menstrual and feminine hygiene products. Tampons, pads, menstrual cups, feminine wipes, pregnancy tests, underwear and soap will all be accepted.
One major change made for 2019's art show is its location. Alizadeh-Fard wanted to feature a female-owned local business, and so they specifically reached out to BlackMint Collective, an independent tattoo studio on Film Row, to secure the show's venue.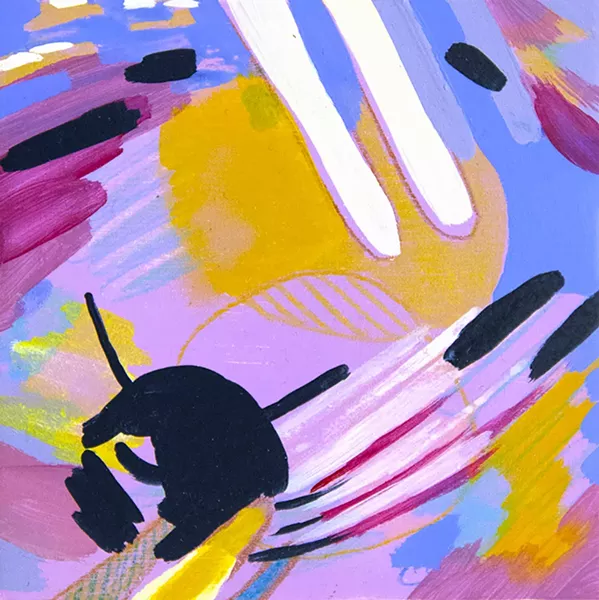 provided
"meteor shower" by Katelynn Knick
They also made sure to incorporate the local art program Fresh stART in the second Menstruation Art Show. The first show's timeline was unfortunately too tight for the program's artists to participate, but this time around, Alizadeh-Fard and Crocker planned ahead to include several artists.
Fresh stART is a program that provides art studio time twice every week to individuals experiencing homelessness. The program is hosted at WestTown Homeless Resource Campus, 1724 NW Fourth St., and is provided through Homeless Alliance and City Care.
Crocker said Fresh stART benefits its participants in many ways, providing a creative outlet as well as a source of potential income. The program also helps to develop social, emotional and job skills. It accepts donated art supplies and welcomes volunteers year-round.
Alizadeh-Fard said they hope to include pieces by five artists from the Fresh stART program in the upcoming Menstruation Art Show. Like the rest of the show's participating artists, these artists will donate a portion of the profit from their pieces but retain the rest as income.
"I'm really excited to see what they bring to the show this year," Alizadeh-Fard said.
They added that the artist slots filled up very quickly for the upcoming event. A couple of artists from the first Menstruation Art Show will return for the second iteration, including local painter/sculptor Katelynn Noel Knick, who creates colorful pieces in a range of sizes.
Alizadeh-Fard described the show as broad and inclusive and said the art will reflect that. The show's prints, paintings, sculptures or installations can include depictions of female reproductive systems and genitalia. Body positivity, femininity as a whole and nature will also be potential subject matter.
"For anyone that might feel some hesitation, I invite them to come see if they can find someone just like themselves," Alizadeh-Fard said.
They want to encourage patrons to bring their families, children included. Young art fans attended last year with no issues.
"It's just a normal part of the human body," Alizadeh-Fard said. "And it's just humans trying to help other humans."
In addition to the art and silent action, a raffle will be held at the event. So far, the prizes include gift certificates from Commonplace Books, 1325 N. Walker Ave., Suite 138, and tickets to the upcoming Tinder Live! show at Tower Theatre, 425 NW 23rd St.
BlackMint Collective will hold specials on tattoos as well, with flash tattoo art available from two artists on a first-come first-served basis.
Alizadeh-Fard expressed pride that such a diverse group of people will be participating in the show, including cisgender and LGBTQ+ creators of varying ages. They emphasized the importance of inclusivity to the show and said people of all backgrounds are welcome to attend.
"Womanhood is not defined by your ability to reproduce or to menstruate," they said. "It is more than that."
Visit homelessalliance.org.