Greg Burns / provided
Greg Burns' exhibit is on display at Oklahoma History Center through Sept. 29.
The ability to capture the essence of a certain setting is a unique talent few artists possess. In Oklahoma City, a lifelong painter is tracing his roots back to the heartland in a nostalgic installation beaming with color and sentiment. A Sense of Time and Place is an attempt to leave viewers with the serenity belonging to the places that will one day be gone but never forgotten.
Born in 1947 in Fort Worth, Texas, Greg Burns was diagnosed with arthrogryposis, a rare joint disorder. Seeking the care of an orthopedic surgeon, the family moved to Oklahoma City in the early 1950s in an effort to provide their son with the best care possible. Around that time, he discovered his love for the visual arts, an interest that would allow him to turn his passion into a career.
From an early age, Burns was creating pieces of his own, absorbing himself in the sketches and drawings that he made on a regular basis.
"I don't remember not doing it. I've always done it," Burns recalled. "Since I couldn't do a lot of other things, it's what I've done to change myself just for myself. And then it became something that I could do that other people had an opinion about."
While attending high school, Burns won his first national award. And though he would go on to win several more, he wasn't introduced to watercolor, his preferred method of painting, until 1964.
"It was really wishy-washy-looking stuff," Burns said in regard to his earliest works.
He was an artistic natural, and it wasn't long before he was able to master his signature style.
His description of watercolor is reminiscent of a love at first sight.
"I thought, 'That's for me,'" Burns said. "It's good to find something to do for the rest of your life that you can't learn it all in one fell swoop. And watercolor is definitely one of those things. It constantly changes. Some people find it very difficult. It suits me very well because once you put everything down, it's permanent. It doesn't seem like it would be, but it is. …You can't paint over watercolor, and so you have to live with whatever happens, which suits me. You don't try to change things with the paint, which is maybe a good philosophy."
In the late '60s, Burns enrolled at University of Oklahoma, establishing himself as an artist and continuing to win awards for his work. He was already on the path to becoming a successful artist prior to his 1972 graduation; however, his work for Oklahoma Foundation for the Disabled helped launch his career.
"They asked me if I'd consider doing a series of drawings that they could use as postcards that they could sell for the foundation," Burns said. "And so I did. I was on all these local television channels with these ads, and it was a successful thing. They made a bunch of money for the foundation. A lot of people ordered them. One thing led to another."
Greg Burns / Oklahoma History Center / provided
"Grocery" by Greg Burns
Driving force
Since his initial success, the spry painter has traveled often, participating in a variety of art shows like the local Festival of the Arts and enjoying the competition with other artists. He even ran his own gallery for twenty years, despite the fact that it wasn't necessarily his plan to do so.
"I really didn't plan on being an artist," Burns admitted. "I was thinking I would try to get a regular job. I was kind of interested in using art as a tool to help psychologically malformed children … to use the artwork and art as a way to make them feel better about themselves. That's kinda what I thought I was going to do, but you don't always end up doing what you think you're going to do."
He cites his own disability as a driving force for his determination.
"In some ways, it's been a big benefit. I've been determined to, you know, to show not only can I do something, but I honestly think it's good stuff," he said. "I'm happy with my artwork."
It has also allowed him to be more innovative while he works.
"I use my hands to draw with because the ink dries really fast, but one of the difficulties with my physical disabilities is I can't raise my arms," Burns said. "I do all the color with my teeth. Sometimes I do a little drawing too … whatever it takes to get the job done."
But that's more of a means to an end. According to Burns, the true talent of a painter lies within.
"I don't really paint with my teeth; I paint with my brain," Burns said. "I use my mind. That's what I'm doing. And you know, that's what everybody does. They may paint with their hands, but they're really painting with their brain. … It doesn't make a difference. Whatever it takes, whatever it is, whatever you want — the line, the color — that doesn't make any difference, don't you think? The end result is the important thing. … If I have to crawl along the floor to do it, I'm going to do whatever I have to do to get it done."
Aside from his art, Burns' devotion seems to have carried over to other aspects of his life, earning him lasting friendships and Patricia, his wife of 40 years.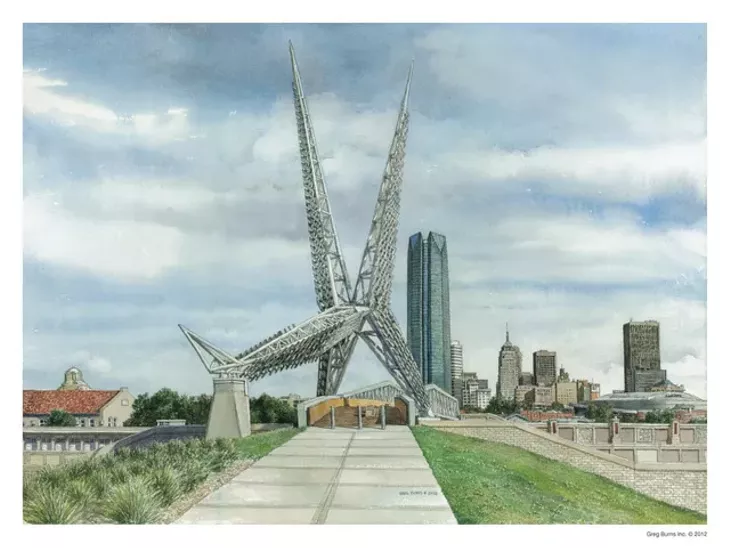 Greg Burns / Oklahoma History Center / provided
"Skydance Bridge" by Greg Burns
Historical marks
Recently, the couple returned to Oklahoma City from their home in Florida. Shortly after their arrival, Burns agreed to open an exhibit of his work exclusively showcasing historical paintings of Oklahoma, his self-described trademarks.
"I think the beauty of his art and the reason he's had such an appeal for people is that it's more than a photograph. … What Greg does is he puts that emotion in there and you can sense it because he feels it," said Bob Blackburn, executive director of Oklahoma Historical Society. "He'll take buildings, and he'll use pen and ink and watercolor to create something that's really more than just the image."
And for those who appreciate his work, the pictures tend to evoke the warmth of simpler times.
"His work gives you a sense of time and place," Blackburn said. "It takes you back to a certain time — shared memory is what I call that — and then a sense of place that's a community. And he combined shared memory with sense of community and suddenly we're all family. And we need more of that in our society today. That's something to really celebrate."
A Sense of Time and Place is scheduled to run 10 a.m.-5 p.m. Monday-Saturday through Sept. 29 in Samuel Roberts Noble Foundation Gallery at Oklahoma History Center, 800 Nazih Zuhdi Drive. Admission is free-$7. Visit okhistory.org.