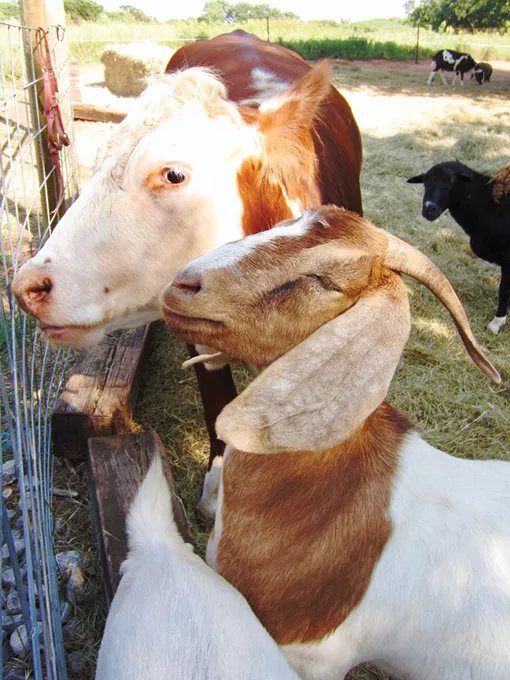 Jo Light
Animals who now live at Milo's Barn include llamas, pigs, goats and Milo the miniature horse.
Milo's Barn is a wooded hideaway that feels far removed from the urban sprawl, tucked away near a creek on acres of untouched land in northeastern Oklahoma City.
Any visitor to the property is immediately greeted with bright eyes, wagging tails or sniffing noses because this local nonprofit houses an estimated 68 rescued animals, including miniature horses, pigs, goats, llamas, dogs, chickens and more.
Laurie Anderson has been running the rescue for about five years. She built a house and animal facilities on her parents' land. She and her two children, Cooper and Emersen, share their home with several dogs, a kitten and one happy pig named Georgie.
One of her recent puppies, a Doberman named Henry, is even a bit of a local celebrity. He was featured in an Aug. 12 KOCO Channel 5 news segment after his rescue and recovery from a gunshot wound. He had to relearn to walk and now is a bouncy and playful pup.
Anderson is passionate about animal welfare and left a career as a restaurateur to build the rescue.
"It just kind of took off," Anderson said. "I get to do what I love, and I feel super lucky."
Milo's Barn officially became a nonprofit organization this summer, and Anderson runs things almost entirely on her own. Donations help her care for animals like Henry, who she said needed roughly $1,000 worth of veterinary care.
"Most of my animals come off of kill lots," Anderson said, "anywhere from Louisiana [and] Texas to Oklahoma."
"Kill lot" in this context is the place where farms or petting zoos sell their unwanted or senior animals. There, they have a final chance to be sold to a loving home before being sent to slaughter. Rescues like Milo's Barn often try to purchase these animals — or, as rescuers say, pay their bail to grant them freedom.
As part of her outreach, Anderson sometimes visits local schools with one of her smaller animals, and she said now kids in OKC know her as the "horse lady" or the "pig lady."
"What I do is I go around to elementary schools and I teach kids about compassion and commitment with animals," Anderson said. "You know, that you can't throw them away, that they're living and loving."
Jo Light
Animals who now live at Milo's Barn include llamas, pigs, goats and Milo the miniature horse.
Loving care
Anderson interacts gently with her rescues, all of which have clever names and distinct personalities. For instance, whenever Anderson leaves the house, Birdie the goat comes over and trails quietly at her heels wherever she goes. In one pen, miniature horse Bea 2 is recovering from equine distemper (or "strangles") and therefore is quarantined, but she has Red the hen for company. Chickens, ducks and turkeys roam freely. There's a constant farmyard din of cheerful clucks and gobbles.
A llama, three alpacas and one miniature llama occupy a shaded area while a larger corral holds horses of different sizes, several curious goats, pigs that will happily sit for treats, relaxed donkeys and a gentle cow named Clarabelle. They cluster around the fence as Anderson approaches, eager to greet her.
Stella, a towering 20-year-old draft horse from an Amish farm in North Dakota, is one of the newest additions at the rescue. Upon arriving, the large mare stepped on Anderson's foot and fractured a few of her bones, but she expressed nothing but love for "the sweetest animal" she has. She's a couple hundred pounds underweight, so Anderson is working on getting her fully recovered.
Milo the miniature horse also hangs out with this menagerie. He was Anderson's earliest rescue, and now he's the star of her first children's book, too. Milo's Barn follows a fictionalized account of Anderson's daughter finding and saving Milo from an unhappy life. The book is the first in a series of five.
Anderson has several events scheduled, including book signings 10 a.m. Saturday at Woodsman Trading Company, 9705 N. May Ave.; 10 a.m. Sept. 15 at Barnes & Noble, 6100 N. May Ave.; and 10 a.m. Sept. 22 at Full Circle Bookstore, 1900 Northwest Expressway. Milo will also be in attendance.
Anderson hopes to open up 30 more acres for the animals and eventually build a wood barn to house them. She will continue to take in animals and educate children about caring for them. She said she's happy to have volunteers help around the rescue because something always needs building or fixing. The animals, she said, wouldn't mind either.
"They love attention," Anderson said, as turkeys, chickens, dogs and Birdie the goat followed her across the yard.
Visit milosbarnokc.com.