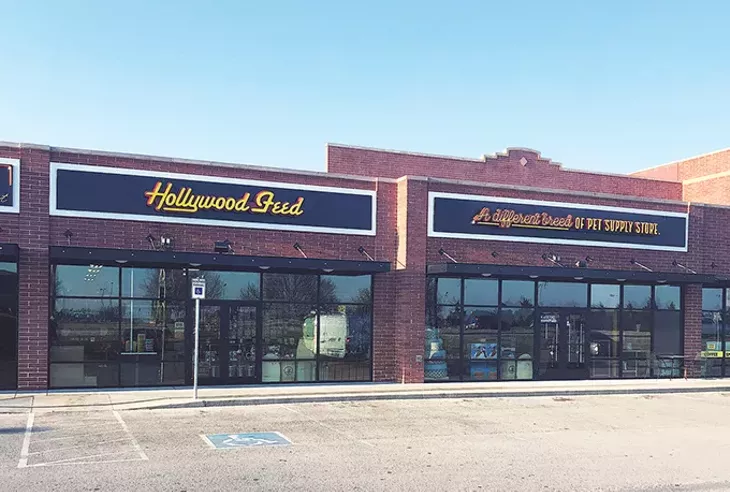 Natural and holistic pet food retailer Hollywood Feed recently welcomed three stores in the Oklahoma City metro: Oak Grove, 12220 N. MacArthur Blvd., Suite G; Nichols Hills Plaza, 6413 Avondale Drive; and Edmond, 1200 W. Covell Road, Suite 116.
"As our neighborhood footprint expanded, Oklahoma was a natural direction for our growth — and it is also clearly a market that has a heart for animals," said Shawn McGhee, Hollywood Feed president. "We are excited to help Oklahomans improve the health and well-being of their beloved pets. Our award-winning offerings of canine and feline supplies matched with our superior service are offerings we are eager to bring to pet lovers throughout Oklahoma City."
Hollywood Feed is consistently ranked among the "Best of" categories in the markets it serves. Its new OKC location offers a highly curated selection of dog and cat food and products not found anywhere else. Treats from Hollywood Feed's own Tennessee Bakery complement the brand's Georgia Made jerkies roasted in beechwood smokers near its Atlanta stores.
Each location is open 9 a.m.-7 p.m. Monday-Saturday and noon-6 p.m. Sunday.
Team knowledge
Shoppers can expect to find premium brands at Hollywood Feed such as Orijen, Acana, Fromm, Primal, Honest Kitchen and more.
Hollywood's team feed members can tell you all about their products. In fact, each team member goes through more than 40 hours of training from veterinarians, nutritionists, animal behaviorists and multiple vendors and manufacturers on various product lines and pet-related education every year. If you aren't sure what your pet might need, a Hollywood Feed team member can help you make an informed decision.
And they always stand by this promise: "If your pet doesn't love it or you don't love it, we'll gladly replace or refund it."
Giving back
With the goal of improving the lives of pets wherever their shelter might be, Hollywood Feed donates over 100,000 pounds of dog food and countless other supplies to homeless pets every year. In addition, each of the Hollywood Feed retail locations hosts adoption events with local shelters and rescues on a regular basis.
Environmentally conscious
Hollywood Feed produces several American-made items created right in the heart of the country, including:
• Hollywood Feed's Georgia Made jerky strips featuring flavors such as chicken, venison and catfish and black bean
• Hollywood Feed's Mississippi Made line of dog beds, collars, leashes and home accessories
• Hollywood Feed's Fresh Bakery biscuits in flavors such as pumpkin and cranberry; apple and bacon; ham, Parmesan and rye; and peanut butter, oats and flax
The natural and holistic retailer is also a good steward of the environment. Not too long after launching its Mississippi Made dog bed line, Hollywood Feed found a sustainable way to use the remnants of material left over after its dog bed patterns have been cut. The leftover fabric was perfect for making matching pet collars, leashes and bowties. In addition, they make decorative items for the home that sport the fashionable dog bed patterns including picture frames, lampshades, night-lights and more. These items can help a pet owner align their home accents with their pet's bed, rather than their dog bed being a decorative outlier in an otherwise coordinated room.
"When we say American Made, we mean it," said McGhee. "We are committed to sourcing products and treats in the regional areas that have supported our business over the years. We will continue to look for products that make pet owners happy and their four-legged family members healthy."
About the Brand
Founded in 1950, Hollywood Feed is a natural and holistic pet specialty retail store with a strong focus on customer service and improving the lives of pets everywhere. The brand began as the local feed store on the corner of Hollywood Street in Memphis, Tennessee. Memphis Zoo, Memphis Animal Shelter and Memphis Police Department were amongst its original house accounts. Over the years, the store began focusing its products and services on household pets. Today, Hollywood Feed offers a wide selection of natural, holistic, American-made pet food and premium products and supports local rescues through regular pet adoption and community events. Hollywood Feed serves customers in nearly 70 stores across the southeast in Tennessee, Alabama, Arkansas, Georgia, Kentucky, Mississippi, North Carolina, Oklahoma, South Carolina and Texas. Hollywood Feed consistently ranks atop consumer choice lists in the markets it serves, including Memphis Most, Dallas A-List and Best of North Atlanta, to name a few.
Visit hollywoodfeed.com.