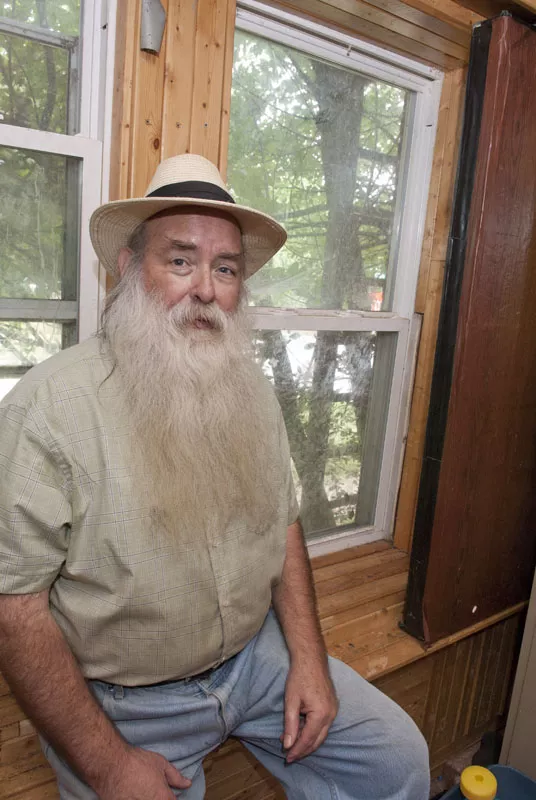 bob in his highly shaded home which has thick, insulated walls and interior shutters (right) he can pull across the window to conserve heat or cold energy. mh
Petition efforts to force statewide votes on various issues this November have proved challenging for many advocacy groups, as some have failed to receive enough signatures before deadlines and others are dramatically short with just a few weeks to go.
Petitions to force statewide votes on marijuana legalization, school storm shelters and solar panel surcharges have been circulated over the past several months. A group pushing a No Sun Tax petition in opposition to a new law that allows utility companies to charge fees on solar panel users failed to reach its goal last month, and organizers say bad information from the secretary of state's office is to blame.
Bob Waldrop, one of the organizers behind the No Sun Tax petition, said his group believed they had until next month to submit nearly 52,000 signatures. However, they learned last week that because they were attempting to repeal a law, which made the petition effort a referendum rather than an initiative, the deadline came last month, 90 days after the end of the legislative session.
"I think they were as surprised by this as we were," Waldrop said about the secretary of state's office, which he said had originally told the group they had until October.
A referendum, which relates to a law from the Legislature, requires about a third of the signatures necessary to submit an initiative petition creating a new law. State law and the state constitution appear to have conflicting deadlines for submitting a referendum petition, which led to the confusion, Waldrop said.
Secretary of State Chris Benge said his office has a policy of not offering advice or confirmed dates to petition groups. As for the complaint that a wrong date was given to the No Sun Tax group, Benge said he is looking into the matter.
"The complaint we take very seriously, and I've instructed my staff to review our communications with the proponents," Benge said. "The office has a history, even before I came, of not providing legal advice, and even going so far as not providing deadline dates."
While the secretary of state's office is the destination for statewide petitions, it does not interpret or confirm laws regarding the process, Benge said. Further confusing the matter is that referendum petitions are rare.
"The last referendum was 2004, and then the next one before that was either 1993 or 1994," Benge said. "It's rare and a situation we don't deal with a lot."
OG&E, which is opposed to the No Sun Tax effort, benefits from the fact that its attorney is former secretary of state Glenn Coffee who would have some insight into the confusion surrounding referendum petitions. Coffee wrote a letter to Benge in August on behalf of OG&E, requesting that the deadline for the No Sun Tax petition be reviewed. The request resulted in an opinion from the Oklahoma attorney general that said the group had missed its deadline.
Opponents to the solar panel surcharge say OG&E should have requested clarification during a public comment period in June and that by waiting until August, it was an obvious attempt to raise questions when it was too late to make changes.
Petition confusion
Waldrop, who has experience circulating statewide petitions in other states, said Oklahoma's system is one of the most challenging he has seen.
"Everywhere I have done petitioning, the governing authorities were always very helpful," Waldrop said. "But here in Oklahoma, they have a very different attitude and they obviously aren't as helpful as they could be."
Attorney David Slane and State Rep. Richard Morressette leave after filing a request at the State Supreme Court to remove the State Attorney General from ballet language in the Storm Shelter petition, 11-06-13. mh
Waldrop said the secretary of state's office does not provide clear information on the petition process, which hurt another petition effort seeking to legalize marijuana. It is also challenging in Oklahoma to collect enough signatures to put other political parties on the ballot.
The Independent Voter Network has ranked Oklahoma No. 4 on its list of states with the hardest petition laws for adding a political party to the ballot and pushing other ballot measures.
Benge agrees that the petition process and the rules that govern it could use some work.
"The rules are kind of murky," Benge said. "I would like to see the [Legislature] be able to change the statutes [related to petitions] and make it clear enough that we could offer some definitive dates and deadlines to help people on the front end."
Final efforts
A group looking to create a ballot measure for the construction of storm shelters in Oklahoma schools has until Oct. 20 to submit 155,000 signatures, a target they are well short of at this time.
David Slane, an attorney working with Take Shelter Oklahoma, a group that wants to ask voters to approve a $500 million bond to build shelters in every school, said last week the group was likely at least 50,000 signatures short.
Take Shelter Oklahoma had originally thought last week was the deadline but was informed it is actually in a few weeks.
"We welcome the additional time in order to collect the signatures," Slane said at a press conference last week.
Take Shelter Oklahoma has faced a few hurdles in seeking the ballot measure, as last year, the Oklahoma attorney general changed the language of their petition, which the group challenged in court. Even though the revised deadline gives the group more time, it is another example of the confusion that can exist in the citizen petition process.
Petitions to legalize medical marijuana have also run into roadblocks. One group has halted its efforts after it fell short of the needed signatures. A group called Oklahomans for Health had collected 75,000 signatures, but it was determined the correct petition forms were not used for nearly 30,000.
Another marijuana legalization petition led by Sen. Connie Johnson, D-Forest Park, is still working to collect nearly 160,000 signatures before a deadline this month.
Print headline: Petitions prove problematic // Oklahoma's statewide petition process offers many challenges and confusing laws