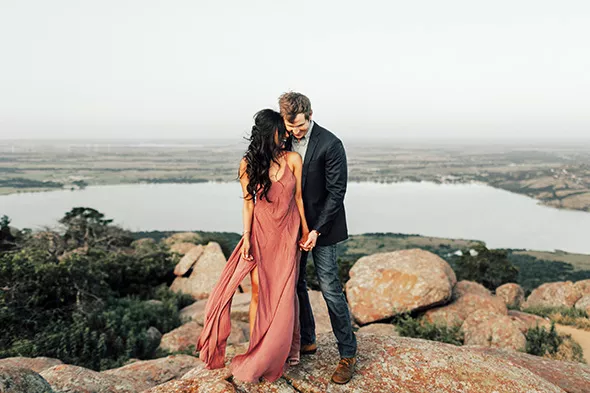 Melissa Marshall / provided
Marshall specializes in wedding and couples photography.
Melissa Marshall liked her photography class so much she stopped going to school.
"When I was growing up, I always loved photographs," Marshall said. "My room was always covered in photos. I always loved the aspect of capturing moments because I have a terrible memory. I took one course my second year of college, an intro to DSLR photography, and it was the only class I got an A in, the only class I was interested in. At the time, I was studying to be a teacher, so it was just an elective, but it was the only class I felt confident in and where I felt my teacher believed in me. So I quit college after that."
After leaving school, Marshall, who now works as an Oklahoma City-based professional photographer specializing in couples and wedding photography, went on a mission trip where she was able to spend time focusing on her newfound passion.
Melissa Marshall / provided
"I had a lot downtime, so I played around with photography and read a bunch of blogs and found a certain style I really liked," Marshall said. "So when I moved back to Oklahoma, I started shooting my friends and their boyfriends and couples. It all just kind of naturally went together."
After further exploration, Marshall discovered her specialty.
"I shot a little bit of everything in the beginning; most people do I guess," she said. "But my favorite thing to shoot is couples. So I stopped shooting families and senior photos a couple of years in. … I don't love shooting families with kids. I'm not great with kids, so it wasn't a passion of mine. With couples, I was young and in love at the time too, so they were easy to understand and work with them and get their true selves out of photos. I feel that's the best thing I can do with my photography."
Melissa Marshall / provided
Marshall's husband, Josh, who typically does woodwork, assists her when she shoots weddings.
"He'll be with the guys while I'm with the girls getting ready," she said. "During the ceremony and reception, he'll get the alternate angles, and we'll trade off during receptions because by that time, we're pretty tired, so he'll chill while I shoot and vice versa. It's great getting to travel together; that's really the best part of him working with me."
In February, Marshall and her husband, who both grew up in Oklahoma, will be traveling to Cartagena, Colombia, to shoot a wedding. Many of her clients first see her work on Instagram, where her account @melissamarshallx has more than 60,000 followers, but a feature in Brides magazine last April about a wedding in Jamaica she photographed introduced her to many more potential clients.
"I think a lot of my newer, bigger [jobs] are coming from that," Marshall said. "I think it's a certain type of bride that looks at Brides. They're a little more upscale and huge and destination and awesome, so it's a plus. … It was very serendipitous and not on purpose, but it really worked out in my favor. I've gotten some really cool inquiries, bigger scale. Some of them are so big it intimidates me. Now it's New York weddings, and I've only shot one wedding in New York. It was probably hundreds of thousands of dollars, and that's just not how I grew up and not what I'm used to shooting. My wedding was here in Oklahoma City. I think we had a budget of 11 or 12 thousand dollars, which you can spend that much on photography these days."
Marshall said her clients tell her they recognize themselves in her pictures, something that's more difficult to achieve than it might sound.
"They can see themselves in my photos, which is such a compliment because that is my goal," Marshall said. "I want it to be authentic and natural and not like, 'Oh, that's not real life.' … I think they like that it seems candid even if it's directed. It's flattering and emotional, and I'm pretty laid-back when I shoot, and I really scream that on my website. I'm just a friend at your wedding with a good camera that is good at what she does. It's not that I'm not professional. I'm not straitlaced. I just want to be whatever they need me to be and take good photos while I do it."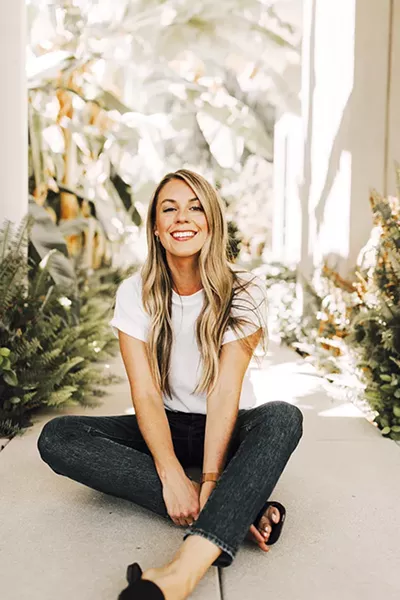 Melissa Marshall / provided
Marshall specializes in wedding and couples photography.
Positive attitude
Positive feedback from her subjects was originally what encouraged Marshall to pursue photography as a career.
"I think it was other people telling me that they saw something in me that told me I was good at it," Marshall said. "I don't know if that's a good thing or not. I just love doing it, and I love being creative and I love editing and everything about it. So I think once it got noticed by people, and they were like, 'Oh, you're good at this,' I was like 'Oh, cool! Great!' … People tended to tell me they felt good about the photos of themselves or that they felt it wasn't going well and then they loved the photos of themselves. I think people are most critical of photos of themselves, so that was a good compliment."
Her Instagram bio promises "creative imagery for the wildly in love," but Marshall said the imagery that best captures her subjects depends on who they are, and loving relationships don't all look alike.
"I never think they're not in love," Marshall said. "I may think, 'He's really not into this,' or 'Oh, they're shy.' So I try to make it funny instead of romantic if they're not into it. I think that's when they feel awkward or stiff if I'm trying to force them to make out. I'm like, 'OK, let's run around and be stupid because obviously you don't want to be serious.' I really don't try to force my style or my preference on them. I've never really thought, 'You're not very much in love.' I don't think about it. I just assume they're in love. There have been times I can tell they were in an argument before I arrived or something's going on, but I try to ignore it because that's just awkward. I'm like, 'Let's remember why we're here.'"
Putting people at ease is important to Marshall even when she's not holding a camera.
"I feel like my number one goal with anyone, not just work, but even with friends and strangers, is to make people feel comfortable," Marshall said. "I hate feeling left out or uncomfortable in groups, so I want to be the one that if anyone feels that way, I can help them. I think I'm good at easing people in to conversations and asking them questions to get them talking about themselves, what they like to do and finding a common interest. With couples, I feel like that's an easy thing to do because I've been where they are, engagements, in college or whatever. And also we go out for drinks beforehand so that helps loosen them up."
Visit melissamarshall.co.