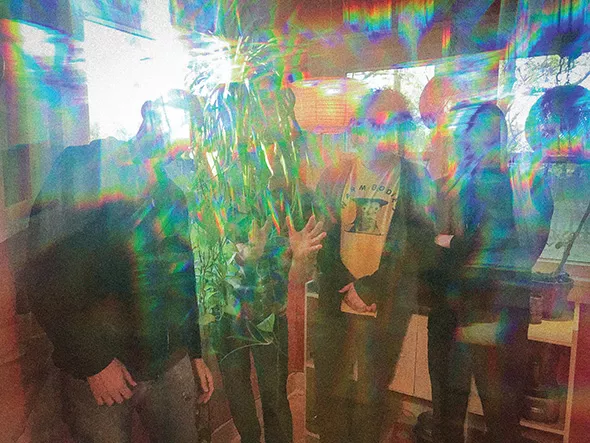 provided
Chat Pile plays its first live show July 11 at 89th Street – OKC.
Chat Pile
7 p.m. July 11
89th Street – OKC
8911 N. Western Ave.
405-463-9203
$10-$12
One of the primary sources for lead mined to make the bullets fired in World Wars I and II, Picher, Oklahoma, now sits ruined and mostly empty. Environmental Protection Agency declared it a Superfund site in 1983 and began capping thousands of mine shafts and digging a deeper aquifer for the city's water source, but blood tests taken in the mid '90s showed 63 percent of the children there had lead poisoning. The police force and government disbanded in 2009, and the 2010 census counted a population of 20.
Watching The Creek Runs Red, a 2006 documentary about Picher, Chat Pile bassist Austin Tackett could relate to the town's few remaining residents.
"They show all these small-town folks who refused to leave," said Tackett, "because they love it and that's all they know. And I feel like there's kind of a theme like that to the music we make where the things that you love are ultimately going to kill you."
Oklahoma City's Chat Pile, named for the mountains of heavy metal waste contaminating the air and water in Picher, plays its first live show July 11 at 89th Street — OKC. Tackett, a member of the music collective Dust House Studio who has played in Purple Church and Found Footage, said Chat Pile is "a little more confrontational" than his previous bands.
"We definitely knew we wanted to do something kind of heavy and gross," Tackett said. "There's no compromise. We are making what we would consider to be an expression of the true nihilistic terror that we all feel in the current state of affairs that we all live in right now. There's no attempt to make it appealing to anybody. It's just us making the ugliest kind of music we can make."
Vocalist and lyricist Randy Heyer said Chat Pile's metallic noise rock gives him the chance to write about subjects he has never covered in his work as solo singer/songwriter.
"I'm a big horror movie fan, and I've never made music before that explores those kinds of themes," Heyer said. "For this, I've been very much encouraged by my bandmates to just be crazy and write disgusting, violent stuff."
The characters populating This Dungeon Earth, the band's debut EP released in May, are "speaking from a defeatist standpoint" with a "nihilistic attitude," Heyer said. "Rat Boy" sounds like paranoia personified; "Crawlspace" is a psychotically unhinged monologue about animal mutilation and "mass extinction" delivered by an Oklahoma City police officer; and on "Rainbow Meat," Heyer screams "send my body to Arby's/ cut me into thin slices."
"I guess that, of all the songs, is sort of the autobiographical song," Heyer said. "That's just sort of my reaction every time I read the news and some idiot has gone and shot like 20 people in a fucking bar or some shit. I'm just like, 'Fuck it. I'm ready to go.' We are just sinking into a hellscape right now, and it's very, very scary. … I feel like if you're an artist today in 2019 and your art doesn't reflect what's happening in the world, you're not making anything that's worthwhile at all."
Tackett said the album is inspired by "the inescapable realization that we're all doomed."
provided
Chat Pile is named for heavy metal waste.
"Global ecological collapse is imminent," Tackett said. "Probably, from a political and infrastructure standpoint, the horizon doesn't look very good. … For me, and I think probably for the other guys too, it's the idea of feeling so claustrophobic and helpless about the way things are going. … You have all this pent-up fear and rage. You kind of feel like an animal backed into a corner, and the music is a way of just vomiting all that negativity out."
The album also features guitarist Griff S. and Tackett's brother Aaron playing a Yamaha DTXplorer electronic drum set to facilitate a more "cold, mechanical approach" to music making.
"The joke around the Chat Pile offices is that we have to face the fact that we're a metal band," Tackett said. "I think that to some extent, we're trying to recontextualize all kinds of what I would consider the type of music that Beavis and Butthead would watch."
Though Chat Pile intentionally set out to make ugly, uncompromising music, Tackett said the album is "easily more popular" than any other project he has played on, based on the number of times it has been streamed on Bandcamp.
"There's a niche audience for it, but that niche seems to be relating to it," Tackett said. "People who are into that kind of '90s, noise rock sound definitely seem to be on board. … I've had so many people kind of come out of the woodwork to tell me that they really like what we're doing, and I've never really had that happen before. So it's a great feeling. … It just kind of goes to show that if you just do what you want to do, it connects with people better."
Heyer said he has had a similar experience.
"Different people have come to me who I've been friends with forever but never really complimented my music that are like, 'Oh, I love this,'" Heyer said.
As a solo artist, Heyer typically plays an acoustic guitar while sitting down, and he is excited to front Chat Pile live.
"I can't wait to perform without anything in my hands so I can stalk the stage or whatever," Heyer said. "There's no opportunity to take my shirt off that's not weird in my acoustic set. I can't wait."
Tackett is interested to see how Chat Pile is received live because most of the OKC noise enthusiasts he knows are in the band with him.
"Here's the problem that we kind of deal with locally," Tackett said. "We're too weird and eclectic for maybe your traditional Hesher metal fans, but we're too heavy and mean for maybe your more DIY punk rock fan. We kind of live in this sort of middle ground that alienates all of our potential audience. … In the past bands that we've been in, we've spent so much time and effort trying to promote locally, and it's just such a masturbatory dead end. With this band, we're definitely setting our sights more on a national level. ... Don't get me wrong; I love the local music scene. But as far as the music we make, I just don't know if there's really a whole lot of an audience. I would love to be proved wrong."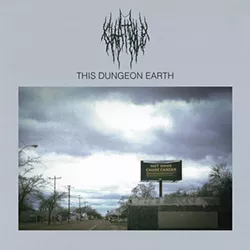 provided
This Dungeon Earth, Chat Pile's debut EP, was released in May.
Heyer — whose vocal performance is inspired by the screams of Scratch Acid's David Yow, Pixies' Black Francis and Bad Brains' H.R., who Heyer called "maybe the greatest vocalist that ever lived" — said he is primarily concerned with avoiding sore throats and laryngitis.
"I guess my main goal here is not losing my voice or just destroying my voice, but I'm working on it," Heyer said.
Tickets are $10-$12. Street Sects and Zusammenbruch share the bill. Visit 89thstreetokc.com.