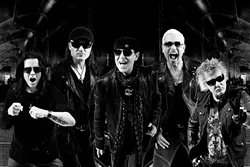 It is unfair to lump German rock band Scorpions in with the sometimes-maligned hair metal scene of the 1980s.
For one, Scorpions predates the genre. Guitarist Rudolf Schenker founded the group as a hard rock act in Hannover, Germany, in 1965. It has become known as a pioneering force behind heavier, melodic rock music and is on tour celebrating its 50th anniversary.
Additionally, the Rock and Roll Hall of Famers never put style over substance, a common gripe among critics about bands of that era. Sure, Scorpions members had long hair in the '80s and they wore a barn worth of shiny black leather. But from the beginning, Schenker always envisioned his band as a German ambassador in a post-Hitler world.
The band returns to Oklahoma for the first time in several years when it performs May 28 at the Rocklahoma music and camping festival in Pryor.
Schenker, 67, was exuberant as he discussed Scorpions history during a recent Oklahoma Gazette phone interview. In the early days, when the act toured outside German borders, it was vitally important to him that bandmates showcased his homeland's fresh and peaceful attitude.
"We wanted to show them that there is a new generation coming from Germany," he said. "They're not coming with tanks and making war; they're coming with guitars and making music."
New crowd
The last time Scorpions performed in Oklahoma was literally supposed to be its final appearance in the state, as part of its 2010 farewell tour. Schenker, the only member to participate on every album and in each tour, told Gazette before the band's Zoo Amphitheatre show that it wanted to go out at the top of its game. It had just released Sting in the Tail, a new album that it was especially proud of.
However, as that tour progressed, Schenker said he was taken aback by the outpouring of strong, youthful fan support.
"It was unbelievable," he said. "There were so many people; sold out, sold out, sold out. The most amazing thing was at the front of our stage were kids like 16, 18, 20, 24."
Around that time, the band also launched its official Facebook page. Through that, the group discovered that 80 percent of its Facebook fans were between age 18 and 28.
"We said, 'Hey, fucking hell, that's unbelievable,'" he said. "We're staying onstage and we're seeing a new generation."
The younger crowd was encouraging for Schenker, who, in 2010, feared that the rock band era was coming to an end. Kids were too in love with synthetic, computerized sounds — or so he thought.
It was not the first time Schenker believed rock bands were too good to last. When he started Scorpions, he said he felt like the trend would wind down within a decade.
As time went on, however, he discovered rock music is undying. Though once fearful of the effect technology could have on the popularity of his band and others like it, he now thanks sites like YouTube for preserving the Scorpions' legacy and passing it down to a younger generation of fans.
Another timeless appeal of rock bands is the exciting sense of belonging to a group. Everyone needs friends. Everyone wants to feel like they belong.
Schenker recalled growing up with great solo acts like Elvis Presley and Little Richard.
"I tried playing guitar," he said. "I was also a soccer player, but for me, it was not so interesting being alone and making music. When The Beatles and The Rolling Stones and The Pretty Things came, I said, 'Fucking hell, that's fantastic.' Being a part of a gang, four or five guys traveling around the world and making music, that's what I want to do."
Rock idols
Schenker remembers fighting with Scorpions drummer Rudy Lenners in his dressing room after a show in 1970s London. He can't remember what they argued about, just that the heated exchange was about something that happened during their gig.
Then, over the radio, the now-iconic lead-in to Led Zeppelin's "Kashmir" broke up their shouts. Nothing else mattered at that moment except Jimmy Page's guitar.
More than 30 years later, Schenker was in another London dressing room, thinking about the show he just played, when he heard the door open. He turned to see Page smiling.
Of all the celebrities and dignitaries Schenker has had a chance to see, none was more significant to him than meeting Page.
"This was something very, very special for me because I'm a big fan of Jimmy Page," he said. "For me, [Led Zeppelin] is the No. 1 most influential rock band in the world."
Peaceful revolution
What Page meant to Schenker, the Scorpions meant to a newly reunited Germany. The Berlin Wall, dividing the Federal Republic of Germany on the west from the Soviet-occupied German Democratic Republic on the east, came down in June 1990.
At the same time, the act released the most popular song in its catalogue: "Wind of Change." It was an anthem for overcoming hate and oppressive rule.
"It became the soundtrack of the most peaceful revolution on Earth," he said. "No bullets, nothing."
But the band didn't just respond to change. It helped usher it in. Two years earlier, in 1988, Scorpions played in Saint Petersburg, then known as Leningrad. It was only the second non-American Western act to perform in the Soviet Union. The first was England's Uriah Heep in 1987. (Popular American country musician and longtime Oklahoma resident Roy Clark beat them all, however, when he performed 18 sold-out concerts in the Soviet Union in 1976. Most Western music acts were banned from touring the country until the mid-'80s.)
In 1989, Scorpions headlined the historic Moscow World Peace Festival alongside Mötley Crüe, Ozzy Osbourne and others.
"You can't be closer to history than we were," Schenker said. "I think that's the point."
In a world that once again seems in flux, Schenker said he will never completely commit to retirement.
"The world is turning," he said. "It's changing. If there is a new gap which says, 'Hey guys. Jump in here; this is something very special,' we'll do it."
Print headline: Stinger king, Scorpions guitarist and founding member Rudolf Schenker brings "Wind of Change" to Rocklahoma.