Jacob Threadgill
Heifers' avocado ranch burger with bacon
Heifers & Hens Restaurant and Bakery
2219 W. Interstate 240 Service Road
405-900-5245
What works:The pies make it a destination while fresh food like fries and burgers make it a return visit.
What needs work:The combination of macaroni and cheese with chicken in a taco didn't hit the mark.
Tip:Heifers & Hens offers beer on tap but no liquor.
Not far from the final location of Pioneer Pies, one of its former employees is helping continue the dessert tradition of the restaurant at a new venture, Heifers & Hens Restaurant and Bakery, 2219 W. Interstate 240 Service Road.
Pioneer Pies, which opened in 1982 and once had three locations, closed its 2201 SW Interstate 240 Service Road restaurant at the end of 2016 and left a giant pie-sized hole in the market for homestyle pies and comfort cooking.
Heifers & Hens opened earlier in 2019, but a new ownership group consisting of a pair of couples, Darryl and Lorie Pompey with her brother Brian Harris and his wife Nicole, took ownership of the restaurant in mid-November of last year.
Brian Harris worked for the Pioneer Pies location at Hefner Road near Pennsylvania Avenue for nearly four years, manning every job in the building until a baker left for the 240 Service Road location and he was pressed into action to learn its pie secrets.
Harris shared the spoils of the Pioneer Pie experience with friends and family during the holiday in the decades following leaving the restaurant as he and family started other businesses, including Thunder Bounce, a bounce house rental, and running Goodnight Moon Child Care.
The couples kept a commitment to providing fresh, never frozen burgers and chicken wings established by Heifers & Hens' original owners while giving Harris an opportunity to showcase his pie-making experience. Along with Lorie Pompey, Harris is making pies that have a seal of approval from Pioneer Pies co-owner Mike Smart.
Jacob Threadgill
Buffalo chicken tacos with macaroni and cheese
"One of our waitresses put it out on social media that we had a Pioneer Pies baker in the restaurant, and the post just blew up. It has more than four times as much interaction as anything else we've put out," Harris said.
It drew the interest of Smart, who stopped in for a meal. He returned the next day with over 200 leftover pie tins and gave them permission to stamp the tins with the signature "Pioneer Pies" imprint.
"He also said that he'd be able to get us some recipes, but I think we're already doing alright," Harris said. "The only one I'm having trouble with is the French Silk and getting the butter the right temperature."
Heifers & Hens has a display case by the front entrance to showcase the day's pies, but the selection is wide-ranging. Its most popular seller is the coconut cream, and it's joined by favorites like apple, peach, Oreo Cream, lemon and butterscotch meringue. It is also making cheesecakes like cherry and strawberry like Pioneer's did while adding a new creation from the mind of Lorie Pompey: a pecan pie cheesecake.
Heifers & Hens also continues the Pioneer top-seller Millionaire Pie, which is pecans, pineapples, cherries and coconut in a sweet cream filling. Harris' favorite — and mine as well — is the Buttercheese Pie, which you might know as either a buttermilk or Chess Pie.
"When the restaurant is full, I like to peek my head around the corner and see everyone enjoying everything," Harris said. "I did all of the pie baking for my family, and I just missed it. It's something about when someone comes in here and says that it tastes just like Pioneer Pies. I didn't know Pioneer Pies was going to affect me like it has right now; that was 25 years ago."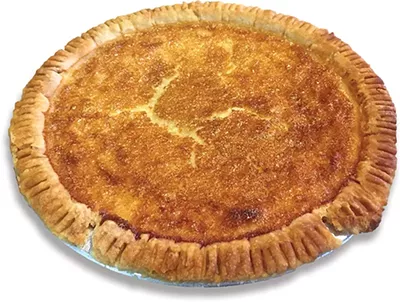 Jacob Threadgill
A Buttercheese Pie at Heifers & Hens is also known as buttermilk or chess pie.
The bulk of Heifers & Hens' menu is built around 17 half- or full-pound fresh hamburgers that range from $9 to the $16 "Dare You!" burger with two half-pound patties, two fried eggs, three slices of American cheese, three slices of Swiss cheese, nine pieces of bacon, lettuce, pickles, mustard and mayonnaise.
Other interesting burger selections include the Buffalo burger, which places hand-battered chicken strips covered in Buffalo sauce on your choice of patty. A burger topped with Velveeta macaroni and cheese is the top-seller. There is also a Hawaiian burger with grilled pineapple and teriyaki sauce, a peanut butter burger with provolone cheese and a cinnamon roll burger.
I've heard of the Iowa tradition of serving chili with cinnamon rolls, but Heifers uses two house-made cinnamon rolls in the place of potato buns, tops the burger with cheese and drizzles the whole thing with caramel sauce. Darryl Pompey said they sell about two of them per day, and it's a holdover from the original owners.
"We sat down one day, and we were like, 'I don't know,'" he said of the cinnamon roll burger. "We took one bite, and that was enough to say, 'Yup, that stays.'"
It also offers boneless or bone-in chicken wings with insane, hot, medium, mild, BBQ, honey BBQ, garlic and Parmesan, teriyaki, sweet chili, Korean pepper and honey Sriracha flavors.
Heifers & Hens kept its varnished look complete with country music over the speakers from the original owners, Pompey said. It's a friendly restaurant. While dining there, I saw a waitress sit down with a couple as they ate their meal. The staff has nicknames for each other as orders go in.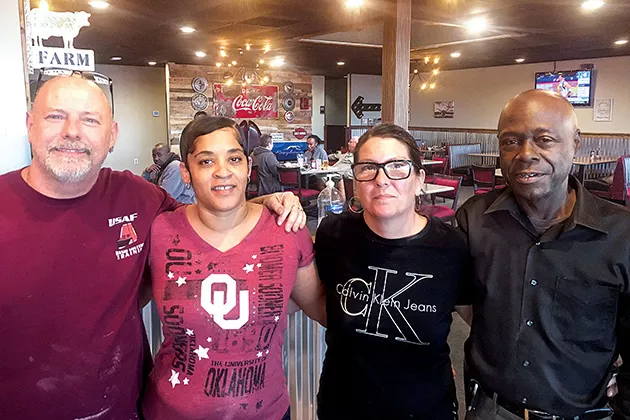 Jacob Threadgill
from left Heifer & Hens Restaurant and Bakery owners Brian Harris, Nicole Harris, Lorie Pompey and Darryl Pompey
I tried the avocado ranch burger and was pleased with the quality of the beef. The potato buns were toasted, and the bacon was the right balance of crispy with a little bit of chew. The Buffalo chicken tacos were kind of an odd adventure. The chicken tender was well-cooked; I could tell it was fresh, but the macaroni and cheese underneath didn't add much. It had a very creamy element, but I think it would have to be reworked for me to try it again.
My favorite non-dessert bite was dipping freshly cut fries into the house sauce, which is similar to a Comeback Dressing with lots of garlic, lemon juice, mayonnaise, paprika and other spices.
The measure of great pie is its crust. Pioneer Pies closed its final location before I moved to Oklahoma City, so I can't compare Heifers' version, but I tried a slice of the Buttercheese Pie, and it was excellent. The crust was buttery and firm, while the filling was sweet and custardy. If you're looking to fill the Pioneer Pie hole in your stomach, Heifers & Hens is the place to do it while also delivering fresh burgers and chicken.