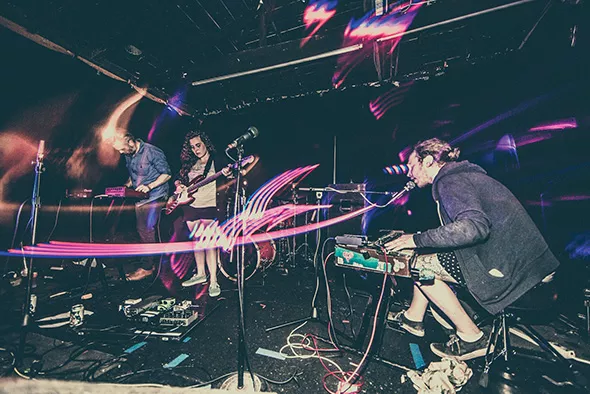 provided
Mt. Terror plays The Premature E-Jack-O-Lantern Party 9 p.m. Saturday at The Paramount Room with The Sweet Talkers and Fresh Juice Party.
In the 2017 Letterkenny episode "The Haunting of MoDean's II," Wayne, to much delight, references an annual pre-Halloween party called "Premature Ejacu-lantern." Letterkenny fan and Mt. Terror synthesizer player Jeremiah Holland, who named his own event after the joke, said he was surprised how many people get the reference.
"There's a lot more people that like that show than I thought," Holland said of the Canadian comedy that's been building a cult following in the U.S. "I thought it was just, like, my own secret."
The Premature E-Jack-O-Lantern Party is 9 p.m. Saturday at The Paramount Room, 701 W. Sheridan Ave. In addition to live performances by local bands Mt. Terror, The Sweet Talkers and Fresh Juice Party, the show's flyer also promises comedy, a costume contest and "sexy dancing." Holland said partygoers should expect "all the standard Halloween stuff, slightly-Letterkenny themed," and added that Mt. Terror's performance will include some sort of visual elements "even if it's just a smoke machine."
"We might have some tricks up our sleeve," Holland said.
Mt. Terror, which released a double-sided single comprising "How to Be a Bomb" and "Future Coast" in May of 2018, is currently working on an EP after experimenting with different sounds and approaches.
"It was kind of one of those things where I had thought about trying to change some of the format, and I went through all of these ideas and then basically came full circle back to the exact same thing that we've been doing, and I decided that we were going to just lean into that and start working," Holland said. "We wanted this project to be kind of upbeat, fun, dance-y. For me, it's always just been about Brennan Barnes is, I think, an absolute genius songwriter, and I want to get his music created and out there. It's been some pretty intense ups and downs in the process, but it's still worth it to me."
Though vocalist and organist Barnes, who formerly fronted Deerpeople, is primarily in charge of the band's musical direction, Holland said the interplay between all of the members is crucial.
"It's this weird thing where we all are necessary," Holland said. "It's a super interesting dynamic, because I feel like, even though he writes the songs, he wouldn't be doing it with anybody else. It's a weird dynamic, but it works. And I think, after several years, I've figured out how to approach it, and how to do it effectively, and then hopefully, get some more traction."
While Holland said he tends to be a perfectionist, he is learning to stop worrying and love the dynamic that led to "How to Be a Bomb," which required him to switch from the guitar to the synthesizer.
"If something doesn't work, I want to change it and do something different or add something or take something," Holland said. "I was, in the past, kind of getting trapped in that idea, but I kind of let go of that and have just stopped trying to change what we are. I'm a guitar player playing synths, and Katie [Bouknight] is a violinist playing bass. So when we're not the best synth player and bass player in the city, I'm like, 'Why don't I try to go get the best bass player and synth player in the city?' but that's the thing about our music. It doesn't have to be perfect. Completely, perfectly executed music is not always what, artistically, makes an impact. … I guess we'll just embrace what we are and see where that takes us. … I think there's some satisfaction or a tension that gets released with having to do something you're not very good at."
In an interview with Oklahoma Gazette in April, Barnes said he wanted to move to a synth-based sound because he has trouble finding the guitar exciting at this point in music history.
"We don't have a guitar player at all in Mt. Terror, which is nice," Barnes said. "It's kind of what I always wanted, and you can kind of tell that's what I always wanted, because in Deerpeople the guitar parts were never very guitar-y. … I think that's the direction that even rock music, in a weird way, is moving. I feel like just everything had been done on guitar by, like, 1979, so you're just recycling all this guitar stuff."
provided
Mt. Terror released "How to Be a Bomb" and "Future Coast" in 2018.
Though Holland said he is more proficient on guitar, as a former Navy pilot he does find something familiar about the Behringer DeepMind analog synthesizer he picked after trying out several other models.
"I do like the buttons and all the knobs," Holland said. "And I still have a lot of those synths so if I can get a synth-lord station going, that's kind of reminiscent of being in a jet and having all the buttons and stuff to tweak and modulate, which I enjoy. That's a lot of fun. … That may be a theme for me. I like playing with the buttons."
When asked if he finds any part of music scary, Holland — playing a Halloween show in a band called Mt. Terror — laughed.
"All of life is kind of creepy these days," Holland said.
Standup comic Matt Raney, who recently won the annual Funniest Person in OKC contest, is also scheduled to perform. Raney said being afraid is an important part of his creative process.
"I know if a joke scares me, then it's probably a joke I need to work with," Raney said. "I like a good scary joke — scary in the sense that it might backfire and they might hate you. Those are fun. That's the ultimate scare, to be scared that the way I'm phrasing this might really come off as offensive. It's like a dance. You're going to say some fucked up shit, but you hope you might be able to slide it under the radar. … It's the, 'Am I going to get away with this or not?' that's scary."
Performing at a show that also features music adds a new fear, as well.
"There's going to be more attractive people at this show than at a comedy show," Raney said, "so the new rule is, 'Don't do anything embarrassing in front of this more attractive audience.'"
Admission is free. Visit facebook.com/theparamountroom.