Jacob Threadgill
Deckle serves two types of in-house smoked sausage: spicy cheese and German.
Growing up in central Texas, Andrew Liu said that he had little choice in the matter when it came to barbecue.
"In Texas, everyone barbecues, but how good and passionate you are is a whole other story," he said from inside Deckle Smokehouse, which opened at 324 W. Edmond Road in early May.
Liu owns the restaurant with a group of four investors, but building off 30 years in the barbecue industry and a refined career as chef in the hotel industry, Liu is the primary pitmaster at Deckle Smokehouse, which gets its name from the point on a cow where the cut used for brisket is connected to the rib cage.
Smoked brisket is Deckle's top-selling item, as it smokes in the restaurant's custom-built 5,000 pound offset, double-decker smoker that took two years of engineering to design, for at least 12 hours, Liu said.
He has been barbecuing for so long that he doesn't even need to look at the smoker's temperature gauge; he is able to tell the desired temperature just by looking at the fire in the offset section of the smoker.
"Manning the smoker is peaceful, but it's a lot of hands-on experience," he said. "The way that we smoke it is between 200 and 250 degrees; anything over 250, the meat will start to burn. Our flavor is pure smoke; it's not burnt meat. That's why it is tender and juicy."
Liu is patient with customers, asking if they want slices from the point (deckle) or flat part of the brisket, and offers free samples of Deckle's chicken, beef and pork ribs and fresh sausage.
In true central Texas style, Deckle uses a mixture of three types of oak:
green, half-seasoned and fully seasoned. Liu's goal is to create a moist cut of beef with a good smoke ring, but not one that is so overpowered with smoke flavor that the customer can't taste the natural flavor of the meat.
Oak burns slow, which is why you get great flavor versus too much smoke. When you use other woods, it becomes like an ashtray," Liu said. "Because oak burns slow, it's not as pungent. The hottest wood you can burn is mesquite, which gets real smoky real fast, but the meat is not done [the way I want]."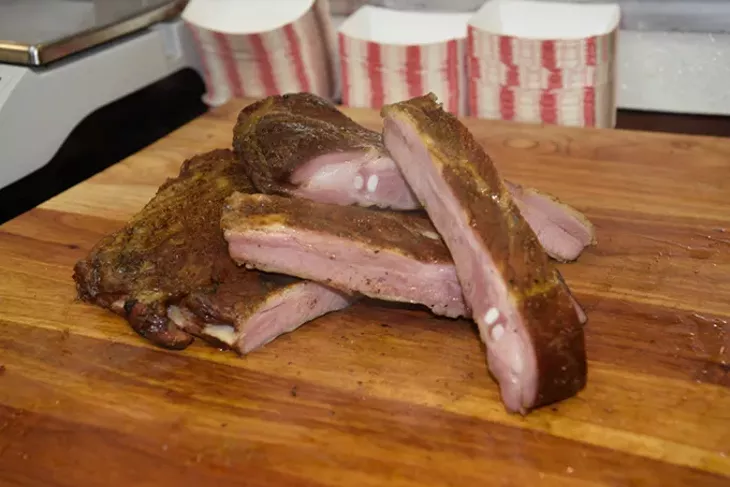 Jacob Threadgill
Pork ribs at Deckle Smokehouse
Inventive flavors
While some barbecue restaurants use the same spice blend across every cut of meat, Liu relies on his background running restaurants and hotel kitchens and his world travels to create a different flavor profile for every item on the menu.
The German sausage is based on a recipe Liu coaxed out of his friend's grandmother while staying in Germany for a month. The spice blend on the country-style pork ribs includes over 20 spices. Liu's base barbecue sauce includes bloomed saffron.
Liu has introduced indulgent menu items such as the bacon-fried okra, which puts bacon bits into the okra batter. The potato tower is made up of three fried potato pancakes: the first layer topped with cheese, the second beans and the third with brisket, sour cream and green onion.
"[The potato tower] is where carb lovers need to go," Liu said.
A chicken lollipop is Liu's inventive answer for the ubiquitous chicken tender instead of doing a French cut on a drumstick or wing and pushing the meat to the cartilage-filled end, which is often seen on aesthetically pleasing Internet recipes that don't work in practice, Liu said.
"When you do the French cut on the drumstick, there is a lot of fat and you can't cook it out—or if you cook it out, it becomes dry," Liu said. "We use ground chicken. Kids love it because it's like a fried chicken meatball.
The chicken lollipops are served with a special sauce that gets sweet and tart flavors from tamarind.
The green apple coleslaw has no mayonnaise, relying on oil and vinegar for moisture, and is made fresh throughout the day to retain the crispness of the ingredients. Fresh is key for Liu, who does everything from making french fries to baking brioche buns for sandwiches in the kitchen.
"We make everything in-house," he said. "I don't buy frozen stuff. I don't want boring food. If you compete directly with other people, you're probably going to lose. If you start creating, you're going to win because you're always a step ahead."
Liu has taken his creativity and applied it to a pair of masochistic food challenges. The champion's specialty is designed to be eaten by three people who must finish three pounds each of smoked chicken, pulled pork, turkey, beans, cheese bomb and apple coleslaw. The challenge costs $59.98 but is free if finished under time limits.
Deckle Smokehouse also offers a hot turkey leg challenge that requires challengers to finish a two-and-a-half pound smoked turkey leg covered in a sauce made from the world's three hottest peppers: Carolina Reaper, Trinidad scorpion and ghost pepper. Its Scoville rating is between 1.5 million and 2.2 million Scoville heat units. (The chart's hottest level ranges from 880,000 to 3.2 million.)
The hot turkey leg challenge includes the warning "must be of sound mind and sober to take this challenge."
"Our only challenger for the turkey leg made it only about 10 minutes," Liu said.
Business has been solid and growing slowly, which he said is on track for his group's expectations.
"I find that the most difficult part is because of the season or city, it is hard to find help," he said. "If we grow too fast, too big, there is not enough people to help."
Visit decklesmokehousebbq.com.