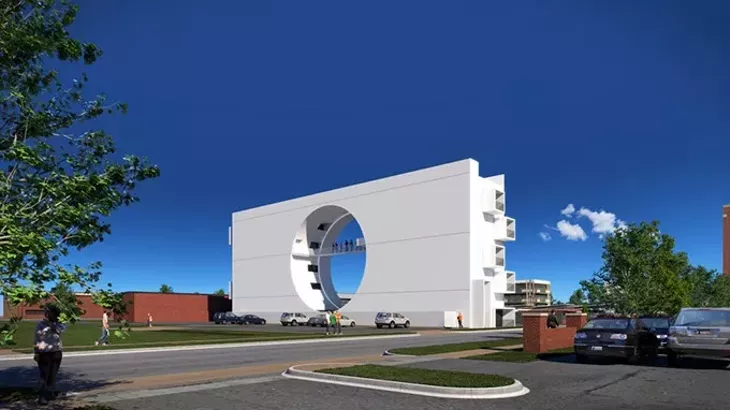 Not long ago, Oklahoma City architect Rand Elliott was driving downtown and its districts block by block in search of property and opportunity. When Elliott spotted a sign hinting at an available lot near the intersection of NW 12th Street and Hudson Avenue, the award-winning architect knew he had found both.
The Midtown lot was small and narrow like a brownstone and home to unwanted couches and mattresses. Like any urban architect and designer, Elliott looked beyond the patches of grass and litter. The vacant space was his blank canvas.
"Generally, those projects that seem to have absolutely no potential do have potential at some point, if you are willing to look close enough," Elliott told Oklahoma Gazette from inside his architecture firm Elliott + Associates in Automobile Alley. "What if we could take a piece of land that nobody wanted and create a building that responded to all the circumstances, all the challenges, and come out on the other side with a piece of art that you could live in?"
The architect whose work includes Bicentennial Park, Beacon of Hope in Stiles Park, Classen Curve, POPS, boathouses along the Oklahoma River and more, explained recent urban residential developments like Lift Apartments and Metropolitan Building required substantial land. Following OKC's urban renaissance, a two-decade redevelopment wave downtown, large parcels are becoming harder to find. That leaves mostly small parcels for future development.
While some might not think twice about a small, narrow piece of land between the Wesley Village Apartments and the former Foodies Asian Diner, Elliott saw possibility.
"There are the forgotten ones, the little pieces of properties that are around downtown that are 25 feet wide, 37 feet wide or 50 feet wide," Elliott said. "No one is interested in them. The thought was, 'Could we take the unexpected and do something really interesting with an unloved property?'"
The answer is Full Moon.
Defying odds
Full Moon by Elliott embodies the merging of art and architecture. As Elliott began the design process, he found inspiration in the concept of capturing seasons, shadows, sunbeams and moonlight.
At the same time, he faced unique challenges in designing a multifamily residential building. Complying with city code on a narrow piece of land is no easy task. To make a residential structure work, it had to run north and south. Elliott had to think creatively to produce a structure that still delivered on his concept.
After producing about 20 different variations of the building, Elliott singled out Full Moon, an urban living experience consisting of eight lofts and two ground-level flats that were designed around a 42-foot oculus in the building's center. As the structure's signature feature, the oculus will serve as the building's eye, granting residents on its third-floor bridge unique views of Midtown, Automobile Alley, the Innovation District and the state Capitol complex.
At night, an LED light will trace the oculus, adding to the Midtown skyline.
"The thought is we would find 10 like-minded people," Elliott explained. "All 10 would enjoy drinking wine together, watching the sunset, or meet in the morning to watch the sunrise. They would become fast friends and appreciate and enjoy living in a very special place."
Full Moon will be built using a sprayed concrete technique, which is a contemporary touch on an already distractive design.
The four-story development will rise at 322 NW 12th St. It provides residents with communal spaces like the third-floor bridge, garden and courtyard. The units range from 884 to 1,060 square feet. Each has a unique floor plan and perspective of the oculus.
Last May, Oklahoma City's Downtown Design Review Committee unanimously approved the proposal on the recommendation of city staff.
Evolving neighborhood
Midtown, a popular district that mixes restaurants, retail, work spaces and residential, is about to embark on a construction boom.
In addition to Full Moon, which is expected to break ground in the next 90 days, The Pivot Project is renovating Uptown Theater and the adjoining spaces to deliver a market, microrestaurants, retail space and a permanent home for Elk Valley Brewing Co. at 1212 N. Hudson Ave. Former Foodies diner is proposed to convert into a bar and food court at 1212 N. Hudson Ave.
Crews will soon lay track along NW 11th Street for the future MAPS 3 Modern Streetcar, which is scheduled to launch daily services through Midtown and nearby Automobile Alley, Bricktown and the Business District in late 2018.
Full Moon's timing is perfect, explained Elliott. While the infrastructure will add to an already-thriving area, Elliott believes it could be the structure to "open the door for others."
"Full Moon will become a real special landmark in downtown," Elliott said. "People will be proud to live there. People will be proud it's in their neighborhood. … I think Oklahoma City is at a time in its growth where we have a more sophisticated audience than before. There is a desire for cool places."
Print headline: Rising soon, One of Oklahoma City's leading architects, who is known for creating innovative spaces, is at it again — this time with Full Moon.